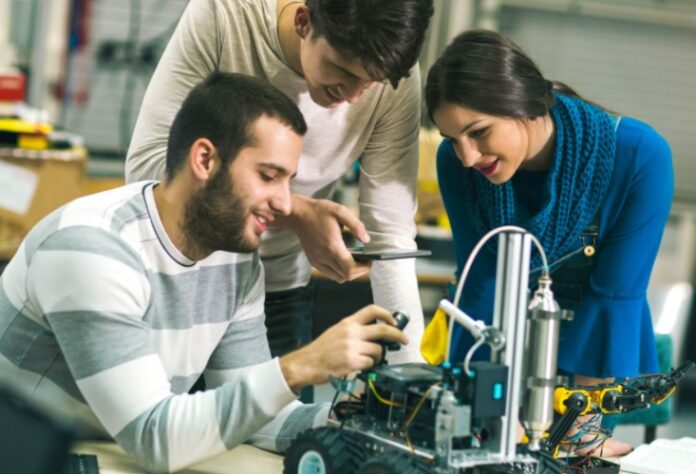 Robotics is a rapidly expanding field with a diverse range of specialties, industries, and companies to explore. Investment in the space is soaring as businesses and industries increase their spending to stay on the cutting edge of technology. As a result, people with advanced, hands-on robotics experience are in high demand in the workforce.
Almost every industry you can imagine is already using robotics, and more are joining them every day. This means you'll have access to nearly limitless opportunities to work on cutting-edge projects in any industry you choose! According to Study.com, there are two common levels of robotics specialists: technicians and engineers.
Technicians with an associate's degree can start working and continue their education and skill training on the job or through further study to gain more exposure to robotics tools and skills. Engineers typically start with a bachelor's degree and then work on projects to gain practical experience. Many more people are entering the field of robotics by taking a less "traditional" path, earning advanced degrees in data science, programming, artificial intelligence, or something completely different!
How to become a robotics engineer
Robotics may be the career for you if you enjoy problem-solving in a fast-paced, innovative environment and want to work on projects that will change the world.
Like any other engineering profession, Robotics engineers will require strong math and science skills. Most people believe that engineers are just math and science whizzes, but this is rarely the case. Most engineers, who complete their degrees, aren't naturally gifted mathematicians.
Developing a strong mathematical foundation should begin in primary or secondary school. If possible, try to get into advanced math classes and possibly start or join a robotics club at your school. Robotics, like coding, is a fascinating technical field in which you can gain experience with little formal education.
You'll need an electrical or mechanical engineering degree for your college education. Robotics engineering degrees are available at some colleges, but not all. The only advantage these more specialized degrees have over general mechanical engineering degrees is that your education will be more focused on the field you want to work in later on. However, this has the potential to be a double-edged sword. Overspecialization in college may limit the types of jobs you can obtain later. You'll need to decide which path is best for you.
Electronics engineers who transition to robotics engineering will be better at coding and electronics for robots. Mechanical engineers will better understand how robotic machines work and how to design them.
The most important box to check is work experience on your path to becoming a robotics engineer. If possible, look for an internship to gain hands-on experience in robotics design during your college years. If you can't find an internship, make sure you do some robotics-related extracurricular projects in college. Experience, whether from a job or a personal project, will set you apart when applying for a robotics engineering position.
Educational requirements
At the very least, you should have a strong understanding of mathematics and physics to begin a career in robotics. Other subjects to add to your studies:
Computer Science
Information Systems
Product Design
Design and Technology
Robotic Operating System (ROS)
Various Engineering specialties such as Electronics, Mechatronics, Bioengineering, and Mechanical Engineering
Skills
Reinforcement learning
Computer Science
Programming languages including C/C++, Python, ROS, Gazebo, and robotic algorithms
Machine learning
Computer vision
Advanced mathematics
Critical thinking and analysis
Teamwork and interpersonal skills
Excellent communication skills
There are many specialties in robotics, including machine automation, medical robotics, cybernetics, quantum mechanical systems, air traffic management, etc. According to 2018 job data, robotics engineers can earn a median of $96,980. That's a sizable salary for a fascinating job, making a career as a robotics engineer appealing if you're interested in the field.
Between 2018 and 2028, the industry is expected to grow by 4 to 6%, and there are no signs that robotics engineers will become less important in modern industry. Robotics engineers are likely to become increasingly important in ensuring the smooth operation of the manufacturing and production industries.