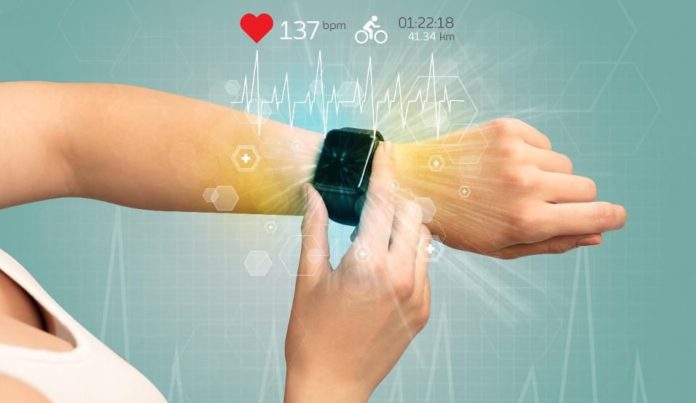 Physical inactivity is a significant public health issue, causing an increasing prevalence of obesity and several other forms of chronic illnesses like cancer, cardiovascular disease, diabetes, etc.
In the U.S., approximately 35% of adults and 17% of youths are obese. To a great extent, wearable devices promote physical activity and encourage users to be more active by enabling them to track activities, including steps, distance, heart rate, active minutes, calories, and sleep, providing valuable insights and feedback about their health.
Wearables can help individuals improve their lifestyle by bringing change in their daily routine and habits. These devices can overcome some limitations of traditional in-person programs for physical activity and weight management programs. They are less expensive than gym memberships or many types of exercise equipment. Additionally, users can access the app and web interface to socialize with friends and complete group challenges.
Notably, leveraging wearable technology and artificial intelligence (AI) technologies such as machine learning, deep learning, and natural language processing can unearth several insurance business opportunities. They are shown to provide a potential evidence source to inform an underwriting decision, increase customer engagement, and even improve consumer health and well-being.
First of all, wearable technology coupled with AI can help the insurance companies leverage historical user data, i.e., structured or unstructured data, and apply on many application, i.e., pricing, prevention, prediction, and personalization of healthcare plan, which can provide better coverage for the risks associated with the uncertainties in the health, increased life span and high cost of treatments.
The six use cases of wearable technology in insurance are as follows: promoting health, early detection of health diseases, predicting health risks, finding certain diseases disorder which may happen in coming future, adherence tracking activity, claims handling, fraud detection, prevention, pricing, sales, customer experience and personalizing products, services, and traditional automated process, i.e., underwriting. Wearable devices also help increase their business profits and sales opportunities and reduce customer retention and acquisition costs.
Underwriting
Underwriting is used by insurers to assess the potential risk profile of policyholders before the policy subscription. Typically, the proponent fills a questionnaire to determine critical variables such as age and health records and is assigned a risk level and a standard rate. Proponents with higher risk levels will undergo additional underwriting. A percentage of them will be accepted under non-standard terms (such as additional waiting periods or higher premiums). The remaining proponents will be declined as they represent a risk too high for the insurer to bear.
The current process is deemed as slow, costly, and has a disproportionate focus on non-standard policyholders compared to the scrutiny of standard customers. The value of continuous monitoring far exceeds a filled questionnaire and, in some cases, a medical test, allowing insurers to develop a more granular assessment of risk levels and assign reasonable rates. Wearable data becomes especially relevant in low-risk proponents that currently represent a relatively high operational underwriting cost compared to higher risk policyholders. Real-time wearable data combined with traditional underwriting practices enhances both insurers' underwriting capabilities and the customer experience.
Product design
There is tremendous potential to incorporate wearable data into insurance product design and wellness program development. Often, insurance customers struggle to recognize the value of a product that provides protection over many years. Digital consumers increasingly expect immediate benefits and ascribe value to experiential purchases. This shift in consumer preferences challenges insurers to remain relevant when the product being sold is both intangible and long-term.
Personalization
Consumers are increasingly using digital technology to research and purchase insurance products online. These consumers expect the ability to buy personalized products on demand. Wearable devices enable insurance product offerings that meet these and other expectations of digital consumers. It also helps people benefit from the company, such as discounts, vouchers, reduction in claim payment, etc.
Health and well-being
Data from wearable devices can enable insurers to share health-related insights to consumers to improve their health and well-being and provide additional value to the consumer beyond insurance protection. These life insurance wellness programs are intended to encourage healthy behavior and improve both the participants' quality and quantity of life.
If provided to insurance wellness programs, wearable device metrics could potentially increase the insurability of people struggling with chronic conditions, provide a signal to insurers of healthy insureds, and improve the longevity of insurance customers.
Wearables, such as smartphones, watches, wristbands, smart glasses, clothes and socks, shoes, and earphones, can also inform people about any ongoing symptoms such as any side effects. Thus, wearable data and sensors help collect information and transfer fast to the hospital or any medical service in case of an emergency. These gadgets can also collect various data such as sports data, physiological data, environmental data, and communication data.
Several studies show that using wearables in the medical system helps a person not to only track condition related to heart, metabolic, gastrointestinal disorders, sleep, neurology, movement disorders, mental health, environmental exposures, and many more, but also helps in reducing hospital visits, hospital readmission rates, improving individual health and costly medical events.
Here are some of the critical use cases of using wearables in health insurance:
Health monitor: People get alert messages or notifications from wearable to know about their health status.
Prediction: It helps the insurance industry offer a new way to predict real-time events for their business benefit, such as detecting fraud, customer retention, churn, and alert users for their health-related problems such as early health risk.
Pricing: The price of an Insurance policy may be reduced to an insured if they are properly motivated and convinced to use wearables; otherwise, they have to pay as per the policy price.
Customer experience: It helps insurance firms know about customer learning using the chatbot, providing the best offers and customer value-added services for better company progress.
Prevention: The insurance company may get benefits to prevent human health fitness, and illness from tracking physical activity and their daily payouts. It also bundles life insurance policies with the change in human behavior and rewards customers with some benefits.
Processing: Using AI in the insurance sector helps insurers for faster claim processing, image processing, and document processing. It will help in minimizing time and underwriting policy.