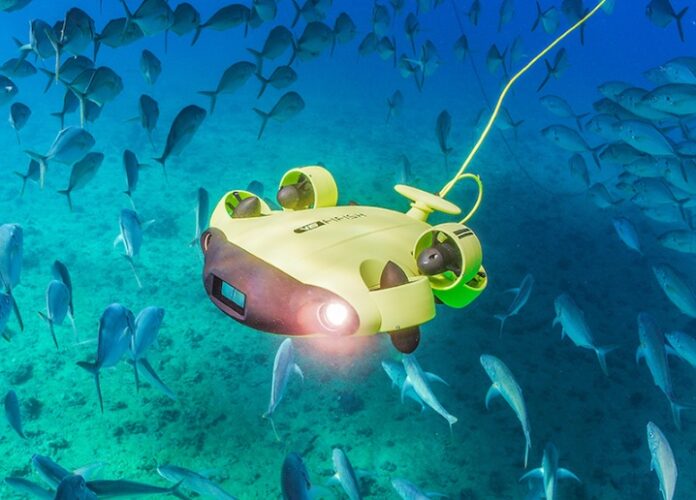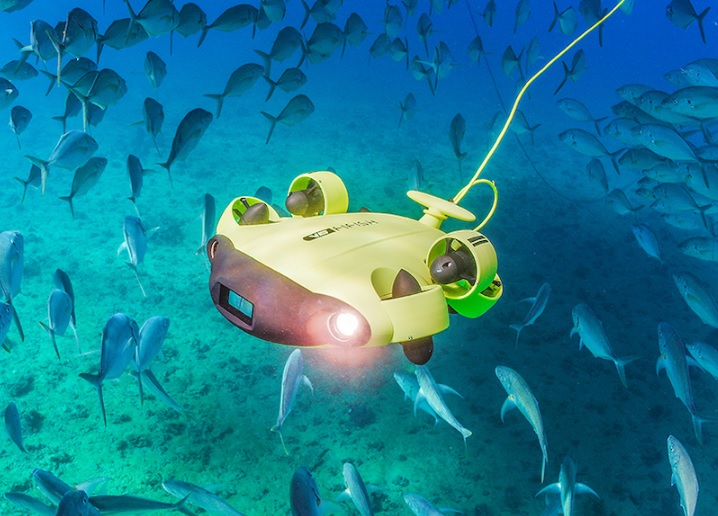 The latest innovations in drone technologies allow us to use these lightweight unmanned aerial vehicles in a wide variety of applications, which were impossible to humans before. One such area is photography, where drones help us discover and appreciate the 'never-seen-before' beauty and diversity of nature.
Drones have revolutionized photography and cinematography in a significant way, democratizing angles previously reserved for expensive crane cameras and helicopters. However, these drones aren't limited to aerial photography or videography.
There is a big category of underwater drones available in the market today, capable of moving and operating in the water autonomously and remotely with 360-degree panoramic cameras and state-of-the-art features like object recognition, obstacle avoidance, GPS, and low-light sensors, path, and track planning that allow both professional and amateur photographers to capture stunning underwater photographs and videos in HD quality.
In this post, we will explore the top 7 best underwater drones for photography in 2021.
1. Blueye Pioneer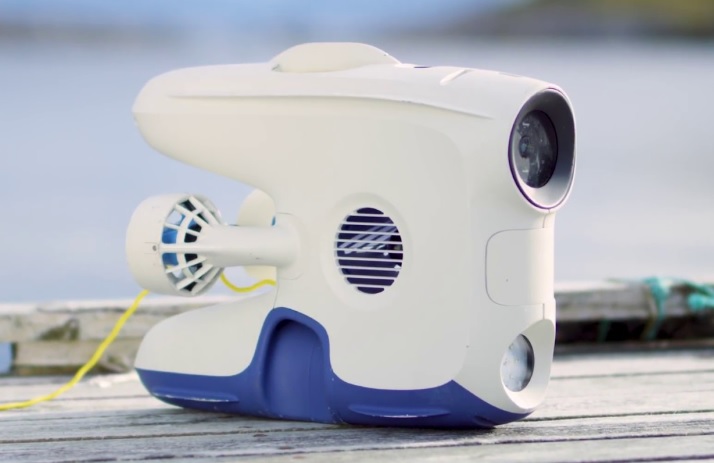 Blueye Pioneer was designed by blue eye robotics to be the world's best professional underwater drone. It's a remotely operated vehicle capable of exploring depths of 150 meters providing crystal-clear images and video with the help of a 1080p 30 frames per second HD camera. It was first developed for marine biologists, engineers, and welders. Due to its relative ease of use and the fact that it is such a fun piece of technology, it has begun to see some use by hobbyists and amateur users. Designed to be durable enough to stand up to the worst the ocean has to offer, the Pioneer can explore the depths of the sea no matter the conditions for as long as two hours on a single battery charge. You can have the blue-eyed pioneer at prices starting from $9878.
2. PowerDolphin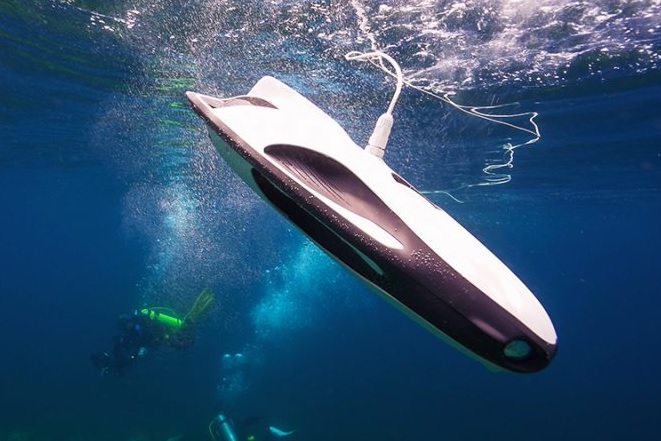 PowerDolphin makes use of a dual joint rotating camera with an ultra-wide shooting angle to give you the best possible shooting experience. Developed to provide as much as 132 to 220 degrees shooting angle as well as the field of view ranging from 150 to plus 70 degrees and an incomparable above water and underwater shooting experience, the power dolphin is truly the king of the ocean. It is powered by a 5800 milliamp-hour IPX8 battery, which provides up to two hours of battery life as well as a power seeker and the innovative Vision Plus to act, which gives it a unique path and track planning function with a mapping and development of an underwater topographic map. The power dolphin represents the best chance of success in your filming efforts. But qualities that make the power dolphin is suitable for FPV racing as it is for fishing mapping include its ability to obtain and relate highly accurate scientific information. It is highly water-resistant and can travel at speeds of up to 10 miles per hour. This amazing device can be yours at prices starting from $799.
3. FIFISH V6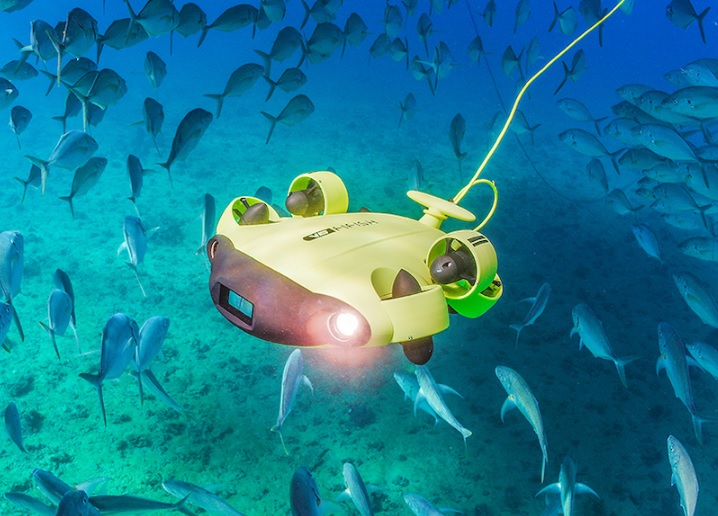 FIFISH V6, as the name implies, has not one but six thrusters offering a stunning direction and freedom of movement. The importance of this is particularly significant in underwater filming, where you want the best possible maneuverability to reach the most inaccessible places. As if this was not enough, the FIFISH V6 also comes with the ability to combine different movements, such as bow, dive, nose, or spiral, without compromising rotational stability. It also comes with an impressive total power of 4000 lumens granted by two powerful headlights of 2000 lumens each.
Images and videos are captured in 4k quality with 30 frames per second and in 1080p with an impressive 120 frames per second to achieve excellent slow-motion. For those who need an extra leg up, the FIFISH V6 also uses an underwater image algorithm that improves color rendering as well as different modes with which to control it. Attitude mode for beginners who need help with death stabilization, sport mode for more advanced divers, and the ability to use head tracking mode utilizing a pair of VR goggles for better maneuverability. You can purchase the fish v6 at prices starting from $1,599.
4. BIKI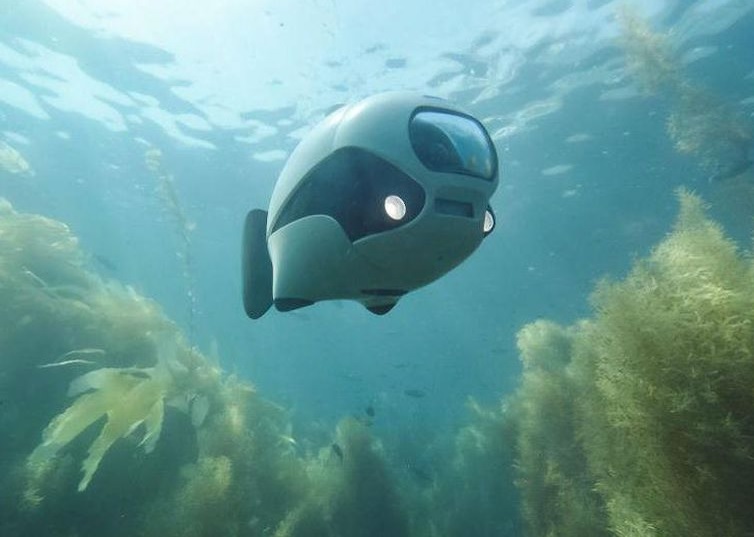 BIKI bionic underwater drone was developed to be the best option for underwater photography showing unparalleled automated balance, obstacle avoidance, and return to base features that help you get the best possible shot. Armed with a 4k camera, the BIKI provides crystal-clear pictures and videos even in low-light and high-speed scenarios, as well as the capability to last for as long as 120 minutes at depths of up to 196 feet.
BIKI can swim along with you on your underwater journey providing stable videos with the use of a high-definition movement camera and an anti-shake camera platform that is based on an eccentric kind until head. It also comes with 150-degree wide-angle lenses as well as 2/114 lumens lights guaranteed to give you the best possible view of the underwater landscape. Bionic sonar echolocation and built-in GPS module provide the BIKI with the edge over the competition and make it well worth the 700 $29 price tag.
5. iBubble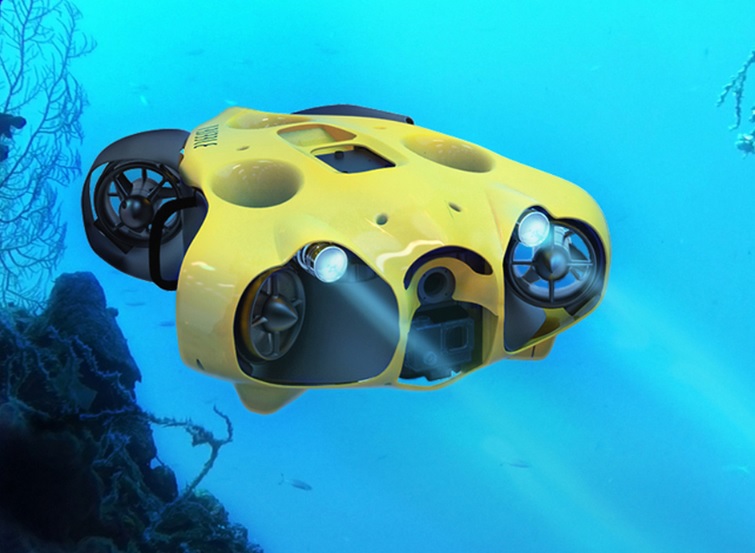 iBubble makes use of innovative underwater localization technology to track and automatically record your underwater experience. It is a smart wireless drone with diving and recording capabilities that can reach depths of 60 meters and speeds of up to 2.2 miles per hour, all powered by a long-lasting rechargeable battery. You can create professional shots of yourself and other underwater sites, make crystal-clear recordings of your underwater experiences, and light up the dark with the use of powerful LED lights, which automatically adjust brightness to allow you to capture the true colors of your surroundings. The iBubble is powered by seven propellers, which provide direction and stabilization, and it comes in two models – the standard model, which costs $5400, and the freemium model, which goes for $1,400.
6. Navatics MITO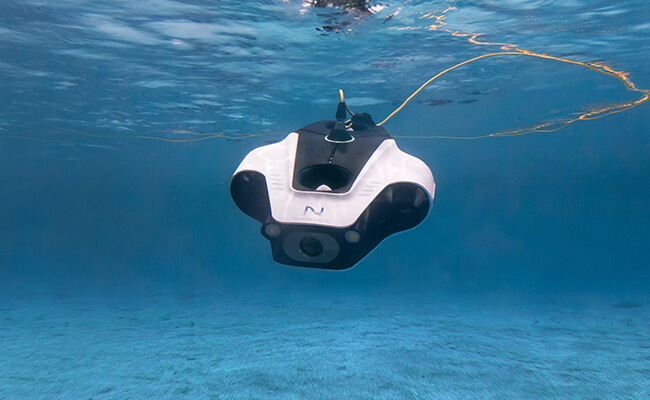 Navatics MITO is a remotely operated vehicle with a difference. Designed to provide one of the most responsive devices in underwater photography, the MITO makes use of a unique active stabilization algorithm in a four thruster design for depth until guarantee stability and control. Armed with a 4k camera, the MITO captures underwater footage with crystal-clear quality and the fight as possible detuned at 30 frames per second.
You can also stream live footage at 1080p to the Navatics app, which features built-in tools for color correction and lets you share your underwater moments directly on social media. Adequate lighting is ensured with the use of two by 1000 lumen LED lights powered by a four-hour swappable battery, and control of the MITO is provided with the use of a Navatics remote control, which uses low radio frequency to connect with a waterproof wireless communication. With the above functionality in a top speed of 4.5 km/h, it's easy to see why the Mito commands a price tag of $1999.
7. Gladius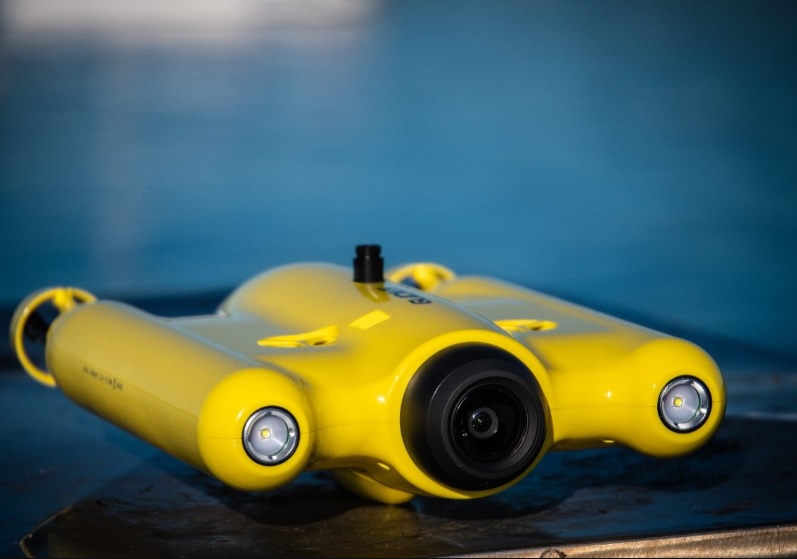 Gladius underwater drone is capable of amazing underwater feets diving to depths of 100 meters with a horizontal range of 500 meters being submerged for as long as three hours and taking ultra HD 1080p 4k quality photos and videos even in low-light settings. The Gladius can be used by a range of people, including professional scuba divers, underwater photographers, or just hobbyists, and is guaranteed to give you the best results every time.
It boasts of easy to operate piloting controls low-light sensors and image quality algorithms along with to 1200 lumens headlines which ensure that you get clear and distortion-free imagery even at the depths of the ocean. The Gladius weighs a manageable three kilograms and measures 16.9 x 10.3 x 3.7 inches for easy portability and gets around with the use of quad presses which ensure four degrees of freedom and gaming light controller. It is available for purchase at prices starting from $599.