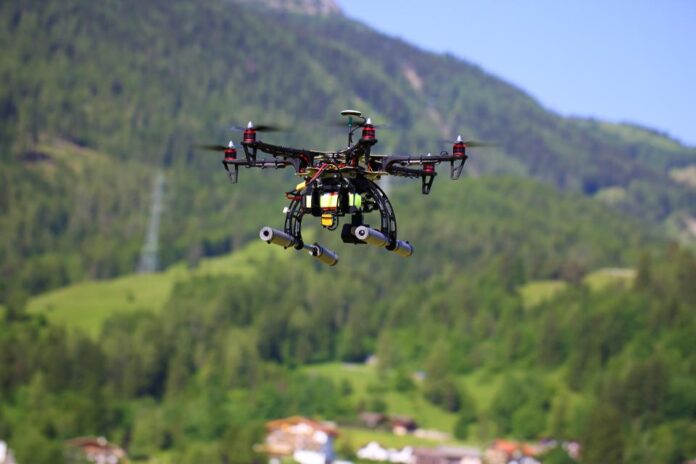 Drone delivery services have become increasingly popular in the last few years in industries like e-commerce, construction, and film production. But the global pandemic has shone the spotlight on drone delivery's essential role in the healthcare industry.
Since the beginning of the COVID-19 pandemic, drone delivery services have served a critical role in combating the spread of the infectious virus by providing much-needed services and supplies to people in various communities and at-risk individuals.
From personal protective equipment (PPE), personal protective equipment, and facemasks to test kits, medications, and groceries, the drone delivery services are proving to be a lifesaver for individuals remaining in lockdown to halt the spread of COVID-19. Companies, providing medical supplies, can deliver PPE, for instance, or medicine to hospitals that are 50 miles away, within an hour. This is a lot faster and cheaper than any current alternative.
Besides, the drone delivery system is contactless, and the drone's transport has proven to be 8 to 12 times faster than traditional methods. Beyond all, a single person can handle and automatically operate a fleet of drones for making deliveries. It translates to a better service at a lower price. In this post, we will discuss some of the top drone delivery services fighting COVID-19 using delivery drones.
1. United Parcel Service (UPS)
United Parcel Service (UPS), the first-ever drone airline to receive Federal Aviation Administration (FAA) approval, teamed up with CVS Pharmacy in April to offer support during the pandemic by delivering prescription medications using drones to residents in Florida's The Villages, which is the largest retirement community in the US. The Villages is home to over 135,000 residents, and the community has been on "lockdown" for several weeks.
The drones are capable of carrying parcels weighing 5 lbs. over a distance of up to 25 miles. The service allows residents to grab necessary medical supplies without ever leaving their homes.
UPS ventured into the drone delivery in 2019 by delivering 1,100 medical samples at a North Carolina hospital as part of a government pilot program, before gaining FAA approval to operate limited drone delivery services across the US. UPS continues to work with the FAA to determine the areas it can fly in.
2. Walgreens Boots Alliance (WBA)
Walgreens Boots Alliance (WBA) has been helping the rural communities, affected by the pandemic, by offering drone deliveries for over-the-counter medications and supplies in Christiansburg, Virginia, through a partnership with FedEx Corporation (FDX) and Alphabet's Project Wing drone airline.
The three companies are ferrying the most rudimentary pharmacy goods such as Band-Aids and Cheez-Its to a population of just over 22,000. Initially, Walgreens was delivering a limited number of quick packs, including kits for pain relief, first aid, kids' snacks, and baby care. Earlier, the FDX helped the US government quickly move COVID-19 test specimens from more than 50 remote drive-thru test centers at major retailers in 12 states in the fight against COVID-19.
3. Drone Delivery Canada
The first federally-compliant drone cargo operator in North America, Drone Delivery Canada, has been working on several projects with First Nations, health care, and federal and provincial governments to provide essential items. Since its inception, Drone Delivery Canada has focused on providing critical services to rural communities in northern Canada. The company signed agreements with First Nations communities and transportation companies like Air Canada, Edmonton International Airport, and DSV Air & Sea Inc. to expand its reach across Canada and beyond.
Drone Delivery Canada ramped up its COVID-19 efforts on June 4 through an agreement with GlobalMedic to use its patented drone delivery solution and provide service to the Beausoleil First Nation Community in Ontario. BFN will use Drone Delivery Canada's Sparrow drones to transport personal protection equipment (PPE), hygiene kits, test kits, test swabs to limit person-to-person contact on its island ferry service.
Notably, Drone Delivery Canada signed its first remote community drone delivery agreement with Moose Cree Nation in 2017 to provide the community with essential supplies. Since then, the company has expanded its capabilities by developing additional delivery drones, capable of carrying more cargo in longer distances. Drone Delivery Canada continued to sign partnerships over the last two years, including an exclusive agreement with Air Canada. It allowed the company to build and operate up to 150,000 drone delivery routes in Canada.
With social distancing and travel restrictions remaining in place for the foreseeable future, it is encouraging to see drone delivery services such as Drone Delivery Canada, FedEx Corporation, and United Parcel Service stepping up to help rural communities and at-risk individuals.