The future is always associated with super cool and innovative gadgets. Look at the pace of technological advancement in the past couple of decades… Doesn't it seem like we are already living in the future?
There are loads of incredible gadgets in the market that can make our lives easier and make us feel like we live in the future. Therefore, if you consider yourself a tech enthusiast, you should stick around for the rest of this post and check out our top picks for today's futuristic gadgets.
1. Smart AI baby monitor
For all the tech-savvy parents out there, this one's for you. If the old baby monitor is not enough for you, you should check out The Mimo Baby Shirt. This futuristic piece of clothing monitors your baby's vitals, like their respiration, skin temperature, sleep patterns, heart rate, and activity levels.
This information can give you a profound insight into your baby's health. Furthermore, the onesie also has a microphone to send your baby's sounds to your smartphone; therefore, it will do everything a traditional baby monitor does, and a lot more.
Now, you might be wondering about how you are going to clean the onesie. Well, all the sensors and tech in The Mimo Baby Shirt is machine-washable. These onesies will be a little more expensive than normal ones, but they are quite worth it since you can learn a lot about your baby's health and make suitable changes to ensure healthy growth.
You can get a pack of three onesies for around $299.
2. Virtual reality headset
VR has been around for a few years now, but now, the technology has matured and feels more refined than the first-generation products we are used to.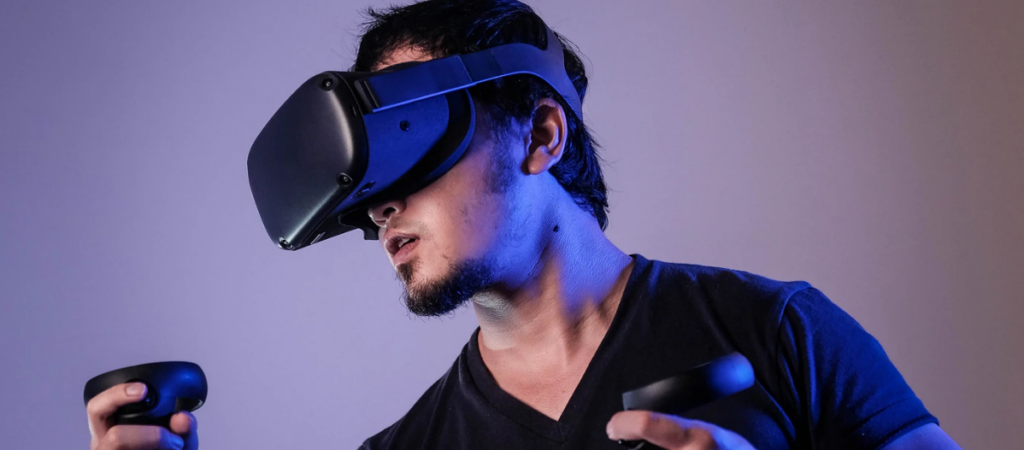 Initially, VR headsets were made as accessories for your phone, but now, with products like the Oculus Quest 2, VR headsets become more of a stand-alone gadget. Trust me, there is no better mode of immersive gaming and content viewing than the Oculus Quest 2, which is quite better than the original, both in terms of specification and performance.
If you want to get technical, the Oculus Quest 2 has 6GB of memory, and the Snapdragon XR2 chip powers it. Moreover, the screens' resolution has brought a significant improvement, with 1440 x 1600 pixels per eye.
When you wear this headset, you will feel like you are in a different world; therefore, it is a futuristic gadget.
3. Self-cleaning robot mop and vacuum
Cleaning up has always been a major part of home maintenance; however, now you can let a robot share the load and do the dirty work for you.
Check out the Narwhal Self-Cleaning Robot Mop and Vacuum. This amazing robot can make home maintenance a lot easier, as it does not only clean the dust and dirt off the floors but also mops the floors.
Moreover, the robot is self-reliant; you don't have to charge it or clean it every day. It returns to its charging station automatically when the battery is low, and it also cleans itself. This futuristic gadget integrates into your life and makes you feel like you are already living in the future.
4. Automatic pet feeder
If you have a pet cat or dog in your home, you should also look into tech that helps you take better care of them, and the PetSafe Smart Feed Automatic Dog and Cat Feeder is an excellent gadget to bring home.
This gadget helps you take care of your pets and ensure that they get their meals on time every day, no matter where you are. You can schedule up to 12 meals from your phone and change the proportions of each meal as well, depending on your pet's requirements.
You also have the option to dispense snacks from your smartphone and choose to have your pet's meals be dispensed slowly over 15 minutes so that your pet doesn't have digestive problems. Moreover, this gadget gives you peace of mind when you have to travel somewhere for a couple of days and don't have anyone to watch your pet.
5. Hoverboard
One of the most memorable fictional technologies from the future portrayal in "Back to the Future" was the hoverboard. Though we do have hoverboards that fly off the ground, they are quite exclusive and expensive. Furthermore, they seem like a first-generation gadget for now.
However, the hoverboards available in the market are still a futuristic gadget. They may have wheels, but the self-balancing features make it feel like you are hovering on a cloud of air.
There are several brands to choose from when it comes to hoverboards, but you should make sure that you go for a high-end safety certified brand. Hoverboards have high capacity Lithium-ion batteries in them, which can be dangerous if high-quality electrical components are used. Therefore, opt for brands like Swagatron, Segway, or Hover 1. These brands also make budget hoverboards, which are both affordable and high quality.
6. Smart Glasses
Many Futuristic Sci-Fi movies show people wearing futuristic glasses to make calls and many other purposes.
If you are a fan of Sci-Fi movies, you have probably seen futuristic glasses that people can use to make calls, and receive real-time notifications in front of their eyes. Well, if you are a fan of this tech, you should know that it isn't as unseemingly futuristic as you may expect; in fact, you can get such glasses right now.
Check out the Amazon Echo Frames, which are incredible smart frames that give you connectivity to Alexa and several other amazing features. Moreover, with the incredible directional speakers and microphones on the device, you can make phone calls and listen to music without worrying about other people eavesdropping. You can use the frames to receive notifications and even control your Amazon Alexa connected home.
Wearable tech has always been considered futuristic, and these frames will surely make you feel like you are from the future.
7. 3D Printer
3D printers are one of the coolest pieces of tech that the world has seen in the past few years. These printers can help you bring any design into existence by simply designing it on a computer. It can be particularly useful for people trying to make prototypes and different custom machines.
You should check out the ELEGOO Mars UV Photocuring LCD 3D Printer, which comes with one of the fastest slicing software in the market. Though this futuristic gadget might not help every person, it is like a godsend for people who work in designing, prototyping, and manufacturing. You can also try using the 3D Slicer software, which is a free, open-source platform for medical image computing and visualization. It allows you to convert medical image data into 3D models that can be printed on a 3D printer. This can be particularly useful for medical professionals, researchers, and students who need to create anatomical models for training or surgical planning.
Therefore, it deserves to be on this list of futuristic gadgets.
8. Self-cleaning water bottle
Drinking enough water every day is essential for your health, but it is also important that your water is clean and free of bacteria. Moreover, you may have noticed that over time, water bottles get a bad smell in them, which can be quite annoying.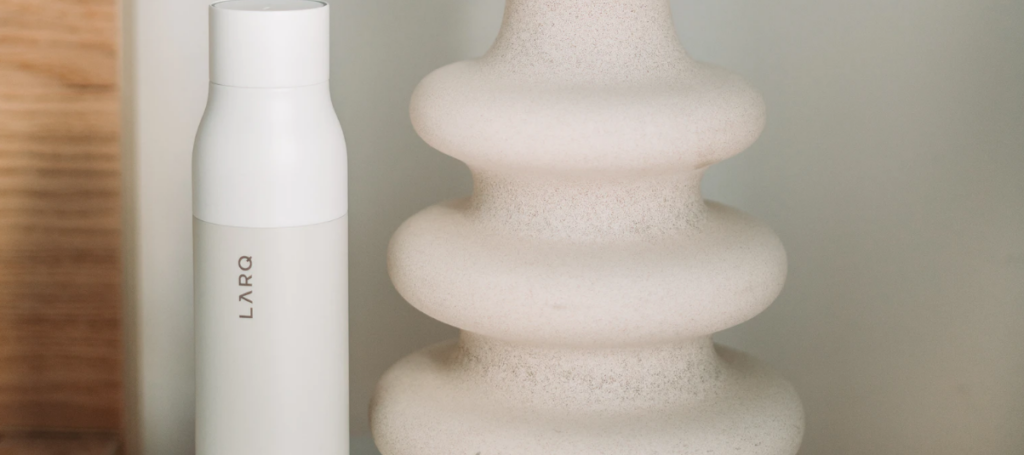 Well, if you want a Futuristic water bottle, you need to check out the incredible LARQ self-cleaning water bottle. This amazing bottle uses UV lights to get rid of 99 percent of germs and bacteria. Moreover, the bottle also cleans itself every 2 hours to ensure a clean and odorless hydration experience.
The bottle is also insulated and can keep liquids warm for up to 10 hours, and cold drinks cold for 12 hours. Therefore, if you want to make something as simple as drinking water feels futuristic, you should consider getting the LARQ self-cleaning water bottle.
9. Smart trash can
If you want to feel like you are living in the future, you need to upgrade things used in your daily life. Therefore, consider the Amazon trash can. This trash can has a camera and barcode scanner inside it, so then whenever you throw something away, it is automatically added to your grocery list and ordered.
There are also some other brands of smart trash cans that can change their bags automatically and seal the filled ones so that you don't have to worry about bad odors when you go to throw out the trash.
10. Smart refrigerator
A refrigerator is something we use multiple times every day, and having a smart refrigerator in your home makes you feel like you are living in the future.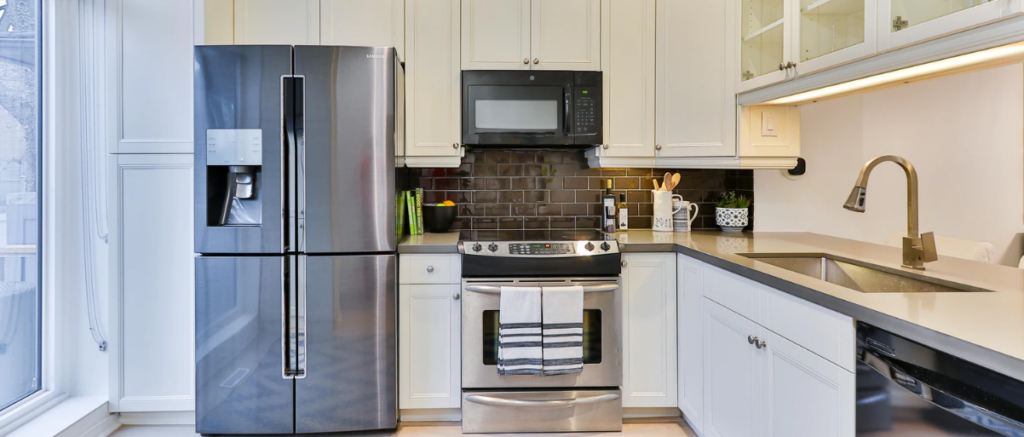 Their refrigerators are sleek, sturdy, and stylish, but their most attractive features are their smart abilities. These refrigerators can keep track of everything stored in them and keep an eye on quantities and expiration dates.
Moreover, when you run out of something, you can ask the refrigerator to add it to your grocery list. Moreover, you don't have to check if you have something in the refrigerator; you can ask the refrigerators through voice command.
Final thoughts
If we look at how the future is perceived in movies and Sci-Fi shows, you will realize that we are almost living in the future. There are loads of amazing gadgets in the market that give out futuristic vibes, so check them out in the list above.