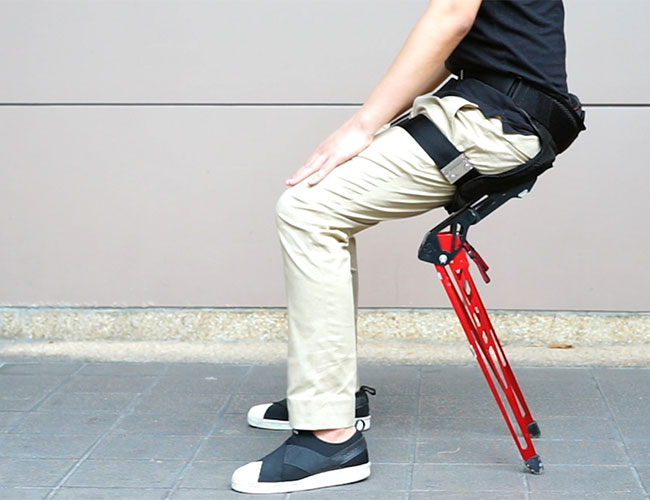 Millions of people work in factories, assembly lines, and retail stores around the world, continually bending and crouching to do their jobs without any break. Most of them suffer from muscle-related disorders, severe back pain, and knee problems.
Everything starts from one simple thing – they don't find a place to sit! According to experts, standing for 8-9 hours a day can do significant damage to your muscles, bones, and nerves.
Nothing to worry, though! Wearable chairs can help. Built to assist people who work for long hours without any fatigue, these user-friendly and easy-to-adjust wearable chairs allow them to sit anywhere and anytime.
With great flexibility to move forward, backward, vertically, and round, they reduce and avoid backbone problems by maintaining perfect posture. They can also switch between standing, sitting, and walking, making them ideal for doctors, photographers, or other persons who stand for hours.
In this post, let us look at some of the top wearable chairs available in the market.
1. Astride Bionix's Lex
Astride Bionix is a new company that just launched a relatively low-cost wearable chair named LEX, which looks like a pair of kickstands for your body and lets you relax anywhere with a perfect sitting posture. When attached to your thighs and waist, these wearable folding exoskeleton legs can transform into an ultra-versatile portable seat. It is very light, weighing a little more than 1 kg and can withstand up to 120 Kilograms (264 lbs) of weight.
2. Chairless Chair by Noonee
Chairless Chair, built by Swiss startup Noonee, is a mobile, rigid exoskeleton-type accessory that can be activated into a chair. Made of lightweight aluminum and carbon fiber frame, this hydraulic-powered chair allows you to effortlessly switch between an active sitting, standing, and walking position. It is attached to the legs with straps around the thighs, knees, and waist. It also connects to the heels of the user's shoes. When the user wants to sit, he can crouch down into a sitting position and push a button to lock the device.
Chairless Chair uses a portable variable damper to hold the bodyweight of the user to reduce the stress on leg muscles and joints. It weighs around 4.4 pounds, and the 6-volt battery runs the damper for 8 hours on a single charge.
Spun out of the NCCR Robotics lab at engineering university ETH Zurich, Noonee is currently marketing the device for factory workers. It also plans to create an intelligent version that understands the intention of the user without having to push a button.
3. Nitto's Archelis
Yokohama-based manufacturer Nitto's Archelis was launched in 2017 to aid industry workers and medical surgeons who have to work for long hours standing.
Japanese researchers have developed Archelis (which means walkable chair in Japanese) in association with Japan Polymer Technology, Chiba University's Center for Frontier Medical Engineering and Hiroaki Nishimura Design to minimize fatigue and support the main pressure points of heels, thighs and front portion of the calves. The gadget is wrapped around the wearer's buttocks and legs, allowing them to sit down wherever and whenever needed.
4. Ofrees Wearable Chair
Ofrees is a brand from South Korea that offers different models of wearable chairs. They are available in various sizes, and people can adjust them according to their size. The chair is designed like an exoskeleton so you can install it from the waist and legs.
This easy-to-use, multifunctional, lightweight chair is made of high-quality aluminum material and can assist people in having a correct posture while working and sitting at home or at the workplace. This compact wearable chair can hold up to 120kg. Ofrees sells it for $900 on Amazon.