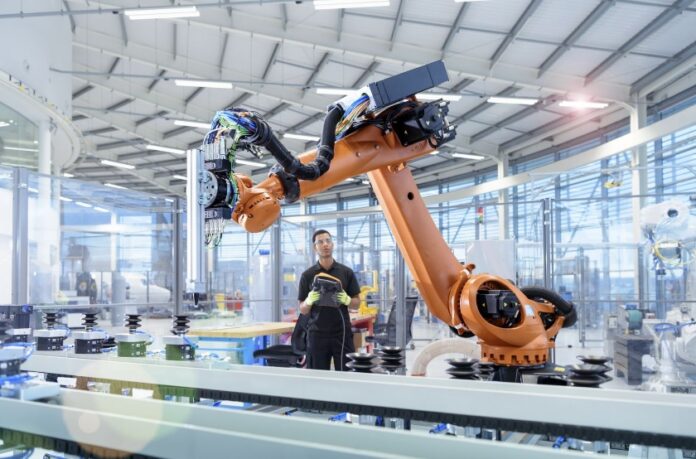 A company won't get the most out of its robotics investments if there aren't any people within the workforce who know how to maintain industrial robots or understand when it's time to hire experienced professionals to do the job. Here are some tips to ensure robots stay well-maintained to perform at their best.
Consider a Subscription-based Model
Many corporate decision-makers find themselves eager to explore how robots could improve their operations. Sometimes it's because their companies are going through growth periods. In other cases, the competitive landscape is getting more challenging. It takes significant time and dedication to figure out how robots could fit into a company's budget. However, it's often easier due to the robots-as-a-service (RaaS) model.
The specifics vary by provider, but generally, clients pay a monthly rate for their robot utilization that changes based on metrics such as hours used. One of the most convenient things about such arrangements is that maintenance costs are usually built into what people pay. The same is true if a robot has an issue that requires repair or replacement.
Thus, it's then easier for company leaders to decide whether robotics can fit into their budget at the current time.
The robots rented by customers often have embedded sensors that transfer data directly to the providers that own them. Then, those parties can spot maintenance needs quickly and sometimes even before the people using the robots know about them.
Also, with the RaaS model, there's no need for a client to spend the time looking for an authorized maintenance or repair provider as needed. The robotic service provider handles the logistics of sending someone out to take a closer look.
How RaaS Helped a Chemical Plant Improve Its Operations
Mike O'Donnell is the vice president at Manufacturing Advocacy and Growth Network (MAGNET), an organization that helps industrial decision-makers move forward with their robotics implementations. He said, "It can be daunting to take the first step if you're a company that has done things the same way – and succeeded – for years or decades. So, working with a third party you can trust to fill in some blanks can make a difference."
O'Donnell's organization worked with a chemical company that had expanded from a regional to a national enterprise where leaders were experiencing tighter margins and more challenges finding employees. That business used the RaaS model to rent collaborative robots that helped transfer containers from assembly lines to carts and boxes.
Company leaders did not want to take a big gamble on robotics, especially since doing things the way they always had was still enough for the time being. However, they liked the flexibility offered by the RaaS model. It removes the upfront cost and lets company leaders gauge if the robots will meet expectations before making a larger commitment. If things go well, there's often an option to buy the machines a company has already been using.
Create a Tailored Maintenance Plan
The specific actions a maintenance specialist carries out to maintain industrial robots will vary based on how often the machine gets used and which tasks it performs. The manufacturer's guidance for a particular robot model can also contain invaluable information to help the machine last at least as long as its expected lifespan. Usually, the owner's manual will suggest particular actions to avoid problems or state the recommended timeframes.
In one case, the manufacturer of an automated fryer used in the food sector notes that basket geometry is the most common failure point in a particular model. So, people who use that robot have to follow a specific preventive program that ensures the robot can keep successfully detecting calibration markings. Those measures include putting the machine into a sleep mode so operators can filter oil used for frying.
Besides detailing the maintenance tasks, any comprehensive maintenance plan should include the necessary timeframes. Doing the correct steps at the proper intervals can prevent future catastrophic issues.
For example, many professionals cite contamination as one of the top causes of hydraulic system malfunctions. However, choosing a filter with the appropriate micron and PSI rating for the robot's job will keep it free from particulate matter.
Many people overlook the reality that maintenance is not something that only happens every quarter or even every month. The steps to maintain industrial robots include doing physical and visual checks before and after each time someone uses the robot. That means everyone who uses the machine plays a collective role in its upkeep.
Posting checklists near the robot and extensively covering an employee's maintenance responsibilities during their training are relatively straightforward things to ensure everyone's on the same page. It's also useful if a company has a clear process for how people should report any abnormalities they discover during the checks. That way, there's a higher likelihood of picking up on problems before they become major issues.
Know the Preventive and Predictive Maintenance Models
People who maintain industrial robots have several main types of maintenance strategies they could choose. One option is the reactive model, whereby people typically only have maintenance performed once they notice a major issue. It's problematic, especially because when an issue becomes noticeable to a robot's owner, it may be more severe than they realize.
It's better to have maintenance performed before problems become apparent. Two ways to do that are to pursue preventive and predictive maintenance. Preventive maintenance involves carrying out upkeep tasks on a regular schedule. The hope is that it can stop machines from having significant downtime.
There's also predictive maintenance. People who follow that strategy have connected sensors installed on their robots to monitor changes like temperature and vibration. Then, the sensors often pick up on abnormalities that humans could not have detected without that technological help.
Statistics indicate that preventive and predictive maintenance are more cost-effective to deploy than reactive maintenance. Companies can save 30-40% more on upkeep when using predictive maintenance or get 8-12% savings from a preventive strategy.
Understand How Tech Improvements Help Maintain Industrial Robots
Overall, progress in the tech industry has provided more solutions for people who need to stay on top of maintaining their machines. Knowing about the options can help decision-makers ensure they have all their bases covered.
One possibility is to use specific apps that assist with maintenance. Manufacturers often offer them to give added value to clients. Those applications provide robot users with everything they need on their smartphones. Such resources might show maintenance records or digital copies of a robot's manual. There's even a cloud-based app that shows machine-specific digital twins for every robot in a company's fleet.
Technology improvements can also enhance technician training. A Clemson University department uses virtual reality (VR) technology to train people for robotics careers.
Laine Mears, an automotive engineering department professor at the institution, explained, "It would be more practical to stand next to somebody and point at a robot and tell them what to do, but in a virtual world, we can include representations of real robotic elements. We can also do things you wouldn't be able to do, like cut a robot in half."
Technology supports how technicians can also evaluate what steps are necessary to maintain industrial robots.
One robotics manufacturer has a virtual remote tool that allows customers to send live images and videos to technicians elsewhere. Someone only needs a smartphone camera to establish that feed. Then, robotics experts can diagnose issues and provide actionable solutions immediately or recommend that the client schedule an appointment for an in-person visit.
Maintain Industrial Robots With a Proactive Mindset
Besides following these specific tips, people who need to keep industrial robots well maintained should remain proactive when any issues arise. That means not hoping the problem will resolve independently or thinking whatever abnormality someone noticed is no big deal.
Additionally, they should realize that even though some maintenance measures they perform may seem unnecessary at the time, each one of them is part of a larger effort to keep the machine running smoothly. Industrial robot outages can be extraordinarily costly and hinder a company's workflow. However, being thorough and timely with the required maintenance are arguably two of the best things people can do to prevent such downtime.