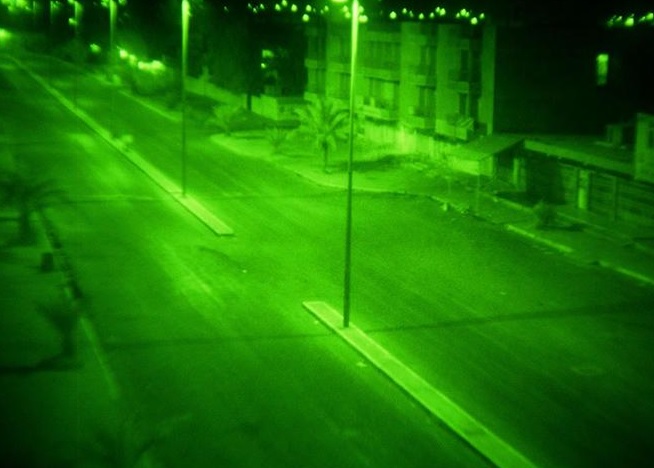 The current use of the term "Night Vision technology" refers to three distinct technologies – Generation Zero, Thermal Imaging and Image Intensification.
Generation Zero equipment uses image converter technology to convert infrared to visible light. It was first developed and used in the Korean War. It operates in active mode and requires an infrared light source like lasers and filtered torches to illuminate the observed object.
The processing technology available at the time limited the resolution of the detector and limited practical military engagement distances to several hundred metres. This active system had the disadvantage of being easily detected by other viewing equipment.
Thermal imaging was the following night vision technology. Thermal imaging systems are passive systems which respond with wavelengths of 8-12 microns to the available infrared light. All bloodied animals as well as soil and plant life that warm up during the daytime, emit these wavelengths. Infrared light is thus continuously produced and made available, day and night, so that those viewers perform equally well in both extreme lighting conditions.
Today, image intensification is used by the vast majority of night vision equipment. They are passive devices that work with natural light. The incoming light is transformed into electrons that are amplified and returned to visible light. Night Vision works according to the technology used, in two very different ways.
Image enhancement – This works by collecting minutest quantities of light, including the lower part of the infrared light spectrum, which are present but may not be sensitive to our eyes.
Thermal imaging – This technology works by capturing the upper part of the infrared light spectrum emitted by objects as heat, rather than just as light. Hotter objects emit more light than cooler objects like trees or buildings, for example, as warmer bodies.
There are three types of night-vision equipment:
Scopes – The scopes are normally hand-held or attached to a weapon. Because the scopes are handheld, not worn like brushes, they are good if you want to look more closely at an object and then return to normal view.
Goggles – Goggles are worn most of the time on the head. Goggle are binocular (two eyepieces) and, according to the model, may have one lens or stereo lens. Goggles are great for constant viewing, for example, moving around a dark building.
Cameras – Night vision cameras can send an image to a display monitor or a VCR for recording. Then cameras are used at a permanent location for night vision, such as in a building or in the helicopter equipment. Many of the newer cameras are built-in with a night vision.
The original purpose of the vision of the night was to find enemy objectives in the night. It is still used for navigation, monitoring and targeting. Police and security often use thermal imaging and imaging technologies for surveillance purposes in particular.
Common applications for night vision include:
Military
Law enforcement
Hunting
Wildlife observation
Surveillance
Security
Navigation
Hidden-object detection
Here is a list of top companies making best night vision equipment in the world.
Adams Industries Inc.
American Technologies Network Corporation
Bullard
Cantronic Systems (Canada) Inc
IEC Infrared Systems
ITT Exelis
L-3 Communications EOTech Inc.
N-Vision Optics LLC
Sofradir EC Inc.
S.P.A. Defense
Vectronix Inc.
Zistos Corporation
Argus
Armasight
B.E. Meyers & Co. Inc.
BAE Systems
Bolide Technology Group
Bosch
Cohu Inc. Electronics Division
DRS Technologies
E2v Technologies Ltd.
Elbit Systems of America
Electrophysics Corp.
EMX International
Flir Systems
Fraser Optics
General Dynamics
General Starlight Company Inc.
Industrial Security Alliance Partners Inc.
Infinova
Irvine Sensors Corporation
ISG/Infrasys
MSA
Night Owl Optics
Nivisys Industries LLC
Northrop Grumman
Obzerv
Optics1
Panasonic
Pelco
Thermal-Eye, L3 Communications Infrared Products
Vumii