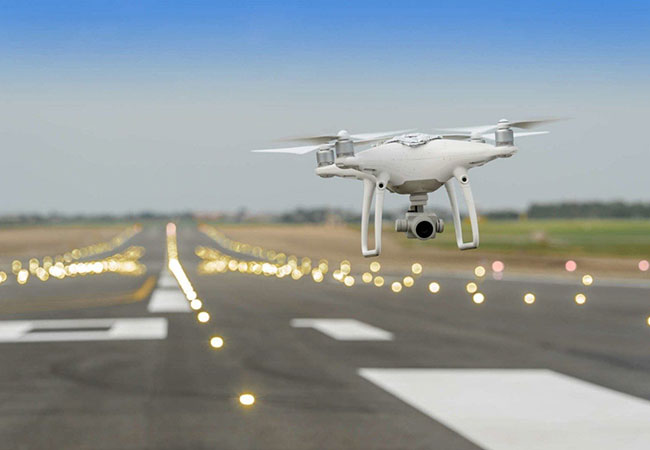 Most people use drones as leisure gadgets to fly in the skies for fun or shoot impressive aerial photographs and videos. But drones can do much more than taking pictures. When equipped with sensors, combined with data analytics and machine learning, they become handy to solve some of the critical problems across industries like power generation, utilities, logistics, and agriculture. Drones can capture and analyze data in ways that were previously difficult or impossible, significantly reducing risks and the need for humans to be physically present in hazardous environments.
In this post, we will look at some of the drone case studies in Energy, Utility, Construction, Insurance, Telecom, Law Enforcement etc.
ENGIE Fabricom – Energy
In recent years, ENGIE Fabricom has been testing drones in their specific pilot projects. In 2016, the company tested drones in the installation of a high-voltage line for Elia as part of the Stevin project in Eeklo. Using drones offers significant benefits for ENGIE Fabricom: they're less risky, faster, and less expensive than a helicopter. A test program is currently underway in collaboration with ENGIE Group Research & Development team to clean insulators on high voltage cables, a task now performed by maintenance workers who need to climb to the top of pylons to do the job.
Spicymotion – Media
Spicymotion is a marketing and communications agency known for its innovative advertising solutions and media experiences. It's one of the first companies to offer tethered drone services. Spicymotion uses a drone tethered to a fiberglass power cable to shoot large gatherings like festivals and sports events. It addresses safety concerns and risk of injury by never flying the drones above the audience and maintains a safety perimeter of eight meters at all times. The cable restricts the movement of the drone, ensuring the drone can't fly away. It limits piloting errors and even removes the need for a trained pilot. It is a significant advantage for Spicymotion, as anyone can manage the drone. The tethered drones can remain in the air continuously as power is transmitted via the fiberglass cable, eliminating the need to land every 15 minutes to charge the battery.
Hoogmartens – Construction
Hoogmartens is a construction company focusing on exterior infrastructure. Its geometricians use drones in their day-to-day operations to increase efficiency in several ways ie, to measure inventory and on-site progress, map roads, and assess the condition of infrastructure. Overall, Hoogmartens is happy about the benefits drones bring to optimizing its business processes and help the firm move forward in terms of communication speed, data accuracy, safety, and transparency. However, there are two barriers Hoogmartens is facing – legislation and data analysis. Hoogmartens undertakes a lot of renovations of public roads. Since drones aren't currently allowed to fly over public domains, it can't use drones for these projects. Hoogmartens also feels that data analysis is lagging as it lacks an intelligent assessment software. To overcome this, Hoogmartens is developing its software to analyze and interpret the data.
KBC Insurance
KBC Insurance, a subsidiary of KBC Group NV, is a frontrunner in the use of drones. In 2017, it started using drones for claim management in property after a big storm. Multiple large buildings and factories can suffer damage in a storm, and experts can't inspect every building with large roofs, church towers, etc. A drone can check these buildings in a few hours, significantly reducing safety issues. Drones also provide highly-detailed and accurate data, besides assessing the damage quickly and cost-effectively. KBC Insurance works with an external drone services partner to undertake the property assessment. The partner delivers a 3D model and pictures, which are later inspected by KBC experts to assess the claim. They also send images to customers as proof. KBC Group is currently setting up an experiment in risk assessment of properties before it agrees to insure them. They use drones to validate if the property meets its standards. It allows KBC to set better premiums for customers.
Limburg Province Police Department
Limburg Province police department uses drones to detect marijuana and to provide support for traffic accidents. They attach a thermographic camera to a drone to identify buildings with a higher-than-normal temperature. With an accuracy rate of 80%, the department has already discovered several pot farms. The aerial footage is later produced in court as evidence. The Limburg police also use drones to gain an overview of the traffic and emergency during an event of an accident. Drones are a faster and cheaper alternative to helicopters, and they can be employed more quickly. The department believes that the drone usage will only increase in the future. It envisages the possibility of a static camera for facial recognition being set up at the border of the province to recognize criminals as they drive into the area.
Orange Belgium – Telecom
Since 2015, Orange Belgium has been using drones to examine the 2G, 3G or 4G coverage, signal quality, and range in the air. With the help of several academic and industrial partners, they formed an expert group named 'ar4Gus' to investigate signal strength and brainstorm other drone use cases. Several drone flights, using specialized equipment, showed that the Orange network had outstanding signal strength up to 300 meters. And the interference from other radio signals, like wifi, was low. Drones can add significant value to telecom players with the real-time transfer of data of the cellular network, starting from meager bandwidth sensor data to drone telematics and up to 4K video images.
VIL – Logistics
VIL launched a study on the potential use of drones in logistics in 2015. One application they tested was indoor and outdoor inventory management. They looked at NHS, a terminal operator in Antwerp Harbour, whose stock of steel is spread over a three-kilometer radius. Traditionally, the inventory was managed manually, with operators recording the location of the steel bars by hand. Drones could make the process considerably more efficient by following a preprogrammed route, counting stock, and automatically updating the inventory in the system. Stock management would be faster, less costly, and more accurate. Unfortunately, this is not currently an option as the legislation doesn't allow drone flights beyond the line of sight. Another potential application in logistics is surveillance. International Car Operators (ICO) stocks roughly two million cars, and they have two guards in a control room to oversee the stock. In case of a suspicious security breach, one guard goes out to inspect. Given the size of the stock, it is challenging to reach the spot as quickly and possible. If a drone is deployed, it can reach the scene much quicker and identify the presence (or not) of an intruder with a thermal camera. Surveillance drones could eventually use facial-recognition software to detect intruders.