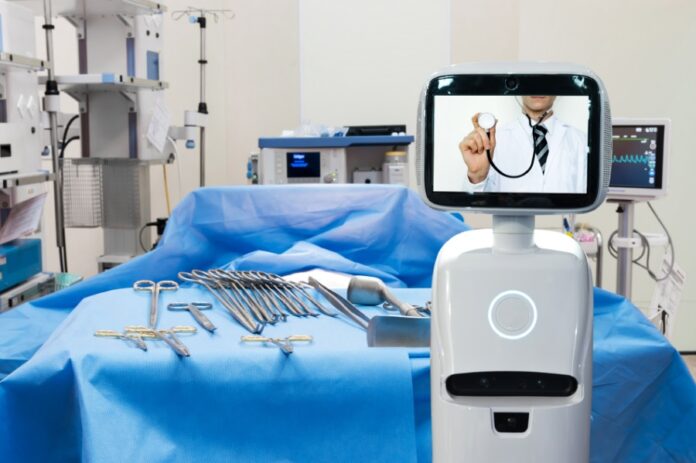 This year has brought an enormous amount of stress to the patients and to the entire healthcare industry, as the pandemic is exhausting clinicians, straining budgets, and highlighting points of weakness in overall care.
With these learnings in place, healthcare professionals are already having conversations on how to realign their ambitions, goals, and strategies to address these pain points as we plan how to emerge from the pandemic and ultimately provide the best patient outcomes across every category in healthcare.
In 2021, uncertainty still looms, but one thing is certain, the healthcare system will continue to be transformed by technology. We'll see more providers adopt technologies that bring smart automation to patient care, along with A.I. and machine learning to better analyze patient data in order to drive better informed business decisions in healthcare. Hospitals and healthcare facilities can most easily automate for improved care through the integration of robotic technologies and artificial intelligence.
Assistive robotic technologies for in-patient care facilities and homes
Robotics have emerged in every industry, and leaning on this assistive technology to provide support, precision, and speed provides countless benefits to those who integrate the technology. Looking at the recent news of Hyundai's purchasing a controlling stake in a deal that values Boston Dynamics at $1.1 Billion, to automate its own mobility business, has provided a bellwether moment for the robotics industry as a whole. These assistive technologies bring the automation and precision to drive better business outcomes, and it's true for the healthcare industry and its patients as well.
By 2021, the demand for healthcare robotics is expected to rise to $2.8 billion in sales. That's because robot applications in healthcare seem endless. It's a market that involves robotics for surgery, recovery, and clinics. What's more is that the American Physical Therapy Association (APTA) referred to the pairing of robotics and physical therapy specifically as "the new age of function, movement, and recovery." Robots are now being used to help patients to regain mobility and to guide them through therapy sessions to improve strength, range of motion and especially coordination. Coming out of the pandemic, we can expect robotics to take on a larger role in patients, both in medical facilities and at home for ongoing care
AI and data will drive positive patient outcomes
The pandemic has allowed telemedicine to emerge as a fundamental tool for clinicians to continue their work on diagnosing and treating patients remotely. With this approach to healthcare delivery, remote patient monitoring has opened the door to collect and analyze this data, allowing for better decision making by medical professionals.
With the availability of secure cloud-based systems providing real time data, accessible anytime remotely, medical professionals can now rely on these stats to inform their decision-making process in offering a diagnosis or treatment plan. From wearable devices to implanted medical devices, and home therapy devices we now have access to information that enables us to measure and connect data that we have not been able to analyze in the past. With access to patient information, clinicians can rally patients for success by sharing customizable reports and involving family members in the treatment and recovery process along the way. These enhanced patient's motivation and support of their beloved one's matter to recover.
Internally, patient data from patient monitoring systems, wearables, and other assistive technologies can better allow hospital staff to analyze and communicate on patients' needs while improving the overall adoption of technology. A.I. and machine learning can take the complexity of the data and make it more accessible to hospital staff who may be reluctant to acclimate to new technologies. With better adoption of these technologies, hospital management teams can continue to advance their care and ultimately what's best for each individual patient.
Robotics and data will continue to play a larger role in driving healthcare delivery in 2021, with its ease of use for clinicians to automate care with precision, while A.I. will lean on newly available patient data to provide predictive care and personalization. The growing adoption of robotics, machine learning and artificial intelligence will provide improved results in patient access and outcomes.
About the Author:
Dr. Eric Dusseux, is Chief Executive Officer, BIONIK Laboratories, a robotics company focused on providing rehabilitation and mobility solutions to individuals with neurological and mobility challenges from hospital to home. The Company has a portfolio of products focused on mobility and upper extremity rehabilitation for stroke and other mobility-impaired patients, including three products on the market and two products in varying stages of development.