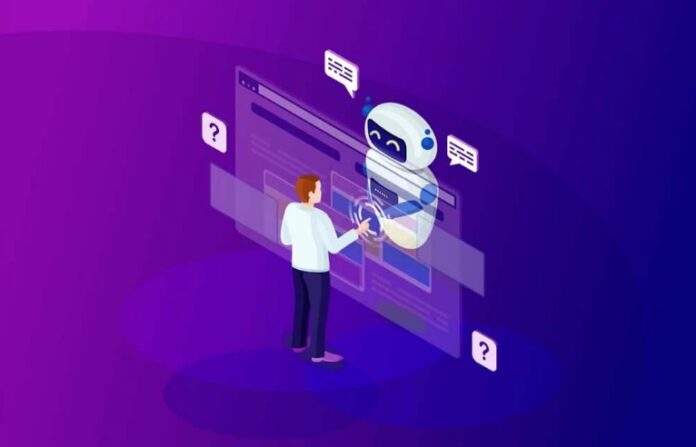 Conversational AI or chatbot is a group of technologies that allows the computer program to understand and participate in spoken or written human conversations. Using natural language enables us to communicate with chatbots, smart speakers, and personal assistants. Voice-driven interactions offer deeper insights into users' intentions and moods by identifying behavioral patterns and preferences through conversational wake words that immediately deliver information and services on command.
The market for conversational AI is anticipated to reach $13.9 billion by 2025. Before that, however, virtual agents will handle up to 90% of customer service inquiries in 2022, saving businesses 5 billion hours (2023).
As chatbots gain popularity, many industries are using them because they provide better and less intrusive opportunities for customer engagement. The chatbot can share business information, manage payments, take orders, share menus, and answer questions.
Chatbots gather and organize sales and consumer behavior information and then plan their marketing campaigns following customer interests and location. This makes it easier for management to provide specialized dining experiences, push notifications about loyalty programs, and personalized marketing strategies. This fosters a sense of belonging, which ultimately aids in customer retention and raises satisfaction.
Chatbots can simultaneously relieve pressure from understaffed crews and open up additional channels through which customers can order meals, increasing sales. A sizeable number of restaurants are increasingly operating with a skeleton staff to keep costs down.
Conversational AI-powered chatbots can be programmed to help customers immediately, and they are polite and professional technology platforms that never get angry. Guest service is more important than ever because, according to a Zendesk survey, 35% of unhappy customers would stop doing business with a company due to a poor customer experience. Food chatbots eliminate these worries. F&B chatbots are quick; they can book in a matter of seconds, and ease and speed are now available everywhere on the internet.
Chatbots for F&B can be easily deployed across any platform or app, including SMS, WhatsApp, Instagram, Meta Messenger, Telegram, Google Business Messages, etc., using a single messaging API. They are created to communicate meaningfully with customers.
According to Emergen Research, the global market for food technology is projected to grow at a CAGR of 6.0 percent to $342.52 billion by 2027. The potential for technological advancements is enormous. Additionally, according to data scientists and business experts, conversational AI will transform the restaurant and foodservice industry and position it to prosper in the post-pandemic era.
Here is a list of AI's benefits to the food and beverage industry.
1. Safety and Quality
AI algorithms can produce results more quickly, reliably, consistently, and precisely than humans. Businesses can recognize danger and protect their staff and equipment using AI algorithms and AI-based detection solutions. For instance, if a staff member forgets to put on safety equipment, a device can sound an alarm.
2. Waste Reduction and Transparency
The F&B industry's raw materials or processed food waste receives the most attention and discussion. There are multiple sources of waste. Overproduction, changes in raw material prices, and other factors contribute to waste. Businesses can integrate AI into every facility along the production chain. Each manufacturing and supply chain stage, including production, cost tracking, estimating raw material needs, managing stock levels, etc., can be automated with artificial intelligence (AI).
3. Production Optimisation
Production can be streamlined and made more efficient with the help of artificial intelligence. To decrease downtime, maximize asset utilization, manage inventory, project estimated delivery times, and anticipate failures, it gives machines the ability to manage themselves. With AI in place, production can run remarkably while cutting costs and improving employee satisfaction.
4. Packaging
The sudden increase in demand for food delivery is causing a bottleneck in the F&B sector. To meet the rising demand, it does not have enough employees. Many businesses are using AI to support teams in producing better results while saving time and money.
Here are a few examples of the restaurants leveraging chatbots:
Users can order meals from Burger King, choose a pickup location, and pay for their purchases using the chatbot for Meta Messenger. The carousel menu and other features foster interaction and enjoyment among its sophisticated options.
One of the best restaurants using the chatbot Dom to place orders from the current menu is Dominos. When Dom itself requests any order, takeout, or delivery, along with personal information to place the particular order, customers can use this chatbot to place their food orders. This has lessened the strain on Domino's website, phone number, and mobile app.
Chatbot for McDonald's Gaia makes recommendations, addresses grievances, and makes reservations following openings. It can also provide different answers and route calls to the appropriate employee.
Customers at Starbucks can place orders and make payments using voice-activated technology, thanks to My Starbucks Barista. Through this chatbot, customers can also change previous orders.
The Pizza Hut chatbot for Twitter and Meta Messenger can handle pizza and other food delivery orders from customers who have Pizza Hut accounts, streamlining the procedure, increasing accuracy and cutting waiting times. Thanks to the chatbot, all orders receive an additional layer of customization and personalization.
The voice chatbot for KFC India is powered by Amazon Alexa and automates food ordering. The chatbot attempts to automate and seamlessly complete the order process by comprehending what the customer wants.
Customers can add and remove ingredients, inquire about prices, and review orders and checkouts using Taco Bell's chatbot for Slack, which maintains the light and informal conversations.
Popular Use Cases
Manage Reservations And Take Orders
You can interact with your customers and complete these repetitive tasks with 100% accuracy using a chatbot installed on your company website or messaging apps.
Connect with Customer Better
Chatbots help restaurants interact with customers more effectively, use fewer staff members, and enhance customer satisfaction. A conversational interface can be used for recommendations, taking orders, offering discounts, and responding to frequently asked questions.
Through automated deals and offers sent to them via emails or messaging channels, chatbots for restaurants can easily identify repeat customers and encourage them to come back for more business.
Chatbots provide visitors with information about rewards programs by offering pertinent details, assisting with the program enrollment, offering redemption options, etc.
Easier Delivery and Takeaway
By using chatbots, restaurants can make ordering from their preferred eateries easier for patrons. A customer can easily place an order through a website's chat window or messaging system.