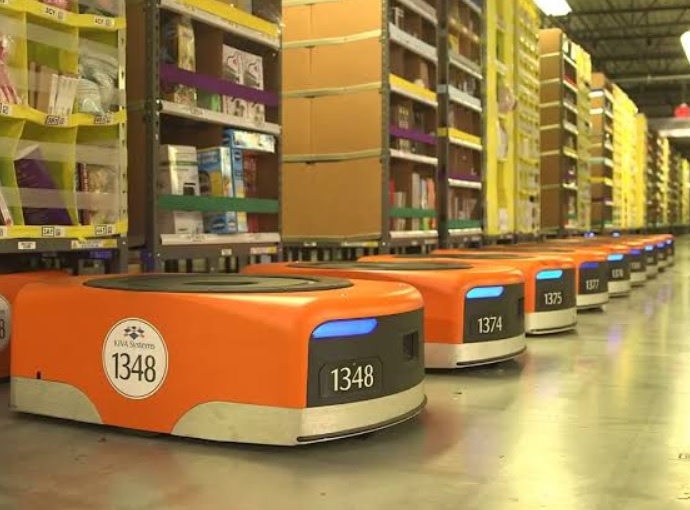 More and more warehouses are adopting robotics technology than ever before and they are driven by the pressing need to find flexible, efficient, and automated eCommerce order fulfillment warehouse solutions for increasing customers' same-day delivery needs.
They invest in warehouse robots as a versatile alternative to traditional fixed mechanical or manual operations to increase productivity. According to ABI Research, over 4 million commercial robots will be installed in more than 50,000 warehouses by 2025—up from just 4,000 last year.
There are different types of warehouse robots, serving a variety of purposes and functions such as order picking and moving inventory throughout the warehouse. Warehouse robots are also classified by payload capacity.
Automated Storage and Retrieval Systems (AS/RS) automate the inventory process by retrieving goods for shipment or returning products to their proper storage locations.
Goods-to-Person technology (G2P) refers to goods-to-person picking robots that deliver items to picking stations, where operators are stationed to fill orders as items are delivered.
Automated Guided Vehicles (AGVs) are self-driving forklifts that transport inventory from one location to another within the warehouse by relying on tracks or magnetic strips placed in planned travel paths.
Automated Guided Carts (AGCs) are similar to AGVs, but they carry smaller loads.
Autonomous Mobile Robots (AMRs) are similar to AGVs and AGCs, as they transport inventory and materials throughout a warehouse autonomously. Unlike AGCs and AGVs, which travel fixed routes, AMRs rely on maps and sensors to navigate more flexible routes by interpreting the environment.
Unmanned Aerial Vehicles (UAV) or drones provide real-time inventory visibility within warehouses with RFID technology.
Today's post presents the top seven startups from Europe revolutionizing order fulfillment with their warehouse robots.
French startup Exotec Solutions built an automated robot called Skypods to optimize e-commerce warehouses. These low-profile robots move both vertically and horizontally, grab a standardized box (with up to 30 kg load) from the shelves and bring it to a human operator. Suitable for warehouses with tall racks, Skypod robots transport and store bins containing items in racks up to 10 meters in height. They navigate the warehouse without a guiding infrastructure.
Dublin-based Eiratech Robotics offers a complete goods-to-person robotics automation platform for multiple applications, including e-fulfillment, materials handling, kitting, and retail. Eirasystem uses a fleet of mobile robots Eirabots to fulfill e-commerce orders and handle materials on the shop floors, providing a seamless, end-to-end goods-to-consumer digital e-commerce experience. With its three key hardware components: Eirabots (AGV robots), picking stations, and shuttle racks, which are managed by the Eirasoft fleet management software, the system can deliver 600 picks per person per hour. It doesn't require heavy infrastructure and can be quickly installed, moved, or extended.
Mobile Industrial Robots (MiR) from Denmark is a leading manufacturer of collaborative mobile robots, designed for the manufacturing and logistics industries. Its product line includes MiR1000 (with a payload of 1000 kg), MiR 500 (with a payload of 500 kg), MiR 200 (up to 200 kg), and MiR 100 (up to 100 kg). They are equipped with the newest laser-scanner technology and have 360 degrees vision. Two front 3D cameras enable the robot to see from 30 to 2.000 mm above the floor, and two sensors in each corner contribute to the robot's ability to see pallets and other obstacles.
Transolt from Turkey developed an automatic driverless vehicle (AGV) that can lift load, rotate, carry, and picks up from warehouse shelves and conveyor systems without the need for an operator. Controlled by sensors and a central control unit, it can identify the best route by itself and take the load from or to the desired location. It can collect and evaluate all transportation information and send notifications. It can also warn the employees around in dangerous situations.
Scallog is a French startup that designs and manufactures robotic solutions for logistics distribution to improve productivity and scalability in warehouse organizations in France and Europe. Its Scallog System is a mobile robotic fulfillment system with an army of small blue Scallog mobiles robots that can autonomously navigate the aisles of warehouse and help to box and ship products for orders processing. The system has no floor anchorage.
A spinoff of SME Soben, TwinswHeel is another Franch startup that designs and manufactures autonomous parcel delivery droids for last-mile delivery. The droids have three modes: Collaborative mode, where the droid follows the person, Remote control mode used by a disabled person in logistics, and Full autonomous mode.
There are three types of machines available depending on the use: 1. Three-wheel standard that can tow up to 100 kg. 2 Six-wheeler that can carry up to 150 kg. (Both models are autonomous, designed for enclosed sites (such as plants, warehouses) and semi-enclosed sites (like airports, train stations, hospitals, shopping centers). 3. A compact robot that can carry up to 40 kg but is also designed to travel on city roads for deliveries and shopping.
German robotics startup Magazino makes autonomous mobile robot TORU, specialized in autonomous stowing, picking, and transporting of individual items in warehouses of online retailers. Founded in 2014 in Munich, the company develops intelligent, mobile robots that perceive their environment and make their own decisions, working alongside people and processes in e-commerce, fashion, and production logistics. Its TORU robots feature advanced computer vision and self-learning methods to work in warehouse environments that were made for humans.