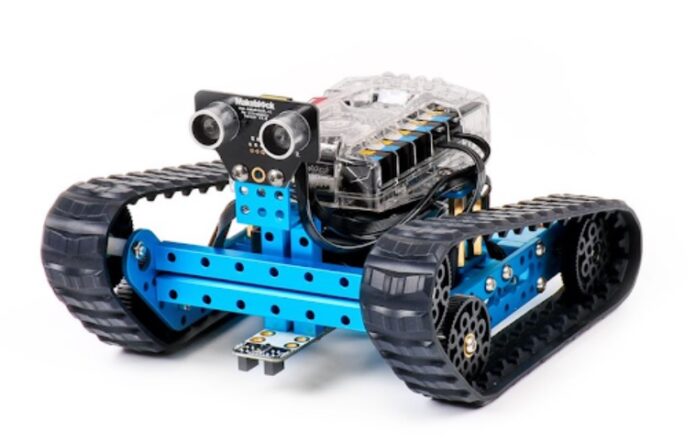 Makeblock, a leading brand in DIY robotics and education platforms, has revolutionized the world of robotics for makers, STEM learners, and educators. With its wide range of mechanical parts, electronic modules, and graphical programming software, Makeblock makes it fun and easy for everyone to bring their dreams to life. Among their impressive lineup of products, the mBot Ranger stands out as a remarkable 3-in-1 Robot Building Kit that offers an immersive learning experience for 10-year-old kids and beyond.
The mBot Ranger allows children to explore and construct three preset forms: Land Raider, Nervous Bird, and Dashing Raptor. Unlike traditional single-form robot toys, this versatile kit opens up possibilities. Kids can exercise their creativity and problem-solving skills by building, programming, and controlling their robots using the intuitive mBlock 5 software and Arduino C. With its flexibility and adaptability, the mBot Ranger enhances playtime and nurtures a passion for STEAM learning.
You can buy your Makeblock mBot Ranger from here.
Easy Building, Engaging Play, and Intuitive Coding
Makeblock understands the importance of a seamless learning experience. The mBot Ranger can be assembled in just 45 minutes, allowing kids to quickly move on to the exciting part: playing and coding. Through the Makeblock App, students can easily control their robots with app-driven features such as driving, line following, obstacle avoidance, and posture detection. The interactive nature of the mBot Ranger provides an engaging platform for learning and creativity. Moreover, the coding capabilities of the mBot Ranger extend to the mBlock coding platform, supporting block-based coding and Python coding. Whether children are beginners or have coding experience, they can embark on a journey of coding mastery, starting from the basics and progressing to advanced concepts.
Conquering All Terrains with Excitement
The mBot Ranger is not bound by limitations. Designed to walk, run, and conquer various terrains, this versatile robot can navigate floors, hillsides, sand, grass, and more. From muddy tracks to challenging arenas, the mBot Ranger's all-terrain capabilities make it the perfect companion for indoor and outdoor adventures. Kids can explore new environments and push the boundaries of their creativity while having endless fun.
Buy your Makeblock mBot Ranger from here.
Fostering Education and Teamwork
Beyond its entertainment value, the mBot Ranger is a powerful educational tool. Supporting entry-level block-based programming and advanced Arduino programming, it empowers children to learn coding from the ground up. Integrating group activities and games, such as racing competitions, promotes teamwork and collaboration excitingly and engagingly. Kids develop essential skills by tackling climbing tasks, sandy terrains, and other challenges while having a blast.
Unleashing Imagination and Full STEM Learning
Makeblock believes learning should be enjoyable to unleash a child's potential. The mBot Ranger provides a comprehensive STEM learning experience by combining play and education. Children can explore coding from beginner to expert levels, starting with visual programming and gradually progressing to Arduino C. The mBot Ranger ignites curiosity, fosters critical thinking, and nurtures a passion for technology and innovation.
Endless Possibilities with Makeblock
The mBot Ranger is just beginning a limitless journey into robotics and STEAM education. With compatibility with over 500 Makeblock parts and LEGO bricks, children can unleash their creativity and embark on countless projects. The mBot Ranger enables young minds to transform their ideas into reality, inspiring a new generation of innovators and problem solvers.
Buy your Makeblock mBot Ranger from here.
Conclusion
The mBot Ranger from Makeblock empowers children to become makers, thinkers, and creators. Through its innovative design, ease of use, and comprehensive educational features, this 3-in-1 Robot Building Kit offers an immersive and exciting learning experience. From building and programming to playing and competing, the mBot Ranger paves the way for endless possibilities and fosters a lifelong love for robotics and STEM education.