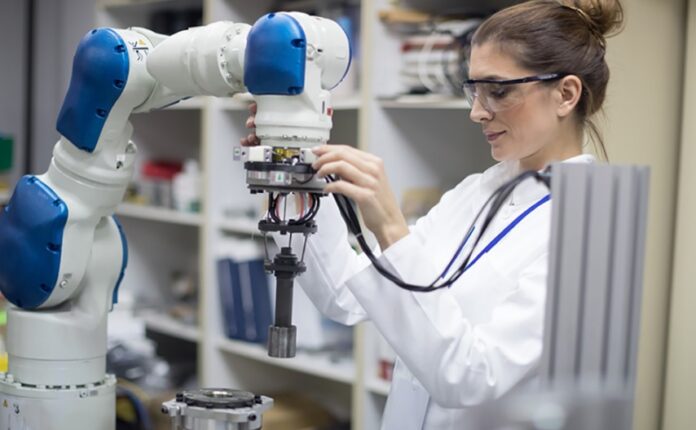 A collaborative robot is a lightweight machine placed next to a human operator to support challenging and repetitive tasks. It ensures the safety of the people who work in proximity to the collaborative robot.
Often referred to as cobot, a collaborative robot is designed with various technical features to perform tasks in collaboration with human workers in industrial sectors. The goal is to ensure the robot does not harm workers when they come into direct contact, either deliberately or accidentally.
These features include rounded contours, padding, lightweight materials, and sensors at the robot base or joints to measure and control force and speed, ensuring these do not exceed defined thresholds if contact occurs.
A collaborative robot is easy to install, program, and reconfigure. It is compact and lightweight and incorporates safety capabilities; thus, instead of being used only by experts, it can be used by people with no or little expertise in robotics.
Though these robots are not huge powerful machines for high payload operations, they can support human workers in arduous, repetitive tasks in the growing field of human-robot collaboration.
Since a collaborative robot enables co-manipulation of objects with the human worker, it can provide many benefits, including "strength amplification, inertia masking, and guidance via virtual surfaces and paths."
Types of human-robot collaboration
Human-industrial robot collaboration ranges from a shared workspace with no direct human-robot contact to a robot that adjusts its motion in real-time in sync with a human worker. The International Federation of Robotics (IFR) defines two types of robots designed for collaborative use.
The first one covers robots that comply with the International Organization for Standards norm 10218-1, specifying guidelines and requirements for the inherent safe design, protective measures, and information for the use of industrial robots.
The second one covers robots that may not satisfy ISO 10218-1 requirements, yet follow different safety standards, such as national or in-house standards, determining the level of contact between robot and worker in collaborative applications.
At the end of this technical spectrum is traditional industrial robots, operating in a separate workspace that workers can enter periodically without shutting off the power. The workspace of this type of robot can be fitted with sensors to detect human motion and to ensure the robot works at very slow speeds or stops when a worker enters the workspace.
Benefits of collaborative robots
Collaborative industrial robots provide many benefits over traditional industrial robots as safe and flexible machines. They provide an economically viable entry point to robotic automation.
They support employees in their workplace, relieving them of many heavy, unergonomic, and tedious tasks, besides automating parts of a production line with minimal changes to the rest of the line. This provides companies with no automated production processes an entry to the productivity and quality improvements offered by robots.
For companies, such as automotive manufacturers with automated production lines, the additional use of collaborative robots offers an opportunity to support workers in completing final assembly that is often the source of chronic back injuries.
The key benefits of collaborative robots are as follows:
Workers and robots can work side-by-side.
Collaborative robots reduce floor-space requirements and often take up less factory floor space, which is a significant cost factor for manufacturers.
They increase efficiency since they do not need to be moved or shut down when a worker is present.
Unlike industrial robots, which often operate from a fixed mounting, cobots are lightweight. They can be easily moved between stations with minimal effort and without removing and reinstalling barriers.
Existing factory layouts can be used since no safety zone is required.
The capital cost and installation time for a cobot are low compared to traditional industrial robots.
Manufacturers of collaborative robots
Some of the manufacturers of collaborative robots include ABB with YuMi IRB 1400 collaborative dual-arm robot, KUKA Robotics that has a lightweight LBR iiwa, Rethink Robotics with Sawyer and Baxter collaborative robots, FANUC from Japan that has a range of collaborative robots CR-35iA, CR-4iA, CR-7iA and CR-7iA/L, and Danish Universal Robot with UR3, UR5, and UR10 cobots.
Other players in the collaborative robot market are Robert Bosch GmbH (Germany), MRK-Systeme GmbH (Germany), Precise Automation, Inc. (US), Energid Technologies Corporation (US), F&P Robotics AG (Switzerland), MABI AG (Switzerland), Techman Robot for Quanta Storage Inc. (Taiwan), Franka Emika GmbH (Germany), AUBO Robotics Inc. (US), YASKAWA Electric Corporation (Japan), Comau S.p.A (Italy), and KAWADA Robotics Corp. (Japan).
To sum up, the collaborative robot market is still in its infancy, and the end-users and systems integrators are still gaining experience in what works and don't in designing and implementing various collaborative applications. Technology developments in sensors and grippers promise to expand the range of applications that the robots can perform. Programming interfaces also continue to become more intuitive, not just for cobots, but also for traditional industrial robots.