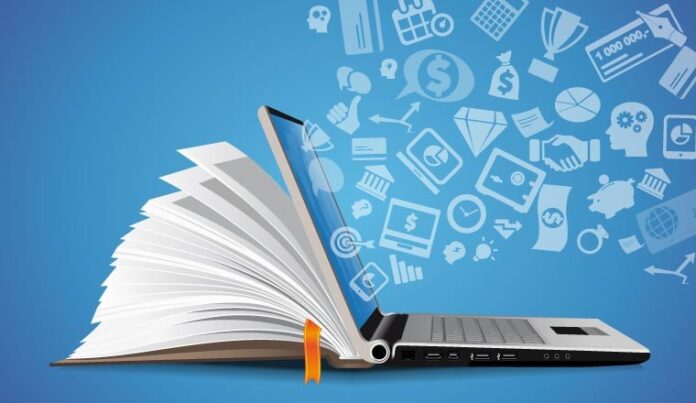 It's 2021, and having random paperwork scattered around isn't going to cut anymore. Earlier, storing corporate information in multiple folders, computers, applications, platforms, and email accounts used to work just fine.
However, this type of haphazard information management, on the other hand, is unproductive, untidy, and frequently leads to information being mishandled and security lapses.
Whether you are a small business or planning to initiate your startup, you need robust knowledge base software to keep all your information in one place. Before you jump on to find the right software, you should have a list of features handy and ensure your application can support all the features.
Top five knowledge base software solutions in 2021
We agree finding the most effective knowledge base software for your website may be challenging with so many alternatives available in the market.
We have curated a list of the top five knowledge base software that will be best suited for your small business. Let's dive in to explore the benefits.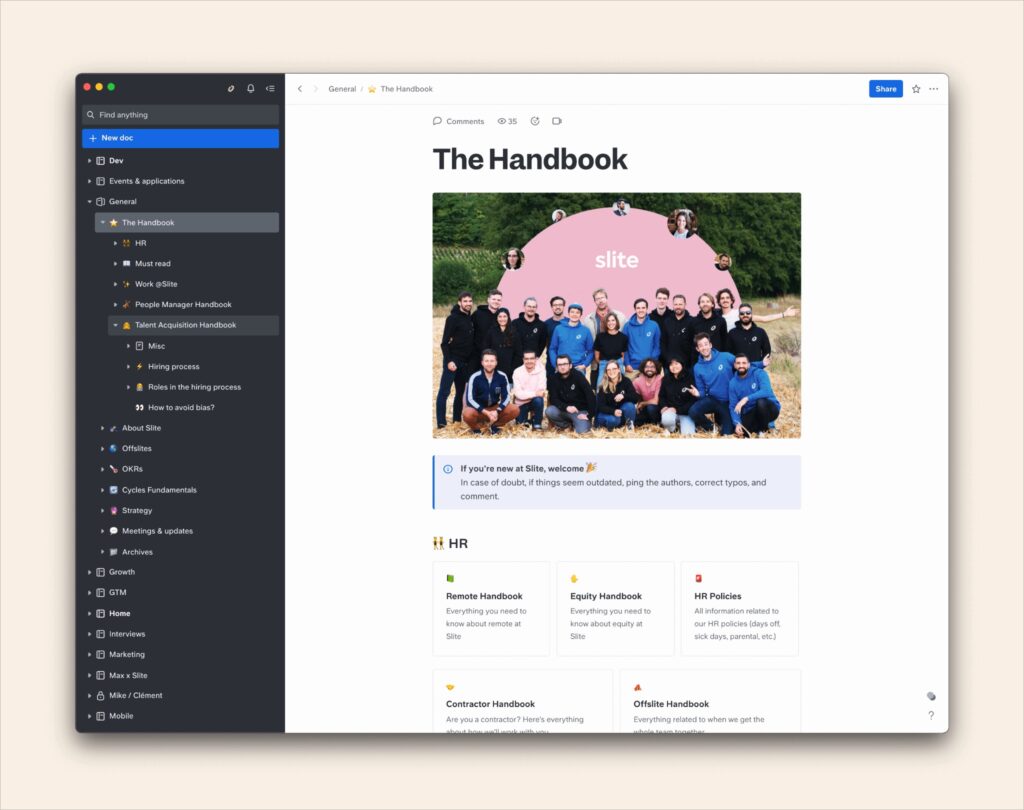 If you're looking for a new internal knowledge base that supports all your working knowledge (updates, conversations, meetings, and projects), you should give Slite a try. The primary goal of this internal knowledge base software is to enable teams to connect and work together more effectively, no matter where they are located. They certainly do this with our knowledge base software since it unifies the information of whole teams in a single, simple-to-use application.
Advantages
Practical and up-to-date — It is trusted by remote and flexible teams for its ability to collect knowledge and share ideas across space and time. It also offers the ability to share the documents across the team and connect and update on the project status to move forward and be more productive.
Different from your typical knowledge base — Slite counteracts this by not being a traditional knowledge base. From meeting minutes and analytics to customer support and CRM data to frequently asked questions (FAQs) and technical documentation, you may store any corporate data you can think of.
Clear structure — Slite's User Interface (UI) was developed so that everyone can use it without a steep learning curve. The structure is clearly defined to provide you with a clear view of your documents so that you do not worry about finding them.
Intelligent search — Finally, the discoverability features of Slite's knowledge management system automatically emphasize what's fresh and popular, ensuring that team members are constantly presented with the most up-to-date and critical information. Our search feature is also relatively quicker!
Pricing
Slite is completely free to use. After that, you can upgrade to the regular plan for $6.67 per month per member. On the other hand, you only pay for what you use (members active within the last 30 days). This subscription comes with an unlimited number of documents, administrator access, read-only permissions, a usage dashboard, and a Google single sign-on requirement.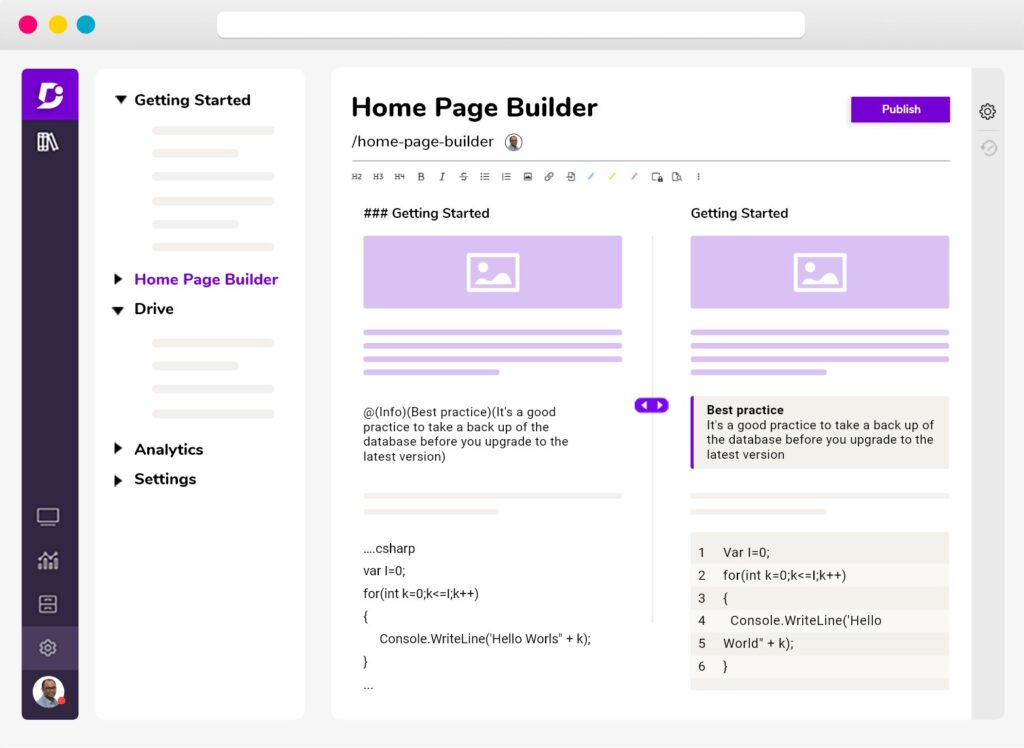 Document360 is a fundamental piece of software that's aimed at creating well-organized knowledge base platforms. The cloud-based software has a stunningly simple and clean user interface that can create both private and public knowledge bases. It also comes with a simple markdown editor.
The setup process for Document360 is highly user-friendly. It also includes features to assist content makers as well as customer service personnel. The platform is entirely online and can be accessed from anywhere via mobile devices.
Advantages
Markdown Editor: It supports markdown, which makes composing and modifying knowledge material much more manageable.
Intelligent Search: The search system provides auto-suggestions when you type in the search field.
Analytics: All search queries, including unsuccessful searches, are collected by search analytics. The team analytics tools include certain key information at the individual employee level, such as the most popular and recent articles and the number of article submissions.
Pricing
Document360 offers various price options, beginning at $49 per month for two team accounts and 5GB of storage. For 30 team accounts, it goes up to $499 for 300GB of storage and is especially suited for large businesses.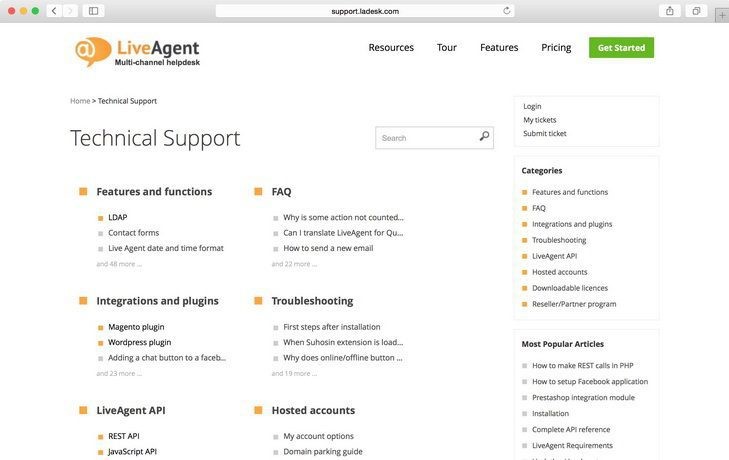 LiveAgent is a feature-rich help desk and live chat application. It allows you to consolidate all your communication channels into a single unified dashboard that your whole customer support staff can view.
LiveAgent's knowledge base is entirely configurable, giving you complete creative control. Logos, colors, themes, and HTML may all be easily changed to match the design of your knowledge base to your company's website.
Advantages
Completely configurable: Almost everything in LiveAgent is entirely customizable. Customize the theme and colors of your dashboard, as well as the app language, alarm sounds, pre-chat forms, live chat buttons, knowledge bases, and customer portals.
Advanced tools: It's a full-featured help desk software with over 179 capabilities, including an integrated call center, reporting, gamification, automation, analytic tools, and customer portal management tools of management/knowledge base.
Competitive pricing: Provides three premium options as well as a free plan that may be used indefinitely.
Excellent customer service: Support is accessible 24 hours a day, seven days a week, with a maximum email response time of 30 minutes.
Pricing
You can choose from four different plans. You can either create a free account or purchase a premium subscription to get limitless social media integrations, advanced features, ticket search history, and the ability to link additional phone numbers and email addresses to your account.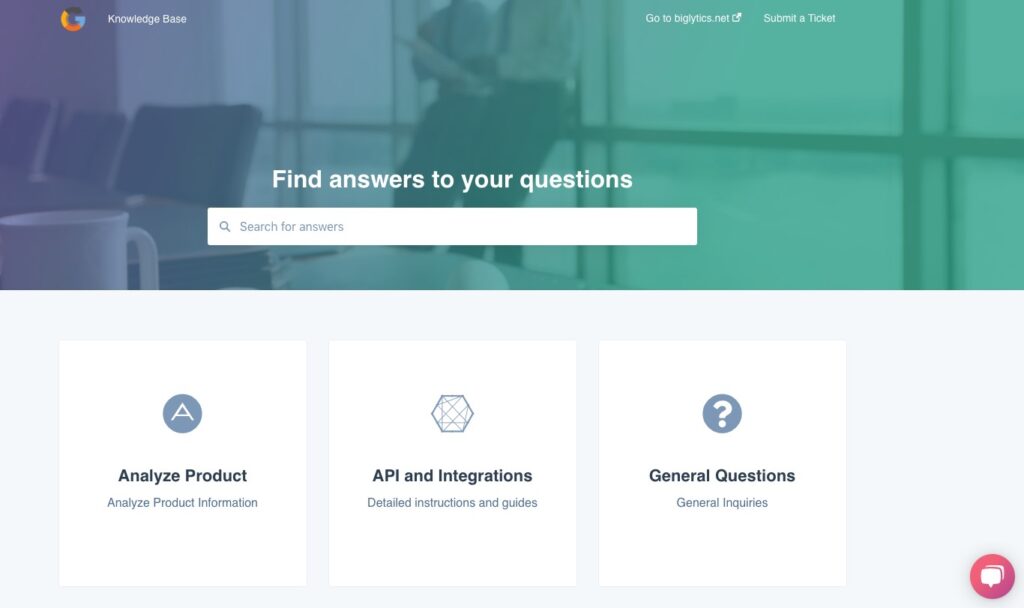 The Support Hub from HubSpot collects all your customer service data and channels in one location. Customers of various sizes can rely on conversational tools, knowledge base, help desk, reporting, customer feedback surveys, and other platform features.
With Service Hub's Knowledge Base feature, you can quickly create a library of self-help articles for your clients. Then, your pages' customized feel and appearance adapt to the different device sizes and organize your pages to get top Google rankings. You'll also receive built-in reporting dashboards so you can keep track of your progress in one spot.
It's simple to get started using HubSpot's cloud-based platform. Create a free Service Hub account or arrange a demo with the HubSpot team.
Advantages
Simple and adaptable: Create articles and templates for your knowledge base with ease. Customize the design of the knowledge base to match your brand and use categories and tags to organize everything.
All-in-one solution: From a help desk to live chat and surveys, Support Hub has everything a customer service team needs. Plus, it's all built on top of HubSpot's Customer Relationship Management (CRM), providing your company a single picture of customer interactions across sales, service, and marketing.
Language support: Create and maintain a knowledge base to respond to your customers in their chosen languages.
Analytics: See what keywords consumers search for, track article performance, and track video interaction to evaluate your efforts and determine where new articles are needed.
Private or public: Restrict article access to allow only select people to view particular pages.
Pricing
A free version is available; the pricing starts from $50 per month for two seats and goes up to $1200 for ten seats per month.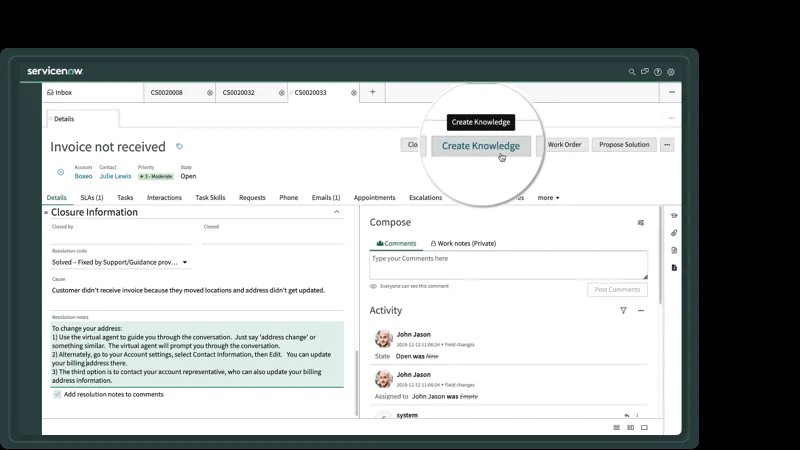 ServiceNow is a comprehensive platform that enables businesses to automate customer management and procedures. It offers workflow solutions for employees, customers, and Information Technology (IT) professionals.
This platform is better suited to larger companies for creating onboarding procedures and transitions. It has an old-school architecture when it comes to developing knowledge bases. However, it's easy to use and understand. It comes with various handy features for structuring the knowledge database. It even has an app store with connectors tailored to building sophisticated knowledge databases.
ServiceNow will guide you through the process of creating a cloud-based knowledge base. Along with your customer support system and automated procedures.
Advantages
Advanced tools: It offers better customer service through chatbots, automated workflows, and other features.
Innovative search: The tool is equipped with a search option that matches phrases to past occurrences to offer more accurate results.
Machine Learning: It uses Machine Learning (ML) to recommend comparable content to consumers and workers to find answers to problems more quickly.
Pricing
On the ServiceNow website, there is no indication of pricing. To receive a quote, you'll need to contact the sales department. The monthly cost starts at $100.
Conclusion
You may be wondering which knowledge software serves your purpose when you have multiple options available above. Honestly, it is up to you to decide what works best for your business. It is recommended to explore all the available options before zeroing on the best match to create your knowledge base.
About the author: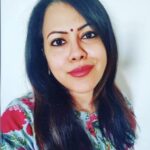 Atreyee Chowdhury works full-time as an Instructional Designer and is passionate about writing. She has helped many small and medium-scale businesses achieve their content marketing goals with her carefully crafted content that is both informative and engaging. She lives in Bangalore, India, with her husband and parents. She loves to read, experiment with different cuisines, travel, and explore the latest content marketing and L&D trends in her free time. You can reach her on Linkedin or write to her at atreyee.c@gmail.com to discuss your content writing/copywriting requirements.