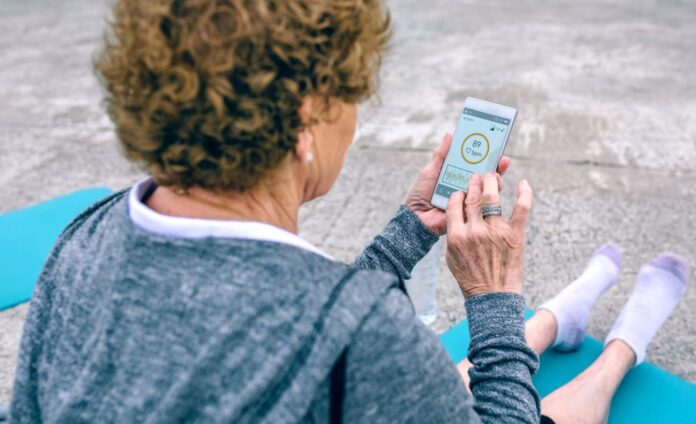 Are you feeling a little "out of sorts"? You're not particularly feeling unwell or unhealthy, but maybe you feel a little more tired and sluggish than usual. Kind of like you've been sapped off all of your energy.
Of course, once you've reached or passed the age of 65, it's normal to feel less energetic. When you feel less energetic than your current "normal," you should feel concerned about your health. For some, it's just a matter of being more active each day. For others, it could be something more.
In the modern age, it's easier than ever for you to keep track of your health, wellness, and fitness. There are plenty of apps designed with seniors in mind, meaning they deliver a program that:
It is simple to learn and navigate
Makes it easy for you to keep track of workouts, symptoms, etc.
Makes signing in to access your account a breeze
Finding these apps can be tough if you've never used your mobile device for anything other than calls or texts. Thanks to our friends at MedicareInsurance.com, we've compiled a list of 5 great health and fitness apps for senior citizens.
1. SilverSneakersGO (Fitness)
SilverSneakers GO hits the top of our list because it was designed specifically with senior citizens in mind. The app works as part of the SilverSneakers program, a health and wellness initiative designed to help you live your healthiest life as you navigate your golden years. Most seniors who are Medicare beneficiaries can sign up for the program at no cost.
SilverSneakers GO offers a variety of exercise programs that last anywhere from four weeks to 12 weeks. The SilverSneakers GO exercise programs focus primarily on the following disciplines:
Strength
Walking
Flexibility and Mobility
Each program delivers easy-to-follow demonstrations for each exercise. They also provide ways to modify movements to be comfortable for those with certain mobility issues or dexterity. One of the biggest benefits of each program is that regardless of whether or not you have special workout equipment, you can easily perform all exercises on the app in the comfort of your home.
The SilverSneakers GO app is primarily designed for those who need or prefer to work out at home, but the folks at SilverSneakers know that some seniors love getting out and exercising with friends. That's why the app also includes a directory of workout classes and gyms in your area.
SilverSneakers GO is available for both iOS (Apple) and Android devices. Get it in the Apple App Store (for iOS users) or through Google Play (for Android users).
2. MyFitnessPal
Staying active is just one component of maintaining a healthy lifestyle in your senior years. The other is making sure you make the right choices regarding eating or drinking. MyFitnessPal is designed to help you keep your diet on the right track.
While the app helps you log your workouts and daily activity, its primary function is to help you keep a diary of what you're eating or drinking. When you sign up for an account, the app asks you for specific fitness goals. Once the app knows what you want from a nutritional program, it shows how many calories you need to take each day for regular weight loss.
To help you stick to your goal, MyFitnessPal gives you a calorie count for any food or drink you take. This includes meals you make yourself. MyFitnessPal helps you determine how many calories you took with your scratch meal by calculating the calories once you've put in the recipe.
MyFitnessPal is free to use, but you can purchase additional features and membership plans in the app. Find it in Apple's App Store or Google Play, as the app is available for iOS and Android users.
3. BetterHelp
Mental health is just as important as physical health. Speaking to someone can greatly help your mental well-being if you're having a hard time. Unfortunately, the wait to get in with a therapist or psychologist can be long if you go through traditional channels, such as getting a referral from a primary doctor.
That's why an app like BetterHelp can benefit seniors who need to speak with someone as soon as possible. BetterHelp eliminates the need for referral and helps connect you with a licensed therapist immediately. The BetterHelp app allows you to customize your experience by choosing the issues you need assistance with. From there, it matches you with a therapist specializing in those particular issues.
You can communicate with your therapist on BetterHelp in four different ways, utilizing any of the methods below as you wish at your convenience:
Text messaging
Live chats
Speaking with your therapist over the phone
Speaking with your therapist over a video call
The BetterHelp app isn't free to use, but the cost is relatively inexpensive compared to the cost of seeing a more traditional therapist. BetterHelp can cost around $60 to $90 per week and is billed monthly.
BetterHelp is available to iOS and Android users and can be found in the Apple Store and the Google Play store.
4. Map My Walk
With any app, simplicity is key. Fitness apps for seniors rarely get easier or more efficient in tracking activity than Map My Walk. This app has been around for a while now, and that simplicity and efficiency are key to its longevity.
Map My Walk may not be as feature-heavy or fancy as some of the other apps on our list, but it provides a powerful, easy-to-use interface that helps you:
Keep track of fitness goals
Save your walking routes
Find new routes in your area
Log your progress
If that weren't enough, Map My Walk provides audio encouragement and feedback whenever you start a new walk. It can also help you track progress with more than 600 other exercises and activities, including cycling and swimming.
Map My Walk is free to download and use but also contains optional add-ons for purchase. This app is available for both iOS and Android users.
5. ShopWell
The final app on our list is designed to help you make the healthiest possible meal choices. ShopWell serves many different functions in helping you maintain a healthy diet. This app serves as a way to make shopping lists for nutritious foods and find healthier alternatives for some of your favorites.
How does ShopWell help you make healthier shopping lists? It serves as a way to help you easily break down the contents of nutritional labels on foods. ShopWell functions similarly to MyFitnessPal, but provides you with personalized nutrition scores when you create a profile with the following information:
Dietary goals
Health issues
Food allergies
Likes and dislikes
If you want to use ShopWell, the app is free to download and use! It's also available for iOS and Android platforms.
Technology is a Big Help in Helping You Maintain Good Physical and Mental Health
There are numerous apps on the market for seniors to stay fit and healthy. After plenty of research, the good folks at MedicareInsurance.com have determined these to be the top five available for senior citizens, but what works for you depends entirely on your preferences. Be sure to check out and follow MedicareInsurance.com for regular news updates regarding Medicare and other issues regarding the senior population.