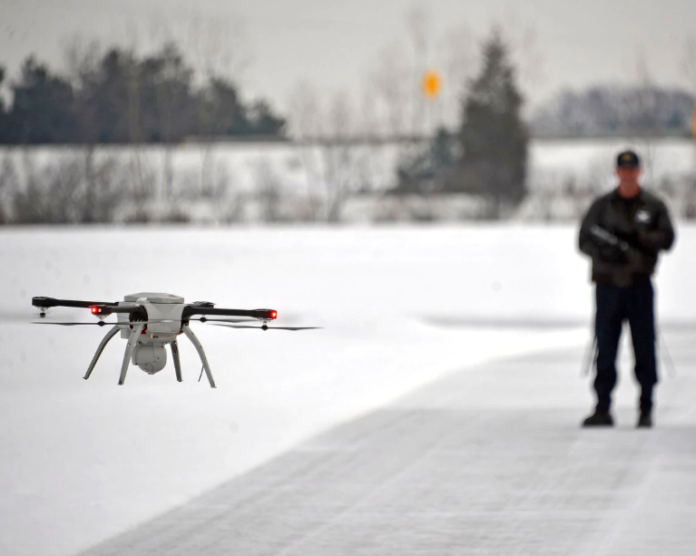 The essential advantage of using drones during the current COVID-19 pandemic, beyond their ability to perform technical tasks efficiently, lies in their capacity to minimize direct human exposure to the virus by involving fewer people in several operations.
From street patrols to food and medicine deliveries in quarantined facilities and hospitals, drones are widely deployed on the front line in several countries to contain the spread of the novel coronavirus.
Deploying drones to facilitate aerial broadcasting and monitor quarantine and social distancing measures in infected areas not only reduces the number of face-to-face contacts but also keep the health workers out of hot zones. It allows medical staff to identify new potential cases without having to touch those who might be infected. It could free-up crucial human resources, such as health workers and law enforcement officers.
During the lockdown, police in several cities and countries like Spain, France, Belgium, the UK, Greece, and Bulgaria, have been using drones equipped with thermal sensors, night-vision cameras, high-definition zoom lenses, and loudspeakers to enforce movement restrictions and identify those who are not wearing masks in public places.
Simultaneously, delivering medical samples and consumer items by drones ensures that people in remote or confined places have easy access to supplies, significantly reducing unnecessary human contact. Many industrial drone makers are experimenting with flying medical samples and quarantine materials across the globe in the height of the current pandemic.
Notably, as the pandemic spreads, new coronavirus-specific detection drones are being developed to perform more sophisticated functions such as temperature detection, heart and respiratory rates, and people's sneezing and coughing in crowds.
Some of the key use cases of drones during a health crisis like COVID-19 are as follows:
Surveillance and lockdown enforcement
Public broadcast
Monitoring body temperatures
Medical and emergency food supplies delivery
Surveying and mapping
Spraying disinfectants
Challenges – What is next?
Without questioning, drones play a significant role in managing the COVID-19 outbreak. In many cities, they are seen as a necessary step to facilitate the enforcement of lockdown rules. The extensive use of surveillance technologies may temporarily be justified to contain the disease. But the widespread use of drones and their multi-tasking potential are highly criticized, especially by security and data privacy experts, raising questions about the type of data collected, the data-processing methods, and the consent procedures.
They argue that the use of drones and similar surveillance technologies during an emergency could pave the way for increased screening and identification of individuals, affecting the people's right to anonymity and fostering discrimination and stigmatization. In addition to issues such as transparency, profiling, and proportionality, the use of drones during an emergency may signify a securitization of civil problems, with potentially irreversible implications for human rights. The modification of drone software and civilian drones' vulnerability to hacking also raises serious dual-use or misuse concerns, such as malicious or even criminal activities.
Notably, the regulatory framework for drone operations is evolving in most countries. At the time of the coronavirus outbreak, regulations were mostly restrictive. Drone use was limited, out of concern for potential safety, security, privacy, and environmental issues.
However, it is interesting to note that the Article 6 and Article 9 of the General Data Protection Regulation (GDPR) allows for the collection, use and necessary sharing of personal data for reasons of public interest or public health, such as protecting against serious cross-border threats to health. Though the European Data Protection Board (EDPB) recently stated that any widespread use of drones for large-scale data collection must abide by the principles on the processing of personal data during COVID-19, some experts worry that waiving regulations in a rush to deploy drones in emergencies may cause unforeseen problems.
Therefore, establishing a regulatory framework for drones that take into account concerns beyond safety is time-sensitive to improve emergency responses. It could also be helpful for drone deployment for general transport uses.
Anyways, the drone industry is reckoning that the pandemic provides opportunities to test and assess different use cases for their products. The experiences gained during the crisis will lead to the drone sector's faster development in the future.