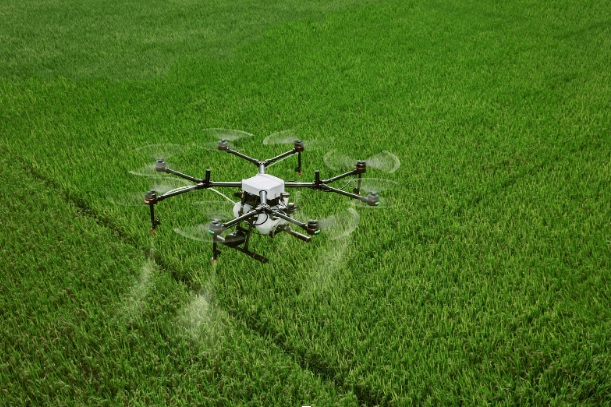 Drones are remote-controlled or GPS-driven aerial vehicles that can be operated for various agricultural applications, including aerial crop monitoring, pesticide spraying, seed distribution, and aerial watering.
Interestingly, the use of drones and IoT technologies in agriculture are gaining momentum day by day. In the USA, almost 84% of farmers use drones regularly. With this, new aviation companies are shaping, providing drones on a rental basis or providing their services on a contract basis.
Thanks to the advent of technologies such as artificial intelligence (AI) and machine learning (ML), and computer vision (CV), which are increasingly used to automate human actions with precise accuracy and efficiency; drones are now capable of controlling all actions during their projected flight and interactive actions and feedback with the ground station. With this, drones play a vital role in scaling and managing large farmlands.
Use of drones in agriculture
1. Soil and field analysis
To analyze the soil and field, drones fitted with remote sensing cameras gather information from the ground using the electromagnetic spectrum. It is possible to distinguish between different elements by looking at the range of wavelengths that they reflect. Drones collect unprocessed data and use algorithms to turn it into useful information. They can therefore be applied to a wide range of farming tasks, such as monitoring the following variables:
Crop health: damage made by pests, nutrient deficiencies, color change due to pest infection.
Vegetation catalogs: leaf area, treatment effectiveness, phenology, yield.
Plant growth: plant height, LAI, and plant density.
Plant inspection: plant size, field statistics, stand number, compromised field, planter skips
Water requirements: water requirement according to the climatic situation, water-stressed parts of the field/orchard in need of watering
Soil investigation: nutrition concentration in plants, nutrient availability for plant nutrient management; this information aids farmers in determining the most efficient planting, crop management, and soil management practices.
2. Planting of seed from air
An estimated 15 billion trees are felled annually for mining, urban sprawl, and horizontal agricultural growth. Using drone seeders, we can quickly reforest, though. These drones employ a pneumatic firing mechanism that shoots seed pods deeper into the soil in some situations, such as in hilly terrain or mangrove forests. Up to 40,000 seeds can be planted into the ground by two flying drones each day.
A drone can plant as much as a typical human can in just ten minutes. It can reduce planting costs by 85% while achieving an emergence rate of 90%. On June 5, 2017, the first drone-seeding trial in India was conducted on the banks of the Pinakini River in the Gauribidanur region of Karnataka. In the Doddaballapur hill range to the north of the city, a group of scientists from the Indian Institute of Science (IISc Bangalore) wants to turn a 4000-ha area green and into forests.
3. Spraying operation
It is increasingly essential for crop health to spray pesticides to kill pests and undesirable plants like weeds. Drones can transport suitable-sized reservoirs loaded with fertilizers, pesticides, herbicides, plant growth regulators (PGRs), etc., for quicker spraying. Because of the height of the crop, manual spraying operations can be particularly challenging at times. Smart farms employ drones to spray to avoid exposing people to fertilizers, pesticides, and other toxic chemicals. Spraying takes less than 40 minutes to complete in a 1 ha field thanks to a spraying capacity up to five times faster than conventional technology. It reduces pesticide use by 30%.
4. Crop health assessment
Drones can track crop health over time and track how remedial efforts work when fitted with sensors that can scan crops using visible and near-infrared light. This can be designed to recognize specifics like NDVI, water stress, or a deficiency in a particular nutrient in crops. Farmers can better comprehend and discover new ways to boost agricultural yields while decreasing crop damage using data from advanced sensors shown in 2D or 3D; this data also acts as a proof for farmers or government agencies seeking crop insurance or requesting an estimate in the future.
5. Crop count/plant emergence analysis
Drones are a practical, quick, and affordable technology for gathering information on crop emergence, guiding replanting choices, and assisting in yield prediction by combining high-resolution data with Machine Learning algorithms (MLAs). This system uses data collected by drones and photogrammetry to produce output that is 97% accurate. Utilizing drones with LiDAR sensors, it is possible to calculate the change in tree/crop biomass based on differential height measurements, which calculate the amount of timber produced in forests.
6. Irrigation monitoring and planning
Drones with thermal cameras and remote sensing capabilities can help divide the areas into different moisture regimes and solve irrigation-related problems. This aids in precise irrigation planning. The photogrammetric and navigational equipment on the FAO's drones in the Republic of the Philippines has a ground resolution of up to 3 cm.
7. Disaster risk reduction
To support Disaster Risk Reduction (DRR) efforts, the FAO has collaborated with national counterparts to develop systems for data collection using drones. After loading these valuable data, modeling systems with analytics capabilities generate insightful results. Such information can help the government organize disaster relief and response efforts better while offering rural areas trustworthy, high-quality advice. Drones enable immediate ground response much quicker than manual detection, analysis, and response. Up to 44.46%, less time can be spent responding to a disaster thanks to drones.
8. Wildlife conservation
Thermal camera-equipped drones can track, examine, and monitor livestock. Drones could revolutionize research on forest and wildlife conservation. In addition to information, imagery, and data that would otherwise be challenging or prohibitively expensive to obtain, they offer a bird's eye view of forests and wildlife. With 480 square kilometers of Kaziranga National Park, the Republic of India's government of Assam has teamed up with Tata Consulting Services (TCS) to use drones for surveillance, spotting unauthorized settlements, and discouraging poaching. Drones with thermal cameras can identify poachers even if they are concealed in dense vegetation. This effort has helped the critically endangered one-horned rhinoceros.