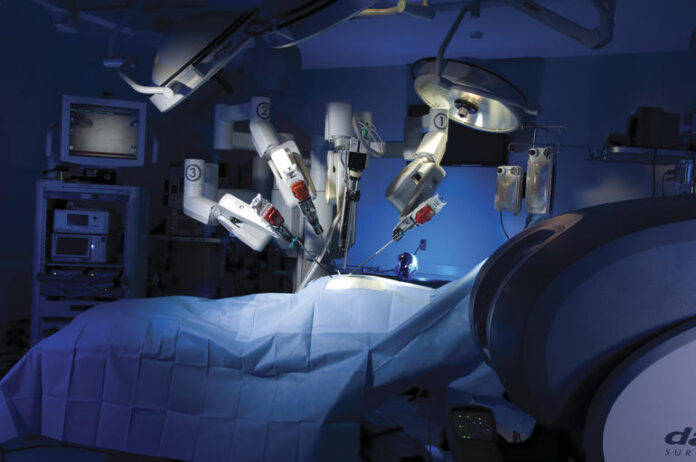 In the modern era, technological advancements in the medical industry have made their way to numerous inventions, and the surgical robot is one of them. Robotic surgery has been promptly adopted by hospitals worldwide, especially in the US and Europe, to treat a wide array of health conditions. There are several types of surgical robotics, including robotic kidney surgery, robotic gynecological surgery, robotic gallbladder surgery, robotic colorectal surgery, head and neck surgery, and others.
Recently, Tennova Healthcare – Clerksville has announced that it is bringing its second robotic surgical system online. This will allow surgeons to access the technology and perform complex surgeries in gynecology, urology, etc.
Meanwhile, the US ocular system producer and engineering service provider is fast-tracking medical equipment development programs to reduce complications and improve surgical outcomes. This is expected to solve the most difficult issues of Original Equipment Manufacturer (OEM) companies in optics and photonics product technologies. Gray Optics, a partner to OEM instrument companies, has designed PCR instruments with lower-cost devices that regularize diagnostic testing.
Moreover, Portland, a marine-based company, has advanced endoscopic imaging capabilities by combining multiple components and designs, which allows surgeons to detect tissues and blood vessels distinctly. Its fiber-optic scrutiny assisted in repairing heart defects and optical coherence tomography. Its 3D chip-on-tip endoscope is used for robotic surgery applications.
Furthermore, surgical robot maven memic is planning to track SPAC to improve the Hominis system launch. This device consists of a pair of articulated and laparoscopic instruments that can work as a replicate human arm with shoulder, elbow, and wrist joins in guiding the camera through a tiny slit in the abdomen. All of these global companies are constantly adopting the surgical robotics system, owing to its advantages.
Advantages of using robotic surgical technology
Robotic surgery or robot-assisted surgery is a kind of laparoscopic or minimally invasive operation which allows doctors to carry out complex surgical procedures with more accuracy, flexibility, and control. Unlike the conventional techniques, the surgeon is assisted by a computerized robot. The robotic surgical system consists of a camera arm and a mechanical arm with surgical instruments. Once the robotic arm is placed in the abdomen, the doctor can operate and control the arms through an endoscope which provides a high definition, magnified, and 3D view of the surgical site. This system is very flexible and also can rotate 360 degrees.
This bliss of technology helps the surgeon operate in microscopic spaces inside human bodies that otherwise need open surgery. Robotic surgery creates smaller cuts than open surgery on the human body, so post-surgery hazards like pain and scars are much less than the usual surgeries. Also, it paves the way for the quick recovery time of the patient.
Before and after the procedure
The patient is not allowed to have any food or fluid for eight hours before the robotic surgery. Most importantly, aspirin and blood thinners such as Plavix, medicines, vitamins, and supplements should be strictly avoided 10 days before the surgery.
To perform traditional open surgery on the human body, a slit of a minimum of eight inches is required, which is why patients usually stay up to 14 days in the hospital. Here in robotic surgery, surgical cuts and scars are small; thereby, the patient recovered soon after the procedure.
Top five surgical robotics systems
Vinci surgical robotics system by Intuitive is the first robotic surgery device to get Food and Drug Administration (FDA) clearance for use in minimally invasive The system is used in various operations, including colorectal, gynecology, head and neck, thoracic, urology, and others. More than 1,600 Vinci systems are right now installed in hospitals across the world, and over 750,000 patients have undergone surgeries through this robotic surgical system.
Ion surgical robotics system by Intuitive is designed to let surgeons perform laparoscopic operations deep inside the lung. During the operation, the physician uses a robotic catheterto navigate through the tiniest and intricate airways of the lung. This catheter is flexible to move 180 degrees in all directions. Other than that, biopsy tools, such as forceps and needles inside the catheter, helps in reaching the targeted lung tissue. This special system applies fiber optic shape-sensing technology to offer robotic control of the catheter's position.
The Mako System offers partial knee, total hip, and total knee function. This system allows precise implant positioning and a CT scan to achieve a 3D representation of the patient's bone structure.
The NAVIO Surgical System also assists with total knee replacement procedures. But in this technique, bone mapping is generated during the operation to yield a 3D model of the patient's bone structure.
Auris Health's bronchoscopy equipment is another robotics-assisted system that includes a video game-like controller. The surgeon uses this controller to navigate the robotic endoscope throughout the bronchioles of the lungs. This system offers an innovative new technology to perform endoscopic procedures through continuous bronchoscope vision, computed guidance, and accurate control of instruments.
Therapeutic robot devices
Medical robots are no more restricted to surgical techniques. There are varieties of medical robots which are used for fulfilling other healthcare stuff.
Telepresence robots are majorly used as therapeutic tools for people suffering from mental illnesses like dementia. It improves the quality of a patient's life through social connection.
Rehabilitation robot – This robotic device assists different sensorimotor functions. These are mainly used in the recuperation process of patients with disabilities in standing up and balancing. End effector systems and powered exoskeletons can be used for rehabilitation. End effector-based robots are faster to set up and adapt, whereas exoskeletons offer precise joint isolation and gait transparency.
Medical transportation robot – These robots possess advanced automated transport power, used to serve patients with medicines and meals on time. This technology also helps in enhancing communication among doctors, staff, and patients.
Sanitation and disinfection robot – With the outbreak of various microbial and viral infections and the rapid spread of coronavirus, the sanitation and disinfection robot has a major role in hospitals. These robots use hydrogen peroxide vapor and ultraviolet light to kill germs and viruses.
Robotic prescription dispensing system – This system brings multiple benefits to pharmacists, physicians, and patients. It safeguards the patient by eliminating the risk of human error. It is also capable enough to meet the demands of daily prescription volumes, thus benefiting the pharmacies. This configured system can further minimize the threat from contamination, especially caused by airborne pharmaceutical dust.
The current market scenario of surgical robotics
Currently, the global demand for robotic or minimally invasive surgeries (MIS) is rapidly increasing, owing to the advantages of these procedures, such as fast recovery, less pain, and others. At the same time, few other factors like the increasing need for robotization in the healthcare industry, rise in the number of surgeries (bone transplant, knee & hip replacement, osteoporosis), and the trend of advanced robotic surgeries are majorly contributing to the growth of the global surgical robotics market. According to a report published by Allied Market Research, the global surgical robotics market size is projected to reach $98737.0 million with a considerable CAGR from 2017 to 2024. In fact, the growing number of ambulatory surgery centers (ASCs) provides a lucrative opportunity for key market players in the surgical robotics market.
In addition, the key market players are introducing several cost-effective and flexible surgical robots, which, sequentially, is driving the market's growth. With this drift on board, medical science is expected to shower numerous technological amazements shortly, which will increase the global demand for surgical robots to a great extent. This way, the constant surge in demand for surgical robots will further expand the global market.
About the author:
Suchita Gupta is an explorer, musician, and content writer. While pursuing MBA, she found that nothing satisfies her more than writing on miscellaneous domains. She is a writer by day and a reader by night. Besides, she can be found entertaining her audience on social media platforms. Find her on LinkedIn & Instagram.