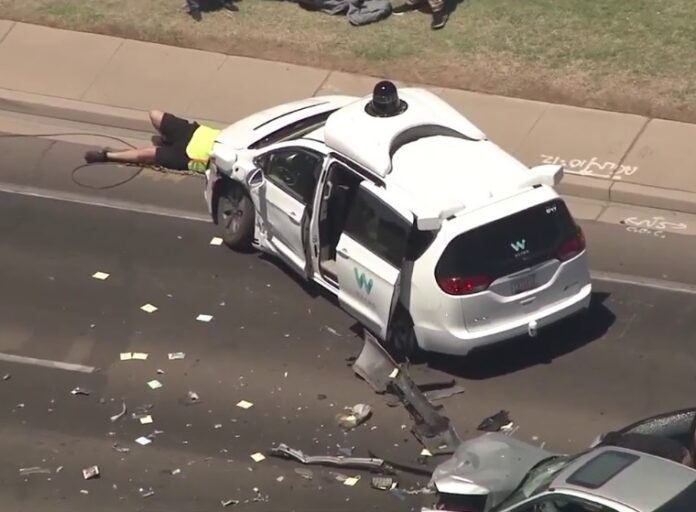 Safety and security are among the primary requirements of autonomous and high automation vehicles. Why? Because an autonomous driving system (or driving automation system – DAS) takes full responsibility for driving the vehicle.
These systems offer the possibility of fundamentally changing transportation to reduce crashes, energy consumption, pollution, and the cost of congestion. However, any failure may result in severe human injuries or even death.
At the same time, they pose additional security challenges, since autonomous vehicles function as cyber-physical systems, consists of a myriad of heterogeneous components, both cyber and physical.
Any accidental failures and intentional attacks due to security issues may result in severe injury or loss of life. Thus, any missing consideration on either failures or attacks may lead to a terrible consequence.
In recent years, governments and private organizations have tried to define the safety and security measures for automated vehicles (AVs), proposing frameworks to measure safety at different stages of an AV's evolution to avoid system failures and security attacks.
This post highlights eight top such reports that help design or tailor the safety and security processes and selecting appropriate countermeasures for autonomous vehicles.
Measuring Automated Vehicle Safety: Forging a Framework
This report presents a framework for measuring safety in automated vehicles (AVs), which could be widely used by businesses, policy-makers, and the public. In it, the authors looked at how to define AV safety, how to measure AV safety, and how to communicate what is learned or understood about AV. It also presents a structured way of thinking about how to measure safety at different stages of an AV's evolution and proposes a new kind of measurement. It highlights the kinds of information that could be presented in consistent ways to support public understanding of AV safety.
Read the full report here.
Vehicle Owners' Experiences with and Reactions to Advanced Driver Assistance Systems
This report presents the results of a survey of over 1,200 owners of vehicles equipped with advanced driver assistance systems (ADAS). The data reflect owners' opinions about, understanding of, and experiences with the ADAS technologies. Although the majority of drivers generally have favorable impressions of the technologies on their vehicles, many respondents demonstrated a lack of awareness of the key limitations of the technologies.
Read the full report here.
Preparing for Automated Vehicles: Traffic Safety Issues for States
This report outlines new and perhaps unanticipated state traffic safety issues that automated vehicles may bring to states, and discusses how law enforcement and State Highway Safety Offices (SHSOs) should prepare for them. It includes recommendations to states on automated vehicle testing and deployment, management, and traffic laws.
Read the full report here.
Safer Roads with Automated Vehicles – International Transport Forum
This report looks at how the increased automation of cars and trucks might affect road safety. This report focuses on which security vulnerabilities may be affected by the rise of self-driving vehicles, and how vehicle automation might impact the "Safe System" principles, which aspires to a long-term policy goal that no one should be killed or seriously injured in a road crash.
Read the full report here.
Cybersecurity Challenges and Pathways in the Context of Connected Vehicle Systems
This report summarizes and compares the inherent security flaws in automotive radar and DSRC technologies. It discusses the motivation for combining radar and DSRC into a joint system and provides an overview of the potential consequences of an insecure vehicular system.
Read the full report here.
Why Waiting for Perfect Autonomous Vehicles May Cost Lives
Some people believe that autonomous vehicles have to be almost flawless before people take their hands off the wheel. But research by RAND shows that putting AVs on the road before they're perfect improves the technology faster and could save hundreds of thousands of lives over time.
Read the full report here.
Automated Driving Systems (ADS) – A Vision for Safety 2.0
This report replaces 2016 issued Federal Automated Vehicle Policy. This updated policy framework offers a way forward for the safe deployment of automated vehicles by encouraging new entrants and ideas that deliver safer vehicles, nibbling the regulatory processes of departments to help match the pace of innovation in the private sector and supporting innovation in the industry and encouraging open communication with the public and stakeholders.
Read the full report here.
Autonomous Vehicles Meet Human Drivers: Traffic Safety Issues for States
This report describes the key topics that states must address to manage traffic safety in a world with driver-operated and autonomous vehicles. The report then summarizes what some states have already done to address autonomous vehicles. Finally, the report suggests what all states can and should do to prepare for autonomous vehicles and ensure that traffic safety is at the forefront of all autonomous vehicle discussions.
Read the full report here.