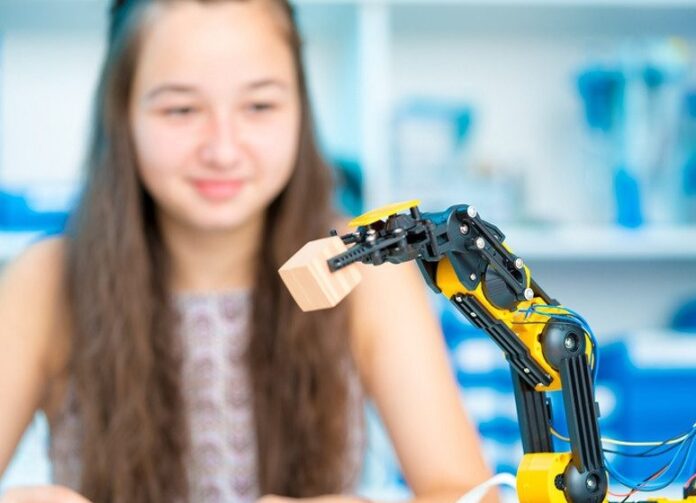 In the last ten years, robotics attracted the high interest of teachers and educationists as a unique learning tool to develop cognitive and social skills for students from pre-school to high school through hands-on, fun activities in an attractive learning environment.
However, robotics or STEM curriculum is a relatively new area for most schools and curriculums across the world. As a result, teachers could find it challenging to master the new skills of teaching robotics in most engaging ways, feeding students interest and curiosity.
Activities with robotic models, programmable kits and toys are attractive opportunity to organize lessons constructively, but the future teachers need to be more creative and develop a vast set of skills and knowledge to explain the key concepts, programming, encourage the students to solve problems and prepare them to take part in robotics competitions as volunteers or contestants in local robotics competitions. By the way, some students use the services of writing an essay in companies such as Essayservice Canada Since they do not have enough time to do what they love, they contact the essay writing service and maintain their grades at a high level.
Educational robotics suffers from the same old problems in education. Most activities, involving robotics, are not integrated into regular classroom activities and implementing robotics activities expeditiously in the classrooms appear to be the time consuming for teachers. The cost of equipment and practical work required from teachers to keep all the pieces in the right place is not encouraging.
Teachers face multiple challenges in teaching STEM today. First, they are known to have limited STEM materials and content knowledge. Second, they have anxiety about, negative attitudes toward, and low confidence in teaching STEM subjects. Third, many teachers are not found to be well prepared to teach engineering. Many teachers are familiar with technology but still need to learn about technology integration.
Forth, some teachers themselves don't know what they are doing with facilities provided for STEM education. They let the students just come over and play with the devices and assume everything will be fine.
Fifth, there is a misconception among the teachers that driving a robot around the classroom with remote control makes the students learn to code. Coding a robot is different from just driving it around. The learning should be creatively coding and not driving around.
Sixth, all robots aren't best suited for the classrooms. Just because a robot is cheap, it doesn't necessarily mean that they are the right tool for teaching STEM. More expensive ones don't always do everything you need either. Too many teachers and schools are fascinated by what they see on social media and never ask themselves whether they are using the tools correctly.
What this all indicates is that teachers and schools need much understanding, preparation, and training to learn how to integrate educational robotics into their classrooms. In this post, we put together some of the best guides and lesson plans to help teachers or castrate teaching robotics in the classroom efficiently. It isn't a comprehensive list, yet we assure you to update the list as in when we discover additional resources on the website.