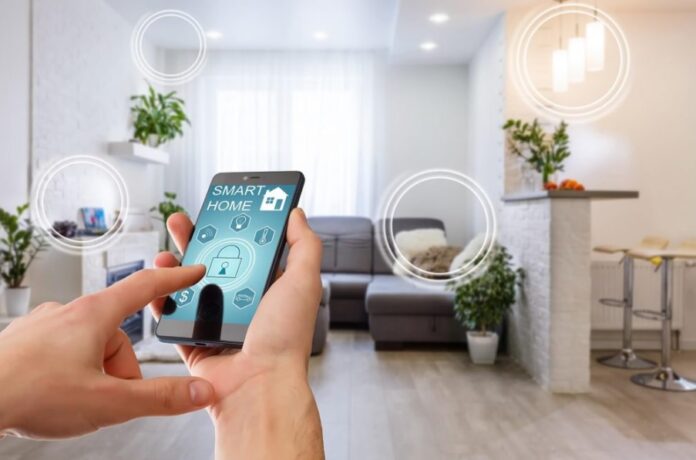 The smart home market has evolved significantly in recent years, with smart home technology progressing from low and high-frequency to high-frequency data rates.
The advancement of smart home technology is opening up new opportunities in areas such as entertainment control, HVAC control, home healthcare, smart kitchens, and others. Experts predict the global smart home market will be worth $119.0 billion by 2025, with a CAGR of approximately 8.0% between 2020 and 2025.
The smart home market comprises safety and security, home appliances, entertainment control, lighting, HVAC controls, home healthcare, smart kitchen, and others.
Honeywell, Johnson & Johnson, ADT Corporation, Control4 Corporation, United Technologies Corporation, Siemens AG, Philips, Acuity Brands, and Vivint Inc. are the market leaders in smart homes.
This post identifies six trends that will impact the global smart home market. Most industry participants and experts agree that these six trends will hasten the development of the smart home industry shortly.
1. Increasing use of Artificial Intelligence (AI)
The increasing use of home artificial intelligence systems is a major smart home technology trend. The machine learning component of artificial intelligence will enable it to analyze data collected by sensors and predict required actions even before the homeowner activates the command. Artificial intelligence, for example, can turn on the heating and order groceries from the nearest store, taking AI home automation to the next level.
The computer vision could allow a Samsung Family Hub to identify products in the fridge and create a shopping list or voice-controlled smart devices to understand speech using NLP engines. AI is used in such systems to improve the user experience for smart home residents. Residents of smart homes can use AI to play music, update their to-do lists, turn lights on and off, and much more.
2. Growing Adoption of IoT (Internet of Things)
The Internet of Things includes everything from self-driving cars to smart speakers and Wi-Fi-enabled refrigerators. IoT is one of the most recent smart home technology trends expected to grow rapidly. The adoption of Internet of Things (IoT) technology services is accelerating. IoT devices will become even more advanced, and we will see many more examples of their use. One possible implementation is doors with smart locks that unlock automatically when they recognize the homeowner's face. IoT is the most exciting smart home trend that significantly innovates our daily routines.
3. Robots in Smart Homes
Robots made their way into homes through simple innovations such as robotic vacuum cleaners and lawnmowers. However, advances in artificial intelligence have enabled far more advanced features, such as cooking, cleaning, and performing simple household tasks by robots. Smart home robots, in particular, can be household helpers for the elderly and people with disabilities. Domestic robots will take over smart home applications and routine tasks. Robots like LG's CLOi and Trifo's Lucy are used for everything from cooking and cleaning to healthcare and monitoring services.
4. Smart Thermostats
Smart thermostats are among the most popular smart home technology devices. They are generally simple to install and can be completely customized to the resident's preferred temperature and routines, allowing the resident to easily adjust the environment in the home from almost anywhere. Smart thermostats are also touted as environmentally friendly because heating and cooling can be easily turned on and off while the resident is away. They are also cost-effective because their use can lower utility bills.
5. Integration with Voice Assistants
Integration with voice assistants is another effective way to solve the connectivity issue and add voice control to any smart home device. Enabling Amazon Alexa or Google Assistant has been happening at an unprecedented rate in recent years. Finding a connected appliance or system that Alexa can't control is becoming increasingly difficult. Smart lightings such as Philips' Hue family, thermostats such as Ecobee, furniture such as coffee tables by 37°C Smart Home, kitchen appliances such as ChefSteps Joule, security systems such as Logitech cameras and Yale locks, and even vehicles such as Audi and Lexus models are among the adapters.
6. Focus on Security in Smart Home Technology
Security is a key smart home technology trend today, as using even one smart home product with inadequate security protocols can jeopardize the entire ecosystem. Security will be one of the fastest-growing sectors in the smart home market, with the highest adoption rate. This explains the popularity of connected security devices such as smart locks, doorbells, and cameras.
The future of smart homes, in which every second device is listening, recording, or watching, creates an urgent need for an additional level of security for security devices. Designers and developers of connected systems are incorporating advanced authentication for this purpose. One good example is AI-based biometric authentication for August locks. Other businesses create special hubs to secure connected things. Avira, for example, provides the SafeThings router, which provides security for a home's smart systems by protecting against cyber-attacks, spies, and other intrusions.