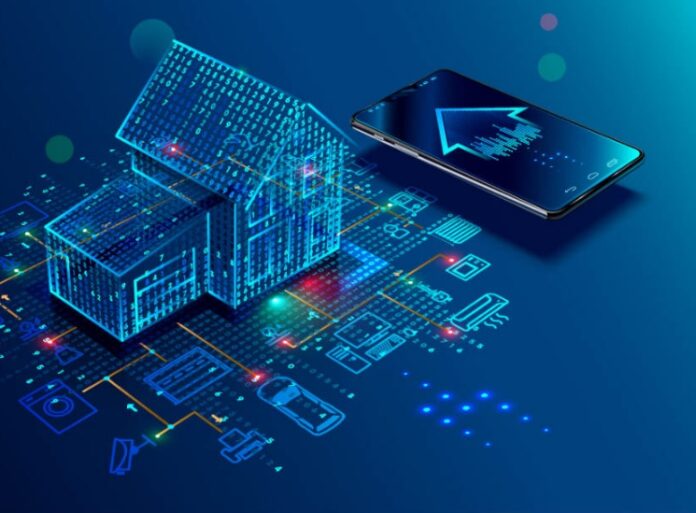 A smart home integrates technologies, services, and various home automation systems through home networking for better living, especially for elderly and disabled persons. The home network encompasses communications, entertainment, security, convenience, and information systems.
Many wireless communication technologies can be used in today's homes for home automation. Some are taking advantage of the existing infrastructure, providing wired communication between sensors, end devices, and controllers if possible. Others don't require anything pre-installed, using the air as a connection medium, and all components are connected wirelessly.
Most low-end mainstream home automation consumers prefer the cheapest and easiest ways to connect to devices they want to use in their homes. They want to connect using controllers they already have, and they want them to be able to retrofit easily into their existing home environments. They also want all these devices to work together and for them to be able to control them from a single software interface.
This post will discuss some of the top wireless communication networks used for smart home automation.
1. Bluetooth
Bluetooth is based on the IEEE 802.15.1 standard, which describes a wireless personal area network. It operates in the 2.4 2.4835 GHz unlicensed ISM band and provides a data rate of up to 21 kbps. Bluetooth provides a coverage distance of up to 100 meters. It is typically used for portable personal devices.
Bluetooth has no strong security layer to prevent eavesdropping. Therefore, it cannot satisfy tough security requirements compared to other wireless communication standards. Also, it provides lower transmission coverage. It has some interference issues with 802.11. It covers both the physical access and the MAC layer and is designed to operate in noisy environments.
2. WiFi
WiFi is the most popular wireless technology used in a CPN. It is based on IEEE 802.11 standards: 802.11b-11 Mbps, 802.11g-54 Mbps, 802.11a-54 Mbps, and 802.11n-300 Mbps. It can operate in frequency bands of 2.4 GHz, 3.5 GHz, and 5 GHz unlicensed ISM (Industry, Scientific, and Medical).
It provides a coverage range of up to 100 meters. It also provides reliable, secure, and high-speed communications. However, it supports short-range communications. The cost and power consumption of WLAN products are also higher than other short-range wireless technologies such as ZigBee and Z-Wave.
3. EnOcean
EnOcean technology is an energy-harvesting wireless technology, and EnOcean transmitters generate their energy from the environment, i.e., ambient light. This energy harvesting enables wireless and battery-less switches and sensors for building, home, and industrial automation. EnOcean technology combines micro-energy converters with ultra-low power electronics. It is more energy efficient than other wireless communication technologies like WiFi, ZigBee, and Bluetooth.
It has potential applications in battery-less wireless communication for a control system, with more flexible implementation and operation and reduced installation and maintenance costs. EnOcean supports the coverage distance of up to 30 meters indoor and 300 meters outdoor operating ranges. Transmission frequencies used for EnOcean devices are 902 MHz, 928.35 MHz, 8 8.3 MHz, and 315 MHz. It provides a data rate of up to 125 kbps.
4. 6LowPAN
LoWPAN is known as IPv over Low power Wireless Personal Area Networks. It is a networking technology that allows IPv packets to be carried efficiently within small link-layer frames, such as those defined by IEEE 802.15.4. While LoWPAN was originally conceived to support IEEE 802.15.4 low-power wireless networks in the 2.4-GHz band, it is now being adapted and used over various other networking media, including Sub-1 GHz low-power RF.
LoWPAN uses the strong AES-128 link layer security defined in IEEE 802.15.4. Its characteristics make the technology ideal for markets such as home automation with sensors and actuators, street light monitoring and control, residential lighting, smart metering, and generic IoT applications with Internet-connected devices. Today both 2.4 GHz and Sub-1 GHz bands can be used, building on the IEEE 802.15.4 advantages, including support for a large mesh network topology, robust communication, and very-low power consumption. The 802.15.4 standard provides 20 250kpbs data rates depending on the frequency. It is suitable for short distances from 10 to 100 meters.
5. Z-Wave
Z-Wave is a reliable, low-power, low-cost proprietary wireless communication technology suitable for short-range communications. It is designed for remote control applications in residential and light commercial environments. It supports a data rate of up to 40 kbps and a coverage distance of up to 30 meters. Z-Wave supports mesh networks, which makes it a good candidate for CPNs. However, it provides short-range communications and has a low data transmission rate.
It operates in the 900MHz unlicensed radio frequency band used in Australia and North America, while 2.4GHz is the unlicensed band used worldwide, including Australia. Generally, 900MHz solutions provide a significantly longer range and lower power. In addition, the freedom from WiFi interference allows for a standardized low bandwidth control medium that can be reliable alongside common wireless devices.
6. Zigbee
ZigBee is a wireless personal area network (WPAN) standard based on IEEE 802.15.4. It is used in a network that requires a low data rate, i.e., up to 250kbps, and long battery life, i.e., up to 10 years. A typical ZigBee transmission range can be up to 100 meters, depending on power output and environmental characteristics. This distance can be extended up to 1,000 meters with ZigBee-Pro. 128-bit symmetric encryption keys secure ZigBee networks. It has ten channels in the 2.4GHz ISM band (Worldwide), ten channels in the 915MHz band (Australia and US), and one channel in the 808MHz band (Europe). When comparing ZigBee data rates with those of other technologies, ZigBee may have much lower data rates than others. In addition, ZigBee can be deployed in a mesh network, which allows ZigBee in a mesh configuration to have high reliability and a broader coverage range.
7. Wave2M
Wave2M is designed for ultra-low-power energy consumption, the long-range transmission of small data, and low-traffic communications. Wave2M operates in the major license-free ISM bands around the world and complies with the following regulatory standards – 8¬8 MHz (Europe), 915 MHz (North America), and 433 MHz [18]. It provides a coverage range of up to 1000 m. While Wave2M maximizes the link budget to achieve the longest possible wireless range, it is not recommended for use in the 2.4GHz ISM band due to less efficient propagation conditions at the higher frequency. Wave2M supports data rates from 4.8 kbps to 100 kbps. Most Wave2M applications communicate at 19.2 kbps.
8. RFID
RFID is known as radio-frequency identification. It is a bidirectional radio frequency identification system consisting of tags and readers that can be interfaced with handheld computing devices or personal computers. It follows the electronic product code (EPC) protocol. It can coexist with other technologies, such as ¬igBee and WiFi. RFID operates under a wide range of frequency bands, varying from 120 kHz to 10 GHz, and the detection distance can vary from 10 cm to 200 m. It can provide a data rate of up to 4 Mbps. RFID is used in home area network applications such as lighting control.