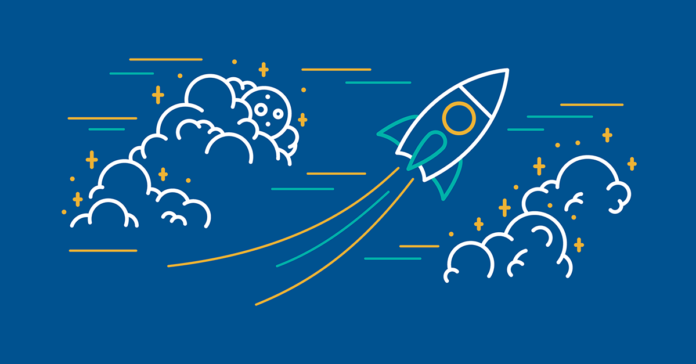 The cloud market grows significantly as more companies realize the Cloud's power and untapped potential. The market is expected to grow by $696.25bn by 2025. With so much money at stake, entrepreneurs have quickly founded new companies with cloud-related products and services, and investors have invested space funding.
New startups come up with more innovative and unique use cases exploring new horizons, making the Cloud a much broader and more versatile infrastructure, with growing innovation boosted by a breakneck cloud competition. Everyone tries their best to mark this fast-paced market. Future is the Cloud, and all these groundbreaking startups' journey will be exciting.
The article highlights 20 of the most exciting young cloud computing startups.
Crowdstrike
CrowdStrike is a pioneering cybersecurity technology company offering next-generation endpoint protection as a single cloud-based solution. Falcon's CrowdStrike platform stops breaks by detecting all kinds of attacks, including malware-free intruders, providing five seconds of visibility through all existing and past endpoint activities while reducing cost and complexity for customers.
CrowdStrike's Falcon platform features 100% native cloud architecture integrated into the security industry, 24/7 managed hunting capabilities, and in-house intelligence and response teams. The unique CrowdStrike Threat Graph analyzes data from trillions of endpoint events across a global crowdsourcing community to enable attack detection and prevention based on patented pattern detection technology.
Cloudflare
Cloudflare is a web-based security and performance company providing protection and acceleration services online. Its online platforms include Cloudflare CDN, which distributes content around the world to speed up websites, Cloudflare optimizer that allows web pages with ad servers and other widgets to download Snappy mobile and computer software, CloudFlare's website security protection including spam, SQL injection, and DDOS, and Cloudflare analysis that provides insight into a variety of online threats.
Cloudflare uses edge computing to help load and protect customers from traffic problems and threats faster. It's a broker between client and hosting server. It makes mirrors or cached versions with reverse proxy on its own server to ensure faster loading times and better performance by eliminating latency. It stores customer websites and static resources with 155 datacenters worldwide and provides users with copies from the nearest data center. And it helps filter traffic, spam, and bot attacks by sitting between client and server. Cloudflare also provides customers with firewall and email obstruction.
Confluent
Confluent was founded by the team behind Apache Kafka, based on the same technology as the trend towards streaming analytics. Confluent Cloud, an easy-to-deploy Kafka SaaS version, is its solutions. Airbnb, Netflix, Goldman Sachs, LinkedIn, Microsoft, and Target are Confluent's customers.
CoreOS
CoreOS is the CoreOS Linux distribution company and a major contributor to the Kubernetes project. Tectonic, a Kubernetes company, and the Quay container registry are part of its trade offer. It also sells CoreOS subscriptions and training.
Databricks
Established by the UC Berkeley team of Apache Spark, Databricks provides a unified analytics platform based on Spark's open-source platform. Its solution includes Viacom's customer retention application, Shell inventory management, HP predictive maintenance, Hotels.com's recommendation engine, and hundreds of other companies' real-time analytics. It continues to manage the Spark project, one of open source community's most active.
Elastic
Elastic became famous last year with a successful IPO. It has a unique search engine used by people like Uber, Tinder, and Netflix. Elasticsearch is a search engine for RESTful. Users can search their data and build on Elasticsearch. Elastic's offer, collectively known as Elastic Stack, includes Kibana (a data display tool), Beats, a set of shipping plugins for transferring data to Elasticsearch, and Logstash (an open-source pipeline for performing ETL operations on data from various sources and transporting this data to a user's repository).
Mesosphere
Mesosphere offers DC / OS, an infrastructure management system based on Apache Mesos' open source software, as a part of the trends towards containers and infrastructure as code. Mostly, a whole data center or cloud environment is treated as a single supercomputer. In 2016, Mesosphere named it a "cool vendor" for the cloud infrastructure, including Verizon, UK, NBC Universal, Bloomberg, Yelp and Yammer.
Medallia
As a customer experience management startup, Medallia helps companies increase customer satisfaction and loyalty. Medallia Experience Cloud helps companies learn customer feedback. Customers can use the application to understand multi-channel customer feedback, such as emails, in-app surveys, and social media. Medallia collects feedback to produce comprehensive reports and displays that can enhance the customer experience.
Procore
This startup, based in Carpinteria, California, offers cloud-based construction management software offering a unifying solution for projects with a wide range of moving parts. The building can be a very unpredictable task, as something can always go wrong. Whether it's delaying deliveries, equipment issues, work shortages, or changing plans. Procore connects people, devices, and applications via a unified platform to help builders deliver safe, budgetary, and timely risk management. Procore has over 5,000 customers in 100 countries. And, as a one-of-a-kind solution, it seems to lead the construction industry.
Rubrik
Rubrik, who claims to be the cloud data management market leader, handles data backup, retrieval, archiving, search, analytics, replication, and compliance in hybrid cloud environments. Although it was only three years old, Rubrik has accumulated a vast amount of funding and a wide range of honors. For example, it won Best of Show and the Gold Data Protection Award at VMworld in 2017, and in its Magic Quadrant report on data center backup and recovery solutions, Gartner called it a "Visionary."
Stratoscale
Stratoscale facilitates installing on-site AWS-compatible infrastructure with its Symphony solution for organizations deploying hybrid cloud environments. It also provides multiple cloud services, including application catalog, service Kubernetes, service database, load balancer, cloud monitoring, identity management, and access management. The company is involved in open source, especially the OpenStack project. And it received the 2017 Gold Award for Best of Show VMworld's revolutionary cloud infrastructure.
SecurityScorecard
In today's highly interconnected business world, companies need not only worry about safeguarding their own environment, but they also need to be sure to protect their partners and suppliers' networks. SecurityScorecord provides cloud-based software to evaluate any company's security position and ratings, A-F. Organizations can use it to assess themselves or companies they want to do business with. SecurityScorecard customers are McDonald's, Pepsi, Intuit, SallieMae, Symantec, etc.
Snowflake
Snowflake provides data warehouse-as – a-service for $3.5 billion. Software from Snowflake, which runs on AWS and Azure, allows users to save and query data from their preferred cloud storage so that patterns and trends can be studied in these data. The data stored in Snowflake can be used in a range of applications, allowing users to work efficiently on small portions of massive data. Snowflake is welcomed by different companies, as it offers users efficient data handling at an impressive pay-by-second subscription, which significantly reduces costs.
Slack
For companies, corporate communication tools are more integral than ever as companies with offices in different locations are scattered around the world. Slack offers one solution, a complex set of team-based cloud-based tools. This messaging service provides collaboration and channel-based communication for people working together on a specific project. About 500,000 companies use this startup. Microsoft teams are a fierce Slack competitor. Since its launch in 2017, many companies have accepted Microsoft Teams as a free service to Office 365 companies. Although lagging, teams attract many companies. But since an IPO is planned, Slack doesn't fear competition. Slack, valued at $7bn, is a robust and growing presence.
Stripe
This cloud-based FinTech company, valued at $20bn, allows small businesses to accept online payment by providing a seven-line code that can be integrated into company websites for free. Stripe handles all the processes that seem intimidating and restrict small businesses from doing business over the Internet. San Francisco-based startup reduces each transaction by 2.9%, helping to raise revenue. It allows companies of any scale to make full use of the Internet's unlimited power through payment fraud and various security standards.
Sysdig
Sysdig describes its product as a "container intelligence program" offering "the first unified approach to container safety, monitoring, and forensics." It has two essential products: Sysdig Monitor for Docker Security and Performance Monitoring and Sysdig Secure for identifying, blocking, and analyzing unregistered activities in containerized environments.
Tanium
Tanium is a cloud-based security platform. Established in 2007, Tanium totals $5 billion. Tanium is a solution that protects all endpoints in a company network. Instead of protecting individual parameters, Tanium is located in the network's communication layer, providing a deep understanding of the network that helps identify and mitigate risks. Organizations can take action such as uninstalling malware or changing network settings in seconds. Moreover, companies can perform compliance checks and audits to prevent cyber attacks.
Uptake
Uptake's solutions combine three of the highest IT developments: cloud computing, Things' Industrial Internet, and Big Data Analytics. It is a SaaS predictive analytics solution for IIoT data used in agriculture, aviation, building, power, fleet, heavy equipment, mining, rail, and wind industries. The company has recently received much acclaim, including being named one of Forbes Cloud 100's top 25, number five on the 2017 CNBC Disruptor 50 list, one of the pioneers of technology at the 2017 World Economic Forum, and the "Cool Vendor" on the 2017 Gartner IoT Solutions Report.
Vlocity
Vlocity offers cloud-based software based on Salesforce.com. Its omnichannel apps meet the unique needs of communications and media organizations, financial and insurance companies, health insurance, and the public sector. Including Anthem, New York Life, and Telus. It is one of Salesforce's fastest-growing partners, named Forbes Cloud 100.
Zoom Video Communications
Zoom is a cloud-based communication platform for boards, conferences, huddles, and training centers. Schools can also use zoom to connect students by working together in groups. Zoom lets users share audio, video, and wireless content. Zoom plans to be released this year. It raised $145 million in the capital by this date. It seems to go right with customers like Uber and GoDaddy.