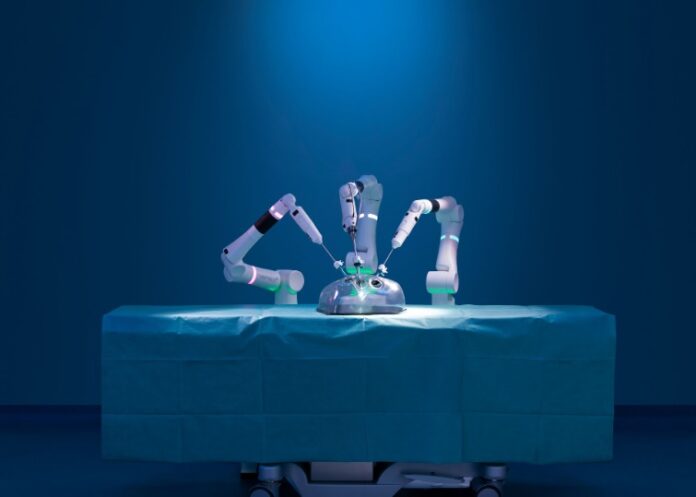 Medical robots represent a fast-growing sector in the medical devices industry. Whether used for home assistance, emergency response, minimally invasive surgery, targeted therapy, or prosthetics, they are becoming more and more widely used nowadays, revolutionizing healthcare across the globe. One of the critical areas of medical robotics is the development of surgical robots for minimally invasive surgery and microsurgery.
In just over 25 years, researchers have improved surgical outcomes by using robotic technology as a powerful tool for precise automation, and interestingly, the first surgical robot was a lightly customized industrial manipulator, rebuilt to direct a needle into a human brain. The first well-known surgical robots (namely ROBODOC (1992) and Acrobot (1997) for orthopedic surgery, and Probot (1997) for prostate surgery) adopted similar designs, before evolving into customized surgical platforms. These robots led to a multitude of academic centers and research institutions, undertaking scientific research and development in surgical robotics.
Early procedures of robotic surgeries were ergonomically challenging because of the use of long, rigid instruments, coupled with misalignment of visual-motor axes and fulcrum effect. Consequently, researchers began to focus on the augmentation of surgical skills by conducting studies on telemanipulation, millimeter-scale tendon-driven wrists, and hardware-based remote centers of motion (RCM). It resulted in two innovative platforms: the Zeus by Computer Motion (2002), and the da Vinci from Intuitive Surgical (2000).
The first versions of the da Vinci and Zeus featured surgeon master console and patient slave manipulator with three arms — two for tissue manipulation, and one for endoscopic camera positioning. Each arm could provide six-degrees-of-freedom plus the instrument actuation while respecting the RCM constraint at the tool entry point on the patient skin.
A critical difference was that Zeus used voice control commands, also known as the AESOP (Automated Endoscopic System for Optimal Positioning) robotic system, to actuate the camera arm. The system was used to perform the first transatlantic telesurgery between Manhattan, New York, USA, and Strasbourg in France, until the merging of Computer Motion with Intuitive Surgical in 2003. The da Vinci system, meanwhile, quickly expanded in the US, eventually becoming a global market leader.
Following the grant success of da Vinci, research and development by academia and startups on surgical robotics intensified. Flexible snake-like and micro-robotic platforms are emerging and are expected to improve surgical outcomes further and blur the boundaries between prevention and intervention.
Today, surgical robotics is a worldwide phenomenon witnessing tremendous growth and anticipation for major technological breakthroughs in healthcare. The global surgical robotics market generated $4.71 billion in 2018 and is estimated to reach $15.43 billion by 2029. The market is primarily divided into three segments, namely, surgical systems (capital equipment), instruments & accessories, and services (maintenance and up-gradation).
The following is a list of top 20 players in the global surgical robotics market.
1. Auris Health, Inc.
Silicon Valley-based Auris Health, Inc, formerly known as Auris Surgical Robotics, is pioneering the next era of medical intervention by developing platforms that enhance physician capabilities, evolve minimally invasive techniques, and create new categories of care that redefine optimal patient outcomes. The company is transforming medical intervention by integrating robotics, micro-instrumentation, endoscope design, sensing, and data science into one platform.
2. CMR Surgical Limited
CMR Surgical is a British company, manufacturing the next-generation surgical robotic system, Versius, for minimal access surgery. Their vision is to make minimal access surgery universally accessible and affordable. CMR Surgical, founded in 2014, has its headquarters in Cambridge and received the European CE Mark in March 2019 for the Versius Surgical Robotic System.
3. Corindus Vascular Robotics, Inc.
Corindus Vascular Robotics is a leading developer of precision vascular robotics. The company's CorPath platform is the first FDA-cleared medical device to bring robotic precision to be percutaneous coronary and vascular procedures. CorPath GRX is the second-generation robotic-assisted technology offering enhancements to the platform by adding significant vital upgrades that increase accuracy, improve workflow, and extend the capabilities and range of procedures that can be performed robotically.
4. Globus Medical, Inc.
Globus Medical, Inc. is a top musculoskeletal solutions company that recently announced the launch of the AUTOBAHN® Nailing System that provides advanced clinical solutions for fractures of the tibia and femur. Based in Audubon, the company was founded in 2003 with a vision to build products that enable surgeons to heal patients with musculoskeletal disorders.
5. Intuitive Surgical, Inc.
Intuitive Surgical Inc. is a US-based company that manufactures robotic products to improve clinical outcomes through minimally invasive surgery with the da Vinci Surgical System, one of the first robotic-assisted systems cleared by the FDA for general laparoscopic surgery. Founded in 1995, Intuitive develops new, minimally invasive surgical platforms and future diagnostic tools to help solve complex healthcare challenges around the world.
6. Mazor Robotics Ltd.
Mazor Robotics is an Israeli manufacturer of a robotic guidance system for spine surgery. Renaissance is the Mazor Robotics next-generation surgical guidance system with 1.5 mm accuracy. It is a bone-mounted system and represents the majority of spinal robotic experience worldwide.
7. Medrobotics Corporation
Medrobotics Corporation is a privately-held, medical products company with a core competency in robotics. Based in Raynham, Massachusetts, Medrobotics manufactures the Flex Robotic System, a robot-assisted platform that provides surgeons with single-site access and visualization of hard-to-reach anatomical locations. The world's first robotic surgical platform with a steerable and shapeable robotic scope, the system uses a core flexible, steerable scope technology that surgeons can use to navigate around anatomy with an integrated 3D high-definition vision system.
8. Zimmer Biomet Robotics
Zimmer Biomet Robotics, formerly known as Medtech SA, is a robotic surgery company, founded in 2002 in Montpellier, France. It develops robotic assistance for surgical procedures of the central nervous system and other applications such as the knee. Its flagship product is ROSA, a robotic surgical assistant designed for minimally-invasive surgery.
9. Neocis, Inc.
Neocis is a robotics healthcare startup, transforming dental implant surgery with advanced robotics. Founded in Miami in 2009, the company is focused on enhancing dental surgeons' capabilities. It manufactures Yomi, the first and only robot-assisted surgical platform for the dental industry.
10. OMNI Orthopaedics, Inc.
OMNI Orthopedics is a manufacturer of devices for robotic-assisted total knee replacement. OMNI's proprietary robotic platform OMNIBotics allows surgeons to conduct patient-specific total knee surgery designed to enhance patient satisfaction and reduce hospital costs. OMNI manufactures a wide range of proprietary hip and knee implants.
11. Restoration Robotics, Inc.
Restoration Robotics is a medical device company transforming the field of hair restoration. Based in San Jose, California, the company produces the ARTAS System, the first and only computer-assisted, physician-controlled robotic system to harvest follicular units directly from the scalp.
12. Riverfield Co., Ltd.
Riverfield is a Japanese startup with origins at the Tokyo Institute of Technology. Established in 2014, this medical robot developer based in Tokyo's Shinjuku Ward is making Japan's first domestically produced surgical robot on sale at half the price of the US behemoth's da Vinci robotic surgery system, by 2020. Riverfield aims to grab a significant market share from Intuitive Surgical by launching a much lower-priced but still highly accurate and user-friendly product.
13. Smith & Nephew plc
Smith & Nephew plc, founded in 1856, is a British multinational medical equipment manufacturing company headquartered in Watford, United Kingdom. It is a global maker of advanced wound management products, arthroscopy products, trauma, and clinical therapy products, and orthopedic reconstruction products. They offer over 1,000 products and currently operate in 32 countries and generate annual sales of $3.4 billion.
14. Stereotaxis, Inc.
Stereotaxis is a global leader in innovative robotic technologies designed to enhance the treatment of arrhythmias and perform endovascular procedures. Stereotaxis develops robotic cardiology instrument navigation systems that enhance the treatment for arrhythmias and coronary disease and information management solutions for the interventional lab.
15. Mako Surgical Corp.
MAKO Surgical Corp. is a medical device company that markets its advanced robotic solution and implants for minimally invasive orthopedic knee procedures. The RIO Robotic Arm Interactive Orthopedic System is a platform that utilizes tactile-resistance and patient-specific visualization to prepare the knee joint for the insertion and alignment of resurfacing implants through a keyhole incision. This surgeon-interactive robotic arm system allows surgeons to provide an innovative tissue-sparing bone resurfacing therapy called MAKOplasty to a large, yet underserved patient-specific population suffering from early to mid-stage osteoarthritis knee disease.
16. Synaptive Medical, Inc.
Synaptive Medical is a Toronto-based medical device company that designs hardware and software that cross traditional barriers in hospitals to improve patient care beyond the operating room. Synaptive's Modus V and integrated BrightMatter solutions —including surgical planning, navigation and visualization, and an informatics platform — give leading clinicians and healthcare systems the information they need to ensure the best possible outcomes for patients.
17. THINK Surgical, Inc.
THINK Surgical. Inc develops a robotic surgical system for orthopedic surgery. The TSolution One Total Knee Application includes two components: a 3D preoperative planning workstation for preoperative planning and a computer-assisted tool utilized for precise cavity and surface preparation for hip and knee replacement surgeries.
18. Titan Medical Inc.
Titan Medical Inc. is a Canadian company headquartered in Toronto. Titan develops an advanced robotic surgical technology named SPORT(TM) Surgical System, a versatile single incision advanced robotic platform that features state-of-the-art multi-articulated instruments with unique replaceable tips, 3D visualization on High Definition flat-screen monitor, highly ergonomic open workstation with natural surgeon interface and a single low-profile patient cart that enables broad applications of single and multi-quadrant surgeries.
19. TransEnterix, Inc.
TransEnterix, headquartered in Morrisville, North Carolina, is a medical device company, pioneering the use of robotics in minimally invasive surgery by addressing the economic and clinical challenges associated with current laparoscopic and robotic options in today's value-based healthcare environment. The company builds the Senhance Surgical System that digitizes laparoscopic minimally invasive surgery. It allows for robotic precision, haptic feedback, surgeon camera control via eye sensing and improved ergonomics while offering responsible economics.
20. Virtual Incision Corporation
Virtual Incision Corporation is a medical device company, developing an advanced, miniaturized robot for general surgery abdominal procedures, such as colon resections. Virtual Incision's robot platform features a small, self-contained surgical device that is inserted through a single midline umbilical incision in the patient's abdomen. The technology utilizes existing tools and techniques familiar to surgeons and does not require a dedicated operating room or specialized infrastructure.