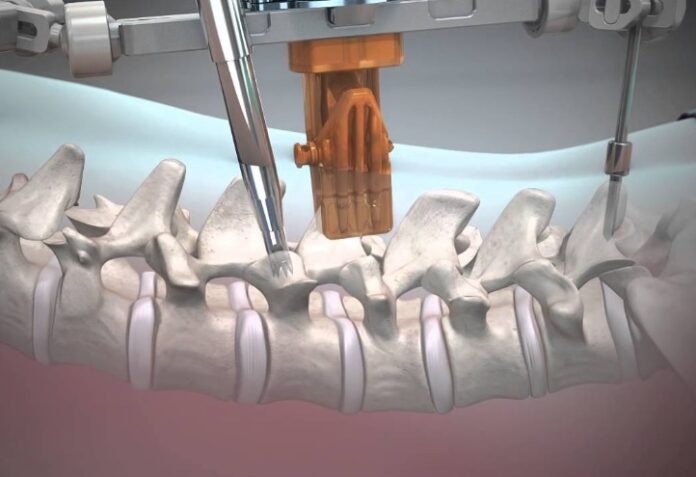 Medical robotics has tremendous potential in improving patient-surgeon experience during surgical procedures. The robots' intrinsic characteristics, such as high precision, repeatability, and endurance, make them ideal surgeon's assistants.
During the last two decades, a considerable amount of research has been done to develop robots suitable for cardiac and urologic procedures. However, cerebral and spinal neurosurgery still presents a significant challenge due to the eloquence of the surrounding anatomy. Why? All spinal procedures commonly require fine manipulation of trajectories to deeply seated, critical bony structures that are accessed through a small corridor.
Since spinal procedures (implanting screws and rods, followed by intervertebral fusion) can be very long and tedious, spinal surgeons often experience difficulties like fatigue and hand tremor during the surgeries. Ideally, robots are tireless, able to perform repetitious tasks with precision and reproducible outcomes.
Notably, there is a growing demand for minimally invasive spine surgeries across the world because of their increased repeatability and accuracy in procedures. According to reports, the global spinal surgical robot market (worth $26 million in 2018) will reach $2.77 billion by 2022. In 2015, 11 million people in the U.S. experienced chronic back pain. Sacroiliac joint dysfunction is the underlying cause of 30 percent to 35 percent of lower back pain.
Some of the common spinal problems, which require spinal surgery, include:
Scoliosis – A sideways curvature of the spine that affects mostly children in the age group of 10 to 14.
Degenerative Disc Disease – Wearing or tearing of a spinal disc, causing neck pain or low back pain.
Herniated Disc – A degeneration in which a fragment of the disc nucleus herniates or ruptures.
Kyphosis – A disorder in which an excessive outward curve of the spine results in an abnormal rounding of the upper back.
Spondylolisthesis – A slipping of vertebra that occurs at the base of the spine.
Benefits of the robotic spine surgery
Minimally invasive spinal surgeries yield superior results compared to open spinal surgeries. There are several benefits that a patient and surgeon avail of seeking robotic surgeries.
Fewer amounts of complications or risks during the surgery
High rate of success even in the most complicated spinal surgeries
Higher level of accuracy level in screw placement
Quick procedures and fast recovery
Smaller incisions and minimum scarring
Lesser postoperative pain
Less amount of blood loss
Low exposure to radiation
Shorter hospital stay
Following are the list of best hospital for robotic spine surgery in India
Indian Spinal Injuries Centre (ISIC), Delhi
Delhi-based ISIC is one of the first hospitals outside the US to use a highly advanced robotics system to do spine surgeries. According to news reports in 2019, the hospital performed more than five successful precision surgeries using the recently acquired advanced spine robotics system. The latest robotic system reduces implant inaccuracies, revision surgeries, radiation exposure, length of stay and infection, and combines advanced software, robotic technology, navigation, and instrumentation along with artificial intelligence and sophisticated 3D analytics.
Apollo Hospitals, Mumbai
One of the most advanced multi-specialty hospitals in Maharashtra, Apollo Hospitals, recently launched Mazor Robotic Spine Surgery Systems for patients requiring spine surgery. The system enables surgeons to perform advanced minimally invasive robotic surgeries such as spinal fusion surgery, complex deformity, and revision spine surgeries in conditions like degenerative disc diseases causing back pain, spinal stenosis, fractures, and tumors. Notably, Mazor Robotic Spine Surgery System has been successfully used by hundreds of surgeons in over 27,000 patient procedures worldwide, placing over 190,000 implants precisely.
All India Institute of Medical Sciences (AIIMS), Delhi
AIIMS is another premier institute among the Asian countries to conduct robot-assisted spine surgeries. It recently acquired the latest robotic technology with in-built navigation and intraoperative imaging system for spine surgeries, which can reduce the risk of damage to surrounding tissues and nerves — a well-known complication in spine surgery. AIIMS, reportedly, spent more than Rs 20 crore to set it up at AIIMS. Poor patients requiring complex surgeries will be able to avail it for free.
Apollo Hospitals, Hyderabad
Apollo Hospitals, Hyderabad uses the Mazor Robotics technology to perform spine surgeries. Mazor Robotics is very safe and beneficial to patients, as it reduces surgery-related complications to a great extent, and enables early discharge. The complications are almost nil, with a success rate of 99 percent. Patients can go home on the same evening or the next day morning. Apart from precision, Mazor Robotics helps in faster surgery, quicker recovery, and is a great boon in minimally invasive spine surgery.
Other hospitals which conduct robotic spine surgery in India include:
Artemis Hospital, New Delhi
BLK Super Specialty Hospital, New Delhi
Bombay Hospital, Mumbai
Fortis Hospital Mumbai, New Delhi, Chennai, Bangalore
Global Hospital, Mumbai, Bangalore, Chennai, Hyderabad
Indraprastha Apollo Hospital, New Delhi
Jaypee Hospital, New Delhi
Lilavati Hospital, Mumbai
Max Super Specialty Hospital, New Delhi
Paras Hospitals, New Delhi
Primus Super Specialty Hospital, New Delhi
Rockland Hospital, New Delhi
Saifee Hospital, Mumbai
Shalby Hospital, Ahmedabad
Wockhardt Hospital, Mumbai