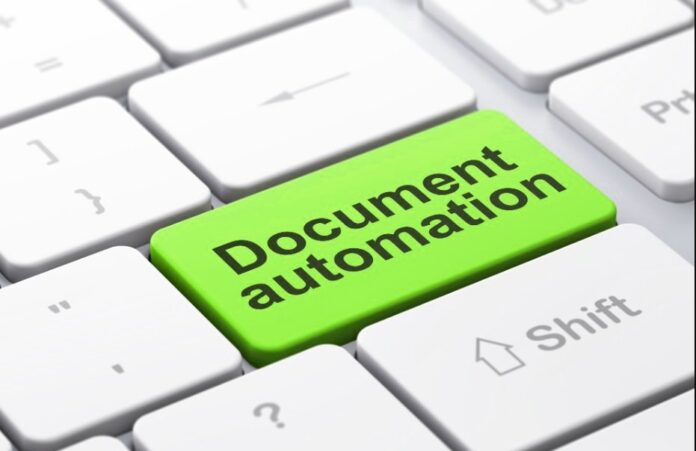 Documents preserve data, knowledge, and information required for effective business operations that benefit stakeholders (Glushko & McGrath 2008). However, the manual process of creating documents can be very time-consuming, expensive in terms of resources, and prone to human error.
By automatically integrating input from various sources and assembling documents in accordance with predefined templates, document automation (DA) seeks to minimize this manual effort in document generation. By automating the creation of documents, you can decrease human error brought on by repetitive typing, save time and money, minimize risks, and improve document quality.
Documents such as legal, technical, and clinical reports are usually highly structured and standardized, opening up a large potential to automate them. Companies should pay close attention to document automation as they adopt digital transformation across the board. All corporate collateral creation, management, and tracking can be digitalized for faster times to close, higher accuracy, lower costs, better customer service, and increased employee productivity.
Document automation is preferred when the documents or processes are:
High risk and require consistent inputs and outputs across a standalone document or a broader suite
Done repeatedly, using well-established documents and processes
Tedious or time-consuming to complete manually
Done on a fixed-price basis and/or with a low-profit margin
Of a type that could benefit from clients or a third party inputting data or participating directly in matter workflows.
Levels of document automation
The type of automation that most suits your company will depend on how many decisions are made by current document creators when producing a document can be transformed into intelligent information-driven decision-making by automated templates.
Automated – Documents are created with no user intervention at all. The content and type of generated documents are driven only by the template(s), available data, and defined business rules.
User-driven – The creation of documents requires input from a human user. A decision about the content must be made that can't be translated into a set of business rules based on data. The user's input is required even though most of the document's content may be driven by data and business rules.
Hybrid – Documents are created automatically based on data and business rules unless some data is missing or falls outside set boundaries.
Key benefits of document automation
Improved consistency & standardization
Reduced costs
Reduced risk
Allows workers to focus on higher-value tasks
Saved time and faster turnaround times
Improved client relationships
A comprehensive document automation solution makes digitizing the document generation process simple and facilitates information flow throughout the entire business. This will include the following:
Creation
Document creation should be a simple procedure that uses automated templates to guarantee that the finished product is personalized, branded, and professional—and includes rich text and images as required. Users can create original collateral ready to be shared with coworkers, business partners, and clients without prior graphic design knowledge. Even better, by automating document creation, businesses can avoid the frequent mistakes that bog down approval procedures and hurt their bottom line.
Data
A document's value is directly related to the information it contains. The data that powers the content must be a top priority for any document automation solution. A solution works best by enabling users to view, filter, and update all pertinent data from a single screen. It should gather accurate data from various sources and make sure the data is trustworthy, secure, and clean. Additionally, the software must adhere to privacy and compliance regulations and exclude certain data types. You can use Salesforce as the record system throughout the document management process if there is an integrated Salesforce integration.
Collaboration
Teams are the backbone of most businesses, and almost every project and group activity involves documents. Online document sharing, editing, and tracking should be simple with your document automation software. The processes should be secure and managed for creators and contributors to see who has done what and what needs to be done. The content is surfaced to all users who require or should have access to it on any network or device with the help of a cloud-based storage system, which guarantees security and privacy.
Workflows
Documents must be used after they are created. Because the solution includes workflow capabilities, businesses can be sure that all content will be accessed, routed, and stored in accordance with pre-established rules and policies, reducing cycle times and boosting compliance. Without coding or custom development, staff members should be able to visualize, design, and automate complex workflows. The best software enables users to create, visualize, and track intricate business processes in real-time to track progress and pinpoint where and when bottlenecks occur. Document routing integration with other BPA solutions will enhance value and increase ROI.
Signatures
A legally recognized signature is necessary for hundreds of other documents, including contracts, supplier invoices, employee compensation, benefit plans, and employee compensation agreements, to be considered valid. No automation program is complete without an eSignature feature that makes it easy, quick, and affordable to obtain and track the required sign-offs at each process step.
Conclusion
From the front office, where sales and marketing work, to the back office, where finance and legal make up the majority of contributors, document automation revolutionizes how work is done. As more innovative machine learning and AI technologies emerge, there are opportunities to enhance the functionality, efficiency, and usability of DA tools and supporting tasks, such as document reading, document analysis, information extraction, document structure analysis, intelligent document processing (i.e., automatically identify changes in input data types and schema and make dynamic process changes and automatically find and fix missing or incorrect information in the document) and Neural NLG (high-quality data-to-text generation utilizing deep neural networks).