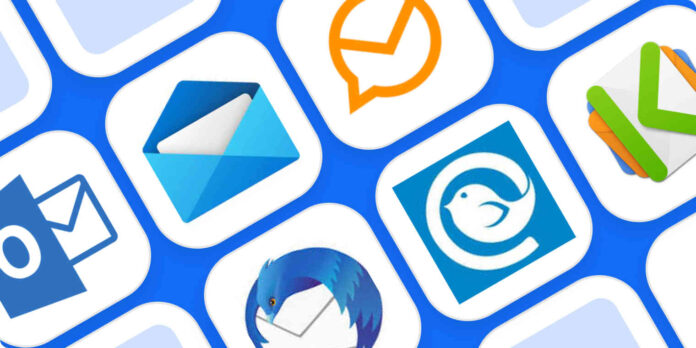 Email is an effective and convenient communication tool. Unfortunately, it also gives scammers and other malicious people an easy way to lure potential victims.
They attempt a variety of scams, ranging from traditional bait-and-switch operations to phishing schemes that use a combination of email and fraudulent websites to trick victims into disclosing sensitive information.
To protect yourself from these scams, you must first understand what they are, how they operate, and what you can do to avoid them. It is not always easy to identify fraudulent emails, and the criminals who use them are becoming more sophisticated in their creation.
In this post, we will provide some tips for identifying a fraudulent email and recommendations to protect you.
Bogus business opportunities
These schemes promise the chance to make much money with little effort. Most of the time, the email provides very little information about the nature of the business opportunity. Most provide an address or website to obtain an "information kit" about the opportunity for a fee. These opportunities, however, are usually nothing more than pyramid schemes in which the "opportunity" is to recruit more unsuspecting people to join the scam.
The subject lines of emails offering these "opportunities" frequently look like this:
Make a Regular Income with Online Auctions
Put your computer to work for you!
Get Rich Click
Use the Internet to make money
Health and diet scams
Health and diet scams prey on people's physical and mental health fears. Some people are vulnerable to scams because they are hesitant or embarrassed to discuss their problems with a doctor or cannot afford to buy legitimate drugs or treatments. Scammers attempt to entice consumers by promising quick fixes, amazing results, discount pricing, quick delivery, waived prescription requirements, privacy, and discreet packaging.
The subject lines of the emails offering these items will be as follows:
Need to lose weight for summer?
Increase your sexual performance drastically
Reduce body fat and build lean muscle without exercise
Control your weight!
Natural health remedy that works
Takes years off your appearance
Gives energy and burns fat
Though customer testimonials may back them, beware: the products don't work.
Discount software offers
Advertisements for low-cost versions of commercial software are common in these scams. The discounts offered may be difficult to believe, and for a good reason: the scammers either do not deliver the promised software or provide illegal, pirated versions preloaded with Trojan horse software that the scammer or other malicious software individuals can use to exploit your computer and the data it contains.
419 advanced fee fraud
Despite their absurd appearance, these schemes are quite elaborate and catch a surprising number of victims. These scams attempt to entice the victim into a phony scheme to obtain and divide a large sum of money. Many of those who have committed this type of fraud are Nigerian citizens. As a result, the term "419 scheme" is derived from a section of the Nigerian penal code dealing with fraud. 419 scams are distinguished by their subject lines, which frequently request an urgent response or refer to a personal introduction, and by their sender names, which are frequently (but not always) African or African-inspired.
A 419 advance fee scam starts with an email that looks something like this: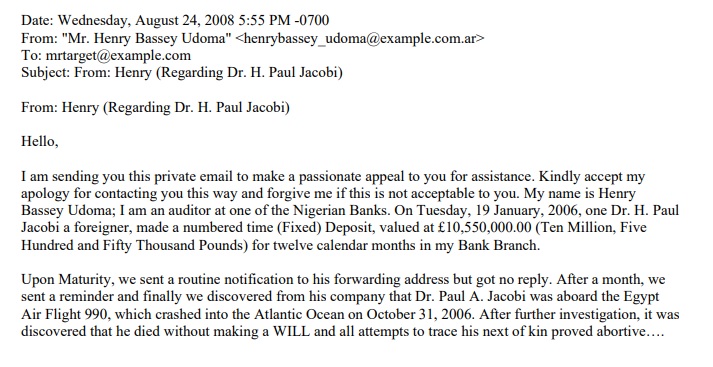 These schemes work by initially enticing the victim, then gradually convincing him or her of the plot's legitimacy through forged documents, carefully crafted messages, and even visits by the victim to the victim's country of origin for meetings with bogus officials. At critical points in the scam, the perpetrators will ask the victim to advance them money to pay fictitious fees or bribes. Furthermore, they may extract an extortion payment by threatening to cut the victim out of the plot. When the perpetrators believe they have gotten everything they can from the victim, they cut off communication and disappear.
In short, if you find an email in your inbox proposing a complicated arrangement to secure and split funds in a foreign country, you can safely assume it is a 419 scam.
Here are some tips for spotting fraudulent emails:
Urgent or threatening tone — These emails frequently claim that your account will be closed if you do not immediately confirm or authenticate your personal information; Key will never send an email to a client informing him or her of a problem with his or her Online Banking status, Debit/Credit Card account, potential fraud, or any other account information.
Request for personal or financial information — Fraudulent emails frequently claim that the bank has lost important security info that needs to be updated; they may also request that the user visit and update this information online, and they may direct you to a fraudulent website.
Misspellings and poor grammar — Fraudulent emails frequently use poor grammar and misspellings.
General Precautions
Set up your email clients to filter spam.
Delete suspicious emails without opening them; if you open such an email, do not open any attachments or click on links.
Never log into your account through a link provided in an email, even if it appears to be coming from Key or a company you deal with frequently; instead, open a new browser and type the known Internet address for Key or the company in the address bar.
If you receive an email from a known sender, do not open any attachments without first contacting the sender; even an email that appears to be from your computer manufacturer or a friend could be a fraudulent email containing a virus, Trojan horse, or worm.
Be cautious when providing your email address to a suspect source; sharing your email address increases your chances of receiving fraudulent emails.
If you have been defrauded, report it to law enforcement – Many frauds go unreported because of shame, guilt, or embarrassment.
Back up important files and disconnect from the Internet when you are not online; no computer is 100% secure.
Only do business with trusted companies you know.
Only enter credit card information on sites with the "lock" icon in the browser and "https" preceding the URL.
Also Read: AI Phone Call Scams: 12 Crucial Steps To Safeguard Yourself