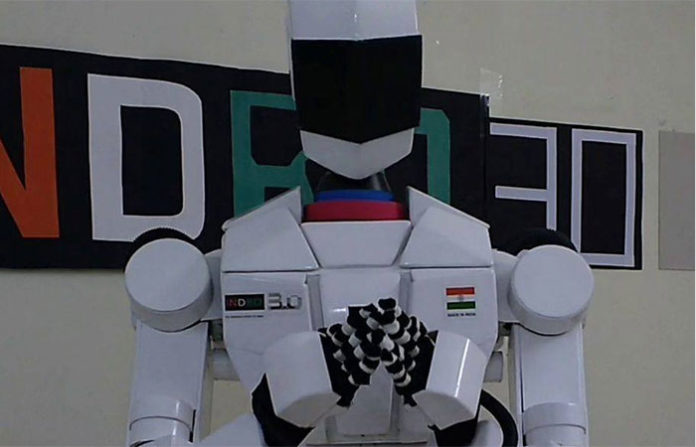 A humanoid robot is not only similar to man's physical characteristics, notably a head, a torso, and two arms, but can also communicate with humans, take orders from its user, and do limited activities. They have sensors, actuators, and speakers and are usually prepared for specific actions or can be programmed flexibly to the user's requirement.
Humanoid robots are generally designed for their intended use. They can be widely categorized into healthcare, education, and humanoid robots based on applications.
Healthcare humanoid robots are used by individuals at home or healthcare centers to treat and improve their medical conditions. These robots require either a human controller or are preprogrammed to help patients.
Educational humanoid robots are designed to enhance the quality of education and increase participation in studies. These robots are typically manually controlled robots, but not always manually. Social humanoid robots help people in their daily lives by individuals or organizations. These robots are usually preprogrammed and are also known as assistive robots for mundane tasks.
In this post, we will look at seven notable humanoid robots made in India.
Manav – India's first 3D-printed humanoid robot
India's first 3D humanoid robot, Manav has been developed by the A-SET Training and Research Institute, Delhi. This two-kilogram, the two-foot humanoid is mainly designed for research and has an integrated vision and sound processing capability that enables walking, talking, and dancing –only in response to human commands.
Manav can also play football, headstands, and push-ups. It uses open-source code to teach you how to learn and react as a human child. It is also equipped with WiFi and Bluetooth connections and a wholly charged rechargeable lithium polymer battery that can work for an hour.
Robocop – World's first police officer
AI and ML start-up H-Bots Robotics, based in Hyderabad, has developed a police robot to support the management of law, order, and traffic. The life-size robot has cameras and a range of sensors, such as ultrasonic, proximity, and temperature sensors. The robot is designed to protect and secure offices, malls, airports, signal stations, and other public spaces and can be used autonomously to ensure safety. Robocop can also diffuse bombs. The robot is made in India using all Indian components.
Mitra – Humanoid capable of interacting with humans
Mitra is a five-foot humanoid robot capable of interacting intelligently with humans. It was developed by a Bengaluru-based robotics company Invento Robotics and initiated at the global entrepreneurship summit (GES) by Prime Minister Narendra Modi and Ivanka Trump.
Mitra is made of fiberglass and is designed to welcome customers using contextual assistance, autonomous navigation, recognition of the face, and speech. It also has a touchscreen on its chest that can interact where speech can not be spoken. It can work for a single charge for eight hours. It can understand several languages, as well. This robot can be found in Bengaluru's Canara Bank and PVR Cinemas corridors, talking with and welcoming customers.
KEMPA – A humanoid to greet you at the airport
KEMPA is a humanoid created by Sirena Technologies, a Bengali-based start-up to meet the needs of the Kempegowda International Airport. This small bot assistant can answer passenger requests in English and Kannada. The advanced humanoid is wholly designed and produced in Bengaluru. KEMPA is programmed to provide flight and check-in details and other flight information.
RADA – A humanoid to assist customers at the airport
RADA is a unique robot created by Vistara, a joint venture between Tata Sons and Singapore Airlines. It has been designed to automate simple tasks and improve the customer experience before boarding its flights. It can also contribute to promoting Vistara's products and services through clear bot messages. RADA is functional at Indira Gandhi International Airport Terminal 3 in Delhi.
Built on a four-wheeled chassis, RADA can rotate 360 and features three built-in cognitive cameras. In combination with efficient voice technology, Vistara developed the robot to provide a simple solution for emerging and future trends.
INDRO – Tallest robot
Researcher Santosh Vasudeo Hulawale created Indro, India's highest humanoid robot. It is an autonomous robot, made in a house with cheap materials like aluminum, wood, cardboard, plastics and so on readily available. For lightweight tasks like entertainment, training, and a few household works, INDRO can be used. The autonomous humanoid robot is not fully independent and can be autonomously and manually controlled. It has 31 engines and can act like a human. It can also lift objects with their hands weighing up to 2 kilograms.
IRA – Robotic assistant by HDFC Bank
Launched by HDFC Bank, IRA 2.0 is an interactive robotic assistant to enhance the user experience for branch visiting customers. It can interact with them, answer bank-related queries, frequently asked questions (FAQs) and guide them with voice-based navigation inside the branch.
In collaboration with Invento Makerspaces and Senseforth Technologies, HDFC Bank developed IRA. It became India's first bank to introduce customer service humanoid. The built-in GPS enabled indoor humanoid has a speech recognition module that can be trained to understand what customers speak and use ultrasonic sensors to move inside the branch as well as a face detection algorithm for customer recognition.