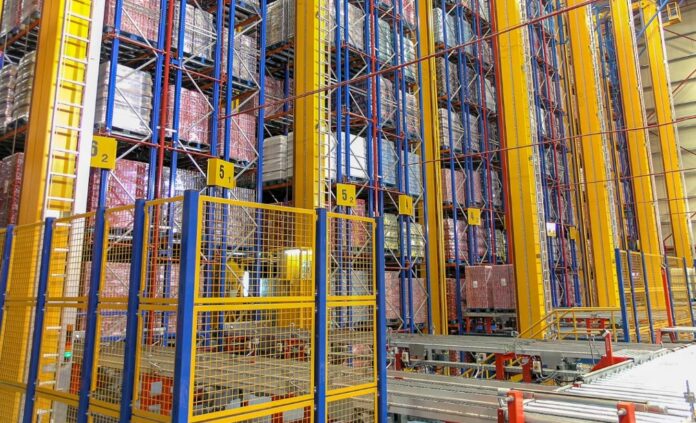 The performance of any manufacturing firm depends largely on its material handling and storage systems that store various materials like raw materials, finished goods, tooling, spare parts, etc.
Material handling operations are highly labor-intensive and are repetitive. They require a great deal of storage space and more employees to carry out more and correct storing and retrieving operations. They also determine the time and place utility, waste and inventory management, etc.
Therefore, to reduce operational costs and improve efficiency, it is vital for businesses to create an efficient stock area and set up effective stock management systems in today's competitive environment. That's why automated storage and retrieval (AS/R) system has become one of the most commonly used material handling systems in manufacturing industries.
An automated storage and retrieval system can be defined as a storage system that performs storage and retrieval operations with speed and accuracy under a defined degree of automation. It is in the majority used in automated factories, distribution centers, warehousing, and non-manufacturing environment.
AS/RS ensures improved inventory management, space efficiency, reduced labor costs, and reduced costs of loss by theft and misplacing. It provides complete control with product identification and tracking operation.
AS/RS also provides more efficient storage capacity, shorter storage and retrieval time, accurate product shipment, avoidance of product damage, remote monitoring of stock and storage movements, low operation cost, the possibility of integration into the accounting system work safety, and earthquake resistance. In short, AS/RS represents an innovative alternative to controlling and managing a warehouse.
Major components of AS/RS
A typical AS/RS comprises storage racks, storage/retrieval (S/R) machines, and pickup/drop-off (P/D) stations. It consists of many computer-controlled methods for automatically placing and retrieving loads from specific storage locations. The type of AS/RS is determined by the volume of inventory level and size.
An AS/RS can handle pallets without the interference of an operator. Thus, the system is fully automated. In production and distribution environments, AS/RSs are used to put products (e.g., raw materials or finished products) in storage and retrieve those products from storage to fulfill an order.
The major components of AS/RS include:
Racking systems: For storage of product
Storage and retrieval machine (S/RM) or crane: Equipment that runs on a floor rail to replace and retrieve loads
Load-handling device or shuttle: Moves product from the crane to rack locations
Conveyor systems: Moves goods to and from the AS/RS and dock areas
Warehouse Execution System (WES): Controls, tracks, and optimizes product movement
Robotic Systems: These systems complement are often called "order fulfillment systems." They work with the WES to trigger and automate replenishment by releasing cases and layers to fulfill orders
Benefits of AS/RS
Many benefits can be obtained from the automation of AS/RS systems, such as saving labor costs and floor space, the ease and the speed of handling items, and improved throughput level.
Optimized space utilization: In a "tight site" or land-locked building, an AS/RS can optimize growth by densifying and adding height to a storage system. Existing spaces can be retrofitted, and new building heights can enable growth by housing more inventory to meet customer demand. AS/RS technologies provide dense storage, saving up to 85% of floor space occupied by shelving.
Reduced costs of labor & equipment: Although every warehouse is different, on average, one crane operating on three shifts can do the same work as three forklifts and nine employees. These systems require 2/3 less labor to operate when compared to manual shelving.
Lower maintenance costs: Equipment leasing and maintenance costs are usually more expensive than AS/RS maintenance.
Lower energy costs: An AS/RS allows businesses to reduce costs by operating in smaller spaces, covering less square footage, in a tighter cube with smaller ingress/regress openings.
Less waste and increased safety: Less product damage and locked inventory prevent theft, and stretch wrapping costs decrease because less wrap is needed to secure goods on pallets.
Improved pick accuracy: Pick to light technology directs the operator to the exact location of the item, achieving 99.9% pick accuracy
Increased throughput: AS/RS enables faster picking, helping to keep up with demand.
Greater inventory control: Always know what you have and where it is located.
Improved ergonomics: Attracts younger workers interested in learning and working with automated systems.
AS/RS has been widely used in automotive, construction machinery, distribution, and production environments, since its introduction in the 1950s. Between 1994 and 2004, there has been a significant increase in AS/RSs used in distribution environments in the United States. The usage of AS/RS has several advantages over non-automated systems. Examples are savings in labor costs and floor space, increased reliability, and reduced error rates. Apparent disadvantages are high investments costs, less flexibility, and higher investments in control systems. Apart from the huge investment in manpower, material resources, and financial resources, it also requires lean management and auxiliary control systems accordingly. So it is difficult to implement AS/RS in so many companies which are small or old.