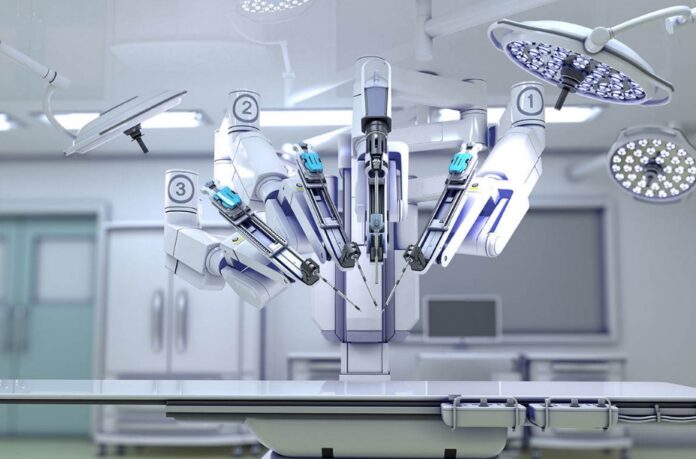 Medical robots play an important role in facing challenges from the growing needs of healthcare services and the need to increase their quality. They have been the most successful so far in the field of surgical and rehabilitation robots (including exoskeletons).
More than five thousand robots are currently used in approximately 1 million operations per year, mainly urological and gynecological. According to reports, da Vinci robots alone perform more than 1 million minimally invasive operations every year.
These medical robots are divided into surgical robot systems, non-invasive radio surgical robots, rehabilitation robots, and hospital and pharmacy robots.
The leading companies present on the market include Intuitive Surgical, Inc. (USA), Hocoma AG (Switzerland), Stryker Corporation (USA), Mazor Robotics Ltd. (Israel), Hansen Medical Inc. (USA), Accuray Incorporated (USA), Omnicell, Inc. (USA), ARxIUM (USA), Ekso Bionics Holdings, Inc. (USA), Kirby Lester LLC (USA), Houston Medical Robotics (USA), Kinova Robotics, Otto Bock Healthcare, Varian Medical Systems, Hocoma AG, Globus Medical, Vecna Robotics, IRobot Corporation, Titan Medical, Inc., and KB Medical SA.
In history, medical robotics received support and inspiration several times from perfected technologies for performing industrial tasks. Recently, the growing interest in cobots and autonomous vehicles began to inspire a big next step in medical robotics, i.e., the autonomy of medical robots that can autonomously optimize operations in every situation.
The autonomous capabilities of medical robots can be classified into a five-point scale (modeled on the SAE J3016 standard), with the lowest "level 0" being a lack of autonomy.
Level 1
Level 1 is telemanipulation (remote control) with support. In this type of robot, some elements support operations automatically. For instance, it can be an emergency stop system for a robot in a hazardous situation. Surgical robots such as da Vinci and Robin Heart are currently in this group.
Level 2
Level 2 represents robots with the option of partly automated work. In this level, a robot performs one of several tasks in an automated manner, for instance, tying a node or orientation of the camera vision track to a tool.
Level 3
Level 3 is highly automated work. At this level, a system moves independently in the workspace and scope of tasks, though it can still have limits to its freedom. To go beyond the working conditions outside the defined area, an operator must control the robot. In the absence of such an operator, the robot stops. Such robots are used as robotic nurses to communicate and transport various products and materials in hospitals.
Level 4
Level 4 is fully automated work. At this level, a robot works independently but is still supervised by a doctor, rescuer, or physiotherapist. A robot in this level can be compared to Volvo XC90 used in Uber tests. This vehicle can completely take over steering functionality from the driver. Similar machines are currently used in computed tomography or robotic radio-surgical knives that move and operate following the planned trajectory and tasks specified before the surgery.
Level 5
Level 5 means a robot working in full autonomy. These medical robots work independently, sharing space with the patient and medical staff while making independent decisions and performing tasks provided for in its specialization. The robot has no telemanipulation system. Robots in this level are similar to the city car prototype developed by Google, Waymo Firefly, which can drive itself without a manual control system, including the steering wheel, gear lever, or pedals. These types of medical robots are currently unavailable.