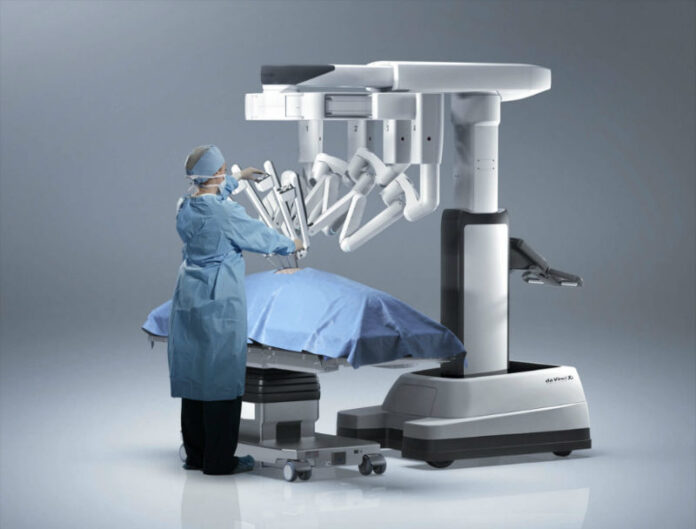 Healthcare robots differ from all other robots and deserve our special attention due to their direct interactions with human users in surgical theaters, rehabilitation centers, and family rooms.
Healthcare robots are systems capable of performing coordinated mechatronic actions (force or movement exertions) to support impaired individuals experiencing severe difficulties with physical, cognitive functioning, or behavioral and mental health – either temporary or permanent, acute or chronic.
Robotics technology has demonstrated a clear potential for stimulating the development of new medical treatments for a wide range of diseases and disorders, improving the standard and accessibility of care, improving patient health outcomes, filling quantitative care gaps, supporting caregivers, and assisting healthcare workers.
Every robot used in healthcare is not the same. Healthcare robots come in various levels of autonomy, and the range of robotic system niches in medicine and healthcare currently includes a diverse range of environments, user populations, and interaction modalities. The most interesting applications of healthcare robots include robotic surgery, care, and socially assistive robots, rehabilitation systems, and training for healthcare workers.
This post explores three main types of healthcare robots: surgical robots, assistive robots, and healthcare service robots.
1. Surgical robots
Surgical robots are service robots that assist surgeons during operations. Surgical robotics had evolved into a highly dynamic and rapidly growing field of application and research, attracting increasing clinical attention worldwide since the mid-1980s, when the first robotic-assisted surgical procedures were performed.
Initially designed for a specific set of surgical procedures, advances in ergonomics, computing power, hardware dexterity, safety, and surgical ease have allowed the rapid adoption and dissemination of new robotic-assisted surgical procedures. These include a growing number of minimally invasive surgical procedures, such as those involving the insertion of a small laparoscopic device into the human body rather than opening the patient up.
Increased accuracy, dexterity, tremor corrections, scaled motion, and haptic corrective feedback – all of which result in less damage to the patient's body, more successful surgeries, and less invasive procedures that result in shorter patient recovery time and hospital stay, less pain, blood loss, visible scars and discomfort, and a lower risk of complications after the procedure.
The surgical procedures currently performed with the help of surgical robots include cardiac surgery, cosmetic surgery, dental surgery, endocrine surgery, endoscopic surgery, gastrointestinal surgery, gynecology, ocular surgery, orthopedic surgery otorhinolaryngology, plastic and reconstructive surgery, thoracic surgery, urology, and vascular surgery.
Based on the robots' capability and the surgeon's role in performing the desired task, surgical robots can be classified into three categories: shared-controlled, tele-controlled, and supervisory-controlled.
The shared-controlled refers to a surgical environment where one or more robotic devices work with the surgeon. The surgeon and the robotic system jointly perform the surgical procedure. The tele-controlled approach allows a human surgeon to operate the robotic surgical device (close) with no pre-programmed or autonomous elements.
The supervisory-controlled approach is the most automated, often powered by artificial intelligence (AI). It entails robotic systems programmed to perform a surgical procedure in part – but not entirely – autonomously, with the surgeon acting as a supervisor. The surgeon's role in devising a surgical strategy and overseeing the robot's execution remains critical.
2. Assistive robots
Assistive robots are service robots that can help people. The physical and the practical are usually linked in the concept of assistance: carrying a heavy load with an exoskeleton, performing precise surgical movements, or performing a menial task. Therefore, assistive robotics refers to robots that give physical support to people with physical disabilities.
Today, assistive robots also cover socially assistive robots (SAR), i.e., those robots that assist users through non-physical interaction using social cues with older adults in nursing homes. In this sense, assistive robots aid, assess, and motivate those in need, including patients, the elderly, and individuals with disabilities. In other words, assistive robots are service robots assisting a user through physical or social interaction.
Socially assistive robots can be divided into therapy robots and care robots. Therapy or therapeutic robots are used for robotherapy, in which a series of coping skills are oriented towards physical rehabilitation. Care robots provide assistance in the form of care, including companionship, pet therapy, active assisted living, and sex care.
3. Healthcare service robots (HSR)
In addition to the robots that assist doctors and other medical personnel during procedures and other therapeutic applications, some robots aid in the delivery of care and support the work of doctors and other medical personnel in other ways. These robots assist in the delivery of medication and supplies and improve patient-doctor communication and clean hospital facilities. Healthcare service robots are the name for these robots (HSR).
HSRs can streamline routine tasks, reduce the physical demands on human workers, and ensure more consistent processes. These robots can also keep track of inventory and place timely orders, helping make sure supplies, equipment, and medication are needed at the relevant time. Mobile Cleaning and disinfection robots allow hospital rooms to be quickly sanitized and readied for incoming patients. HSRs can also be an excellent tool for sanitary reasons, vital in care settings.
There is a wide variety of healthcare service robots available today, namely routine task robots (delivering food and medicine, pushing beds, carrying linens, or transferring lab specimens), telepresence robots, disinfectant robots, delivery robots, remote inpatient care robots, automated dispensing robots, remote outpatient care robots, infection prevention robots, and general cleaning robots.