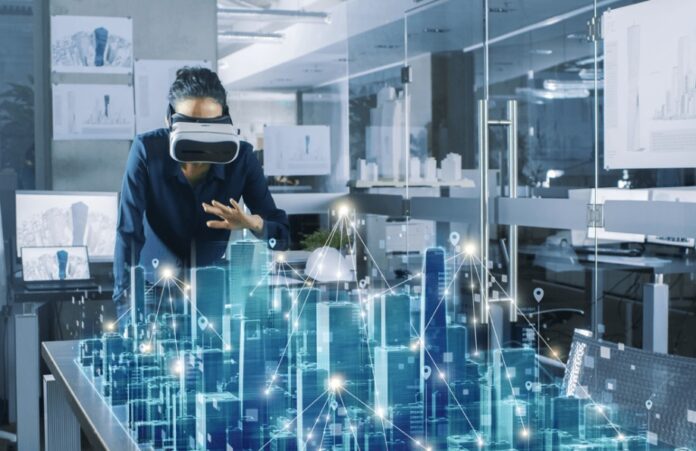 Mixed reality (MR) is a controlled fusion of augmented reality (AR), virtual reality (VR), and the Internet of Things (IoT).
To create new environments where digital and physical objects and their data can coexist and interact, MR brings the virtual and real worlds together. MR changes the way people interact, enabling more organic and behavioral interfaces. These user interfaces allow users to interact with "sandboxes" or virtual worlds while also processing and acting on the digital intelligence produced by connected assets and sensors.
As a worker inspects a system, for instance, from a remote location, diagnostic data may appear in his field of vision to show that the system is broken. If the worker didn't fix the issue, knowledgeable technicians in another location could transmit comprehensive digital instructions for fixing the issue and then quickly and efficiently guide him through the repair process. MR delivers actionable information in this scenario and others across industries and operating models when work is done on-site, in the shop, or in the field.
Advances in MR are already having a significant impact on how we feel about these cutting-edge working techniques. How we consume and prioritize our work is altered by our ability to gather information from the things around us and for that information to react to our visual and physical feedback. The enterprise may alter worker effectiveness and engagement by removing the intermediaries and barriers to cognitive recognition, processing, and understanding.
Around early investments, mixed reality use cases and patterns have emerged. Even though industry-specific priorities vary, the majority fall somewhere in the following categories:
Training, education, and learning
By immersing them in highly realistic, virtual work environments with educational content and interactive problem-solving challenges, AR and VR can onboard new employees and develop existing talent. In comparison to conventional teaching techniques, immersive environments have several benefits. For instance, they give students safe (virtual) exposure to sophisticated and potentially hazardous tools and situations. They also let managers watch videos of training sessions to track progress and modify the content to meet the needs of particular staff members.
Operations
Companies may be able to increase employee productivity and streamline work processes by providing field service technicians, warehouse pickers, assembly-line workers, and others with IoT applications and digital system content specific to their tasks. Job aids, for instance, can direct kitting workers to the locations of shelved items on the production floor. Engineers on the ground could access the service history of particular pieces of equipment, advice on prioritizing repairs, and any real-time data that intelligent devices might be producing from a location. They would review this data in a hands-free, heads-up manner that upholds worker safety and autonomy.
Communication and Collaboration
Multidisciplinary teams can collaborate seamlessly inside and outside the company walls as organizations become "unbounded" by removing functional silos. Mixed reality can support this next-generation interaction by substituting shared productivity tools and videoconferencing with immersion and a sense of presence. Employees working in different places can manipulate the same digital artifacts as if they were in the same conference room. Automotive manufacturers use these techniques to visualize design enhancements of current components, significantly accelerating the concept-to-manufacturing process among globally dispersed teams. The same goes for research and development departments, building and engineering companies, and even some service organizations, all experimenting with this new form of collaboration to free creative processes and more practical operations from geo-temporal limitations.
Marketing and customer service
With the help of VR capabilities, MR can create experiences that replicate features of the natural world and create engaging engagement patterns based on the convergence of technologies, from high-tech experiential marketing to virtual branches. You could give your customer a virtual product, for instance, and then direct her experience, assess her reactions, and tailor the content to her preferences and transaction history.
Shopping
Virtual reality has the potential to completely change how we shop. Consider "walking" through a virtual hotel suite or cruise ship cabin before making a reservation or immersing yourself in a virtual jewelry store where you try on necklaces that catch your eye. By providing pricing or detailed information on the goods or services you are considering and recommendations for related products and services, mixed reality capabilities could improve these virtual experiences.