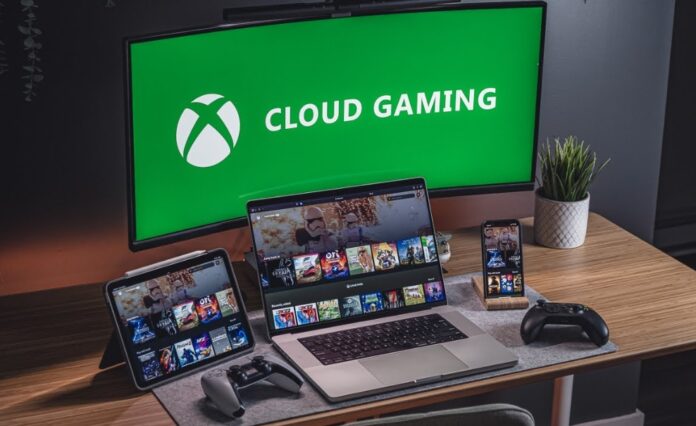 Cloud gaming is a computer gaming solution built atop the cloud infrastructure to offload game execution and frame rendering from the player's local machine.
Cloud gaming services provide abundant computing resources to players, e.g., top-tier GPUs and high-bandwidth network connections. These are key components for a smooth, responsive, and enjoyable gaming experience as they ensure fast game processing and low latency data transmission.
Cloud gaming inherits many characteristics from traditional cloud computing platforms. Today there are some big tech giant companies who have been able to introduce cloud gaming as a vast service reaching millions of people worldwide. This post will look at some of the top companies offering cloud gaming services.
1. NVIDIA GeForce Now
NVIDIA GeForce Now is one of the most competent cloud gaming services, offering an ultra-streaming platform with lower potency and non– interrupted service. It offers a satisfying gaming experience with minimal input lag, but a strong internet connection is needed for lag-free gaming. While most cloud gaming services allow you to buy individual games from their game library, this is not an option with GeForce Now. Only well-known clients like Steam, Epic, Uplay, and others are compatible with game integration. Additionally, you should be aware that not all games from all game clients may be supported by GeForce Now.
Although the games start with a native setting of 720p 60 FPS, GeForce Now allows you to play at a maximum resolution of 1080p at 60 FPS. The GeForce Now app is available for Mac, iOS, and Android devices and supports a variety of hardware. The low input lag of the cloud gaming service is its best feature. Thanks to the lower input lag, the gaming experience is as seamless and fluid as traditional gaming.
2. Sony's PlayStation Now
Sony's PlayStation Now is one of the first cloud gaming service providers. It requires a minimum of 5mbps of uninterrupted internet connection to function properly. It does not require a high-end computer or internet service, and a 2GB RAM and Corei3 connection would suffice to enjoy the best gaming experience. After paying for your subscription, you can access a library of over 800 games. Then, PlayStation Now gives you complete control over all of their titles.
You can download and play the games or stream them using the PS Now servers. It includes a perfect mix of classic PS2 titles and modern titles from the PS4 and 5. The cloud gaming service does not support smartphone operating systems such as Android or iOS and is only available on Windows PCs or PlayStation consoles.
3. Shadow
Shadow is the most suggested cloud gaming supplier by customers. It doesn't offer cloud gaming yet offers distributed computing gaming. It offers elite gaming, a significant availability period and no library limits as it allows users to play any game that is available for PC to be played on a Shadow PC. Unlike other cloud gaming services, Shadow dedicates an entire computer to you when you want to play a game. You get a new Windows-powered computer with RTX graphics, 12 GB of RAM, and a download speed of 1 Gbps.
The user can change all of the system settings on the Windows computer just like they would on a regular machine. The best thing about Shadow is that it works with any game that can be run on a Windows machine. The streaming quality and input lag are exceptional, providing the best-in-class user experience. Shadow's monthly subscription is expensive, but it is one of the best cloud gaming services due to its incredible feature set.
4. Parsec
Paperspace is yet another cloud computing service that includes gaming as part of the overall picture. Paperspace, like Shadow, assigns a Windows computer after you subscribe to a plan and allows you to use the remote PC as you see fit. The best part about using Paperspace is that you can choose your hardware; you can choose less expensive hardware if you want to play lighter games, and vice versa.
This cloud gaming stage is fundamentally an application that makes use of pre-configured virtual machines provided by Amazon web arrangement and Paper space. Parsec was the first in a long time in 2016 to bring back bygone gaming times by providing no inactivity issues even on their extremely low-cost office PCs. Parsec promises to stay ahead of current streaming applications for a long time.
5. Amazon Luna
Amazon Luna is a relatively new addition to the best cloud gaming services list. Luna has a small but rapidly growing game library and a good gaming experience. Luna currently only supports web browser-based gameplay, but the Luna controller can greatly expand the feature set. The Luna Controller connects to your devices while playing Luna games, giving you better control.
The controller connects to a separate Wi-Fi connection to reduce latency and avoid input lag. The controller can switch between multiple devices running the cloud gaming service. Luna includes games such as Wonderful 101: Remastered, Ride 4, and Narita Boy, but you can supplement your subscription with Ubisoft+. Ubisoft + will grant you access to well-known AAA titles such as Assassin's Creed: Valhalla, Watch Dogs: Legion, Far Cry 5, and others.
6. Microsoft's xCloud
xCloud, also known as Microsoft Xbox Cloud Gaming, is a service that specializes in games developed for the Xbox gaming console. It lets gamers stream the games to a remote PC or mobile device to enjoy Xbox games anywhere. Players connect compatible controllers to their devices and can play Xbox games using the same button actions as when using the console. It utilizes Azure's enormous systems administration arrangement, with data centers traversing North America, Asia, and Europe. Apps are available for Windows computers, mobile devices, and Smart TVs. Gamers can also access xCloud through a browser without downloading additional software.