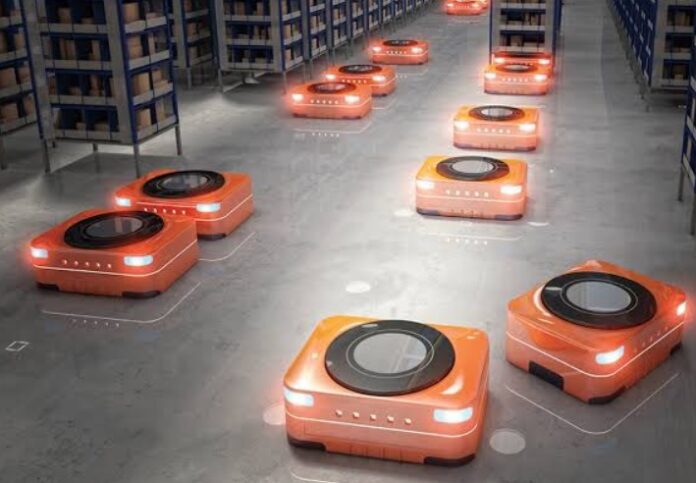 Warehouse robotics is raging in the logistics arena today! Amazon's 2012 acquisition of Kiva, a startup to introduce warehouse robotics, left a void that is continually being filled by new and emerging technologies and startups. Amazon's success, along with technological advancements, a drop in the price of components, and a gradual increase in startup funding has captured the attention of entrepreneurs and roboticists to embrace warehouse robotics further.
Besides, today's Distribution Centers (DC) and Fulfillment Centers (FC) need to add flexibility, scalability, and reduce reliance on temporary labor, to meet operational requirements and efficiency in material transport, order fulfillment, picking, and sortation. It opens up an excellent opportunity for Autonomous Mobile Robots (AMR) that offer a competitive advantage to businesses operating in the supply chain, which is very sensitive to market changes.
Unlike Automated Guided Vehicles (AGV) that move on a fixed path, AMR can move independently, by navigating using sensors and cameras. AMR perceive, analyze, and find their position within the environment, plan, and execute their movement. In a warehouse, AMR is ideal for moving or manipulating products. This post will present the top six US startups revolutionizing order fulfillment with warehouse robots.
IAM Robotics is a leader in autonomous mobile manipulation robots that automate the piece-picking task in e-commerce order fulfillment. It has built the world's first mobile, autonomous piece-picking robot named Swift, which can navigate the warehouse aisles to pick and retrieve products and bins. By combining Swift robot, 3D SKU Scanner (Flash), and Software Interface (SwiftLink), IAM Robotics provides technologies required for autonomous mobile manipulation solutions for warehouses.
6 River Systems is a warehouse automation startup from Boston, best known for its autonomous mobile robot, Chuck. Recently acquired by Canadian e-commerce giant Shopify for $450 million, 6 River Systems is developing the next generation fulfillment software platform that offers an intuitive user interface, interactive workflows, and leverage rich data sets to empower warehouses. The company recently launched two new products, Fast Lane and Packout, to extend its offering into a complete end-to-end order fulfillment solution.
Silicon Valley startup Fetch Robotics develops collaborative, autonomous mobile robot solutions for the warehousing and logistical markets. Their robot system consists of a mobile base (Freight) and an advanced mobile manipulator (Fetch). Both use a charging dock for autonomous continuous operations, allowing the robots to charge when needed, and then continue with their tasks. Besides, the system includes accompanying software to support the robots and integrate with the warehouse environment. Fetch Robotics developed the world's first Cloud Robotics Platform, FetchCore.
inVia Robotics is a robotics startup from California which developed the first economical goods-to-person solution offered as "Robotics-as-a-Service." It provides the next generation of warehouse automation solutions. Its core system consists of three components. 1. An automation system (powered by inVia Logic) that calculates and synchronizes inventory movements for a variety of business cases. 2. inVia Command that maps a warehouse and designs optimized workflows based on those calculations. 3. inVia Connect that streamlines integration, and the ability to automate replenishment, cycle counting, and returns. inVia's Picker robots are designed to complete most any repetitive tasks in the warehouse, including picking, replenishment, returns, and cycle counting.
A spin-off from Harvard Biorobotics lab and the Yale Grab lab, Somerville startup RightHand Robotics specializes in the pick-and-place system. The company recently unveiled its second generation of its piece-picking solution, RightPick2, which features several upgrades on both the hardware and software fronts. It includes a fifth-generation industrial gripper, which is capable of lifting to 2 kg, new depth-sensing cameras from Intel, an improved arm from Universal Robots, and improvements in its RightPick.AI vision/motion control software. The system is capable of picking up a versatile array of different products. The previous version crossed the 10 million pick threshold.
Chicago startup Corvus Robotics makes the world's first autonomous, unmanned warehouse inventory drones. The company offers both manual and self-flying drones that require no change in infrastructure, warehouse pre-mapping, or specific packaging barcodes. Corvus drones scan pallet labels in the racks, avoid no-fly zones and land on a recharging pad automatically.