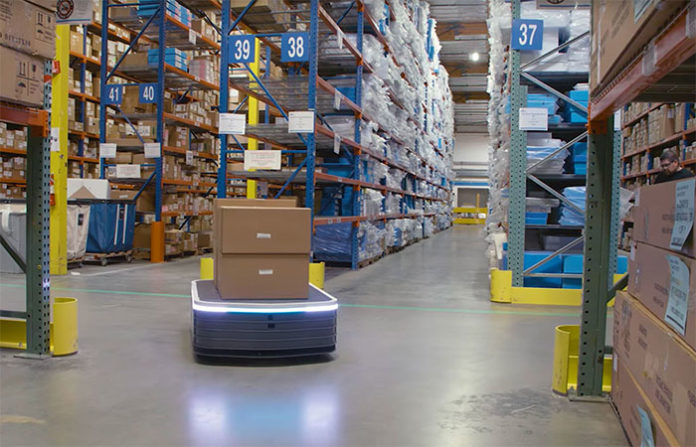 Amidst the coronavirus (COVID-19) epidemic, a wide range of reports emerges with myriad takeaways on the impact of the current health crisis in industries like retail, eCommerce, warehouse, and logistics, where businesses like Amazon face significant disruptions due to coronavirus-caused shutdowns and social distancing.
eCommerce giant Amazon recently planned to ramp up hiring 100,000 extra workers to meet surging online sales, but workers in at least eight Amazon warehouses in the US have tested positive for COVID-19, forcing the company to close down their facilities temporarily. Several Amazon warehouse workers have also tested positive in France, Italy, and Spain.
According to technology research firm IDTechEx's new report "Mobile Robots, Autonomous Vehicles, and Drones in Logistics, Warehousing, and Delivery 2020-2040", the current developments once again bring in everyone's focus on the urgency to increase automation in every step of the logistics and delivery chain, starting from warehouses and factories to the delivery of packages to the final customer destination.
The report finds that the logistic and warehouse automation market will reach $81 and $290 billion in 2030 and 2040, respectively. It is a colossal transfer of value from wage expenses to autonomous robots. The report predicts a surge in the development of warehouse automation technologies that include:
Automated guide carts and vehicles
Autonomous mobile robots (AMRs)
Goods-to-person automated carts/robots
Collaborative autonomous mobile robots
Mobile picking robot (regular- and irregular-shaped items)
Autonomous trucks (level 4 and 5)
Proof of Delivery applications (POD)
Last-mile sidewalk delivery robots
Delivery drones
1. Automated guide carts and vehicles
An automated guided vehicle (AGV) or cart is a portable robot that follows marked lines, wires, radio waves, vision cameras, magnets, or lasers for navigation. Often used in factories and warehouses to transport materials around a large industrial building, AGVs consist of one or more computer-controlled, wheel-based load carriers to move materials around a facility. They increase efficiency, decrease damage to goods, and reduce overhead by limiting the number of employees required to complete the job. They also replace manually operated material handling vehicles such as a lift truck.
2. Autonomous mobile robots (AMRs)
Autonomous mobile robots (AMRs) like forklifts and tugs are any robot that can understand and move through its environment autonomously without an operator or a fixed, predetermined path. They have an array of sensors to enable them to understand and interpret their environment, navigating around fixed obstructions (like building, racks, and work stations) and variable obstructions (like people, lift trucks, and debris), and perform their task efficiently. In many ways, they are similar to automated guided vehicles (AGVs) but differ in terms of flexibility of movement within a dynamic environment and collaboration with humans in most order fulfillment operations.
3. Goods-to-person automated carts/robots
Goods-to-person automated carts/robots are fleets of robots deployed to help automate the goods-to-person step in fulfillment centers. They work directly with human workers to complete fulfillment systems in the warehouse. These robots deliver totes and corrugated trays directly to pickers, packers, shippers, and replenishers, and move racks within robot-only zones. They significantly eliminate unnecessary, wasteful travel time in the warehouse aisles, improve efficiency and accuracy.
4. Collaborative autonomous mobile robots
Collaborative autonomous mobile robots offer infrastructure-independent navigation in defined indoor environments. They enable hybrid human-robot interaction modes, bringing automation to warehouses and fulfillment centers, which were not specifically built to support robotic goods-to-person. They now have improved dexterity, offering more assistance to human workers. They're smarter, flexible, and scalable compared to traditional automation solutions. Boston Dynamics' Handle robot, for instance, is a mobile robot for moving boxes in the warehouse. Handle's small footprint, long reach, and vision system enable it to unload trucks, build pallets, and move boxes throughout a facility.
5. Mobile picking robots
Mobile picking robots are mainly used to handle regular- and irregular-shaped items rapidly and with high success rates. Soft Robotics' SuperPick, for instance, is capable of more than 600 picks per hour, and it can pick from heterogeneous and homogenous bins. They are designed for industrial applications in manufacturing, e-commerce and retail, and food and beverage. 6 River Systems' Chuck is another a mobile warehouse robot, which can swiftly move across your warehouse floor, speeding up the picking rate by roughly 2-3x.
6. Autonomous trucks
Autonomous trucks address many industry pain-points because of their clear commercial case, compared to passenger vehicles. The first pain point is the shortage of drivers, which is likely to increase to 160k per 2028 in the US. The second pain point is the rising operational cost and safety requirements, which limit the number of uninterrupted hours a truck driver can spend on the road. Thankfully, autonomous trucks can easily cover long stretches of highways and chaotic conditions in dense urban driving. They decrease delivery time, driver costs, accidents related to driver errors, and require less maintenance.
7. Proof of delivery applications (POD)
A Proof of Delivery (POD) is an important component in acknowledging that the delivery is completed successfully. It is very much like a receipt for delivery confirmation. For the logistics industry and companies with any delivery system, using POD is critical, as it not only assures the delivery of packages but can track the progress of the delivery. It enables the companies to identify potential issues before they become major liabilities and to make the processes hassle-free.
7. Last-mile sidewalk delivery robots
Last-mile sidewalk delivery robots are autonomous robots for delivering everything from food orders to packages to the shopper's door. They reduce costs in moving goods from a transportation hub to their final destination since they can operate autonomously without an operator. They are less expensive to maintain, highly efficient to locate a hard to find the addresses using GPS systems. They can work round-the-clock even in non-working hours and in extreme conditions, like the corona epidemic.
8. Delivery drones
eCommerce companies have been talking about the promise of commercial delivery drones for years now, where drones can deliver food, groceries, medicine, and other online purchases directly to the consumer in a matter of minutes. The benefits of delivery drones are now even more clear with China's response to the coronavirus emergency. To increase the speed of deliveries and remove unnecessary human contact, Chinese firms such as eCommerce giant JD.com, drone delivery startup Antwork, drone maker MicroMultiCopter, and China's largest private courier company SF Express, have collaborated together to use drones across the country's virus-stricken provinces to deliver medical supplies and transport medical samples for analysis.