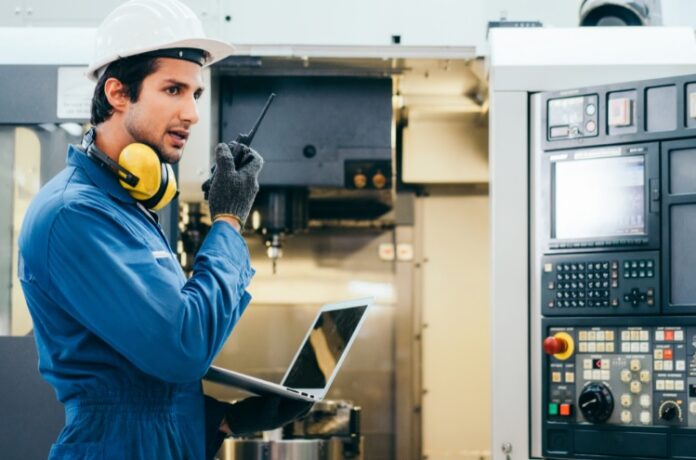 Whether big or small, every business setting requires effective communication devices, and these days, walkie-talkies are extremely useful. In addition, sectors like construction, hospitality, military, education, public safety, etc., rely heavily on these devices.
To keep business running smoothly, you will need a set of functional radio systems. This is because not every device fits the business. Thankfully, there are specially designed walkie-talkies for commercial use. These are the types you should go for when it comes to business execution.
The perks of using business walkie talkies
The first and obvious advantage is that commercial radio systems are exceptionally reliable for communication. How? They use radio frequencies to transmit voice messages. These devices are effective in areas lacking or having unstable access to other kinds of connectivity like cellular network coverage, even remote areas. How does this affect you? It implies that whether your job location is on the beach, in the woods, mountains, or some tough environment, keeping in touch with your crew won't be a problem.
Another advantage is consistent communication. Need to brief your staff on work conditions and safety measures from a distance away? This device allows it.
This two-way business radio is also designed to receive weather reports and has built-in flashlights. In case of an emergency, you can radio someone for immediate help.
What you should consider when choosing business walkie talkies
Here are some factors to be considered before purchasing walkie talkies for business:
Device range: You will want to speak with someone far away from your position. This is why a device that can cover long-range communication is ideal. So, look for one that has this capacity.
Design: Think of your working environment and the prevalent conditions. Should you be working at great heights, you will want a solid unit that won't crash if it falls to the ground. Again, if your job is water-related, like you work in damp places or close to water bodies, you will need a waterproof unit.
Battery capacity: Walkie-talkies with longer battery life are the best. This is because you may not be close to power sources that allow for regular charging. So, a good battery will help you stay connected to your team for longer hours.
The number of channels and security codes: Selecting a device with many channels and security codes will guarantee minimal interruption and more privacy. If that's your lookout, then choose one that offers this.
Extra useful features: Some devices are designed to carry built-in flashlights, voice control, headset, keypad lights, emergency weather alerts, plus other relevant features. These things may come in handy when you least expect them. It is always good to have a multifunctional device.
Knowing these factors, you can now match the kind of device you want with your business needs. Remember that the aim is to promote the performance of your team while keeping everyone safe. With this in mind, choosing the best device becomes easier.
Which are the leading business walkie-talkies?
Presently on the market, the following business radio devices offer the best results:
1. Motorola XT660d PMR446 Digital Portable Walkie Talkie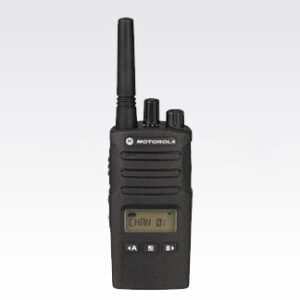 This model is best for industries that prioritize quick communication, which can be a business advantage. XT660d series are designed with business speed in mind, plus other features that connect your team and increase their output. With this walkie-talkie, you can radio an individual, a group, or the entire organization simultaneously. In addition, it has an improved digital feature that helps streamline your calls.
What's more, the XT660d has a remote management system that allows for:
Remote radio monitoring
Radio disabling if lost
Sending of call alerts
This device enables texting as it has a complete keypad. Its audio feature is very clear for hitch-free communication. Audio recording and playback are enabled.
2. Motorola CLP446 PMR446 Walkie Talkie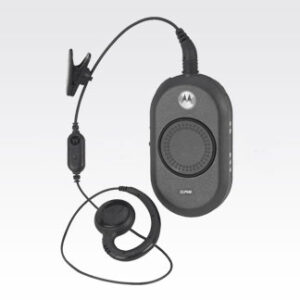 If you need a portable, lightweight, durable, and simple-to-operate walkie-talkie, the CLP466 is a good option. This radio is made for those in the retail and hospitality industry. It has 8 channels and 219 codes for more privacy and lower interference.
Built using the main features of the conventional walkie-talkie and improved to have a unique compact and sleek shape, the CLP has a large PTT (push to talk) button centrally located for easy operation. In addition, it is compatible with a range of accessories fit for the business world.
Other great features include:
A 14-hour extended battery life.
Hands-Free capabilities powered by a VOX voice menu system that permits zero use of the PTT button. Great for working hands-free in any business environment.
A myriad of easy-to-pair, original Motorola earpieces that improve privacy.
Built-in antimicrobial properties.
The CLP also meets Military Standards 810C/D/E/F/G and is resistant to shock, vibration, low pressure, and very high temperatures. With these features, this device is functional in nearly all environments.
3. Motorola XT460 PMR446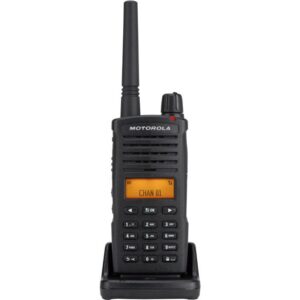 For faster communication, this is also a good choice. Designed to withstand harsh environmental conditions like loud noise, the XT series has a crystal-clear audio feature, plus great durability. On PMR446 unlicensed frequencies, the XT460 doesn't need a subscription or call charges to operate. Its 8 channels and 219 codes make the signal clear.
You can easily operate this radio device using 4 programmable buttons and an easy-to-read display. An advanced audio quality, rugged design, and dynamic HTML-centred customer programming software make this device a top choice for the internal business environment.
High durability, accessories compatibility, and discreteness are some added features of this two-way radio.
4. Hytera TC446S Walkie Talkie PMR446 Two Way Radio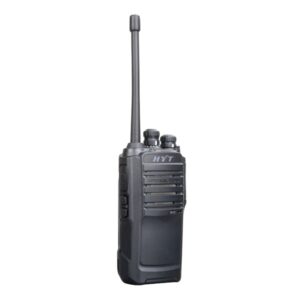 Designed for everyday use with a wide range of coverage, this compact-sized and lightweight radio is great for professional application in any environment and condition. It covers a range of about 10km depending on the area. Moreover, it offers compatibility with all radios operating on the PMR 466 frequency.
Following its robust yet lightweight design, this device is mobile and finds use in very hard situations. It is highly resistant to dust and water slashes because it complies with IP54 standards. The TC466S works well in sectors like hospitality, marketing, education, and civil construction.
5. Kenwood PKT-23 Walkie Talkie PKT-23T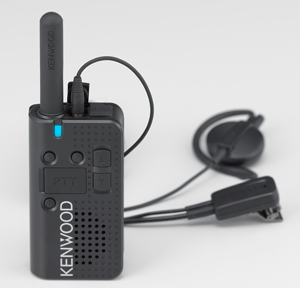 This is a free, easy-to-use, unlicensed compact device with a robust and simple design preferred by professionals who love unnoticeably rugged devices.
It offers 15 hours of talk time, thanks to the built-in 1430 mAh lithium battery. This radio is ready for use at all times. Following compliance with IP54 standards, this walkie-talkie is resistant to dust and water. As a result, it can remain active in the worst working environment.
Weighing only 110 grams, this business radio can be pocketed or fastened to a waist belt. Of all Kenwood models, this is the lightest and smallest. Its front buttons and large PTT button make for very practical and simple uses.
The PKT E-23 has 8 channels, and a team member can have special control over it to ensure direct communication with others. A change of channels is signaled by voice alerts. Calls have a unique ringtone.
Operating with a transmission power of 500mWatts, this device covers an 8km range for direct communication on the same frequency. In addition, it covers a 2.5km range in municipalities.
Other features include:
Hands-free capacity via VOX function – voice-activated transmission.
A 3.5mm Jack input.
Compatible with KHS-33/34 earphones for discreet conversations, even in noisy environments.
Integrated multi-colored LED lighting indicating transmission and battery levels.
Micro USB port.
In summary
Walkie Talkies are ideal for businesses, and knowing the best models to use for each business will boost your team's performance and safety. Get one today.